'Pokemon GO' Holidays Event: End Time, Featured Pokemon and Avatar Items
Pokemon GO's holiday celebration is now in full swing, bringing winter-themed cosmetics for your avatar, time-limited challenges and new pocket monsters dressed in adorable festive costumes.
Niantic's augmented reality game is going through an incredibly busy patch right now in terms of events. This past month alone has seen the Dragonspiral extravaganza, a promotional tie-in for Brilliant Diamond and Shinning Pearl, and the usual community days (with a special one lined up for the end of the year).
If you are a dedicated trainer, then the last few weeks have likely been very fruitful for you. After all, these kinds of events give you the opportunity to capture rare (often shiny) Pokemon, get extra candy, and hatch eggs at an accelerated rate.
The holiday celebrations will continue in this vein, with plenty of unique rewards up for grabs. Here is everything you need to know.
'Pokemon GO' Holidays 2021 Key Dates
The Pokemon GO holiday season has already begun, but there are a couple of things you should know about how it's structured. The event has been split into two, with different content being available in each half.
Part 1 of the celebration is underway right now and will conclude at 10 a.m. local time on Thursday, December 23. Part 2 will immediately commence at this point (meaning there is no gap in the holiday period) and run up until 8 p.m. on December 31.
To clarify, these are all the key dates for the holidays event.
| | | |
| --- | --- | --- |
| Event | Start Time | End Time |
| Holidays 2021: Part 1 | 10 a.m. on Thursday, December 16 | 10 a.m. on Thursday, December 23 |
| Holidays 2021: Part 2 | 10 a.m. on Thursday, December 23 | 8 p.m. on Friday, December 31 |
New Postcard Feature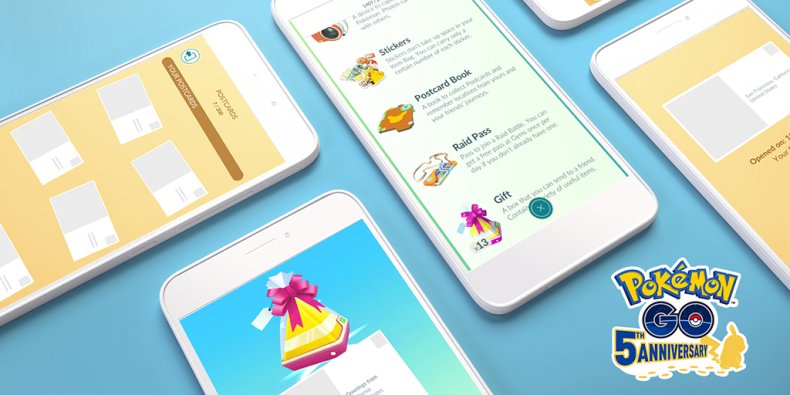 A new "postcard book" has been added for the holidays event.
Whenever you are sent a gift by another trainer, you will now receive a postcard memento to commemorate the occasion, which you can store in your own private records. Think of it a bit like a scrapbook that documents everywhere you have visited in your Pokemon GO adventure and the people that you have met along the way.
To access the postcard book and experiment with how it works, just rummage through your item bag or take a look at your individual trainer profile.
New Avatar Items and Shop Bundles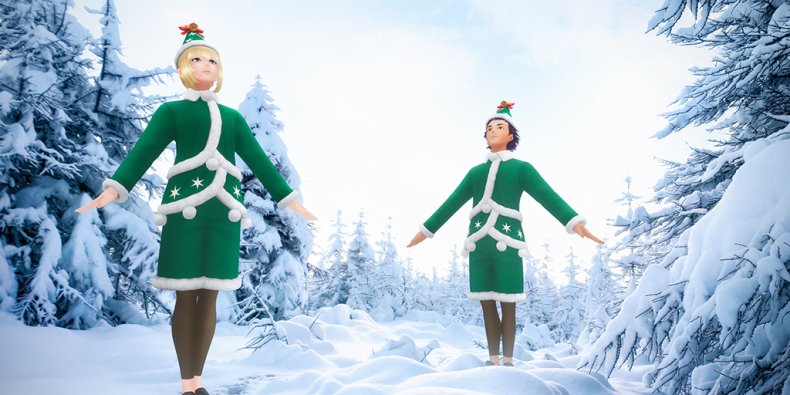 In addition to the new postcard book, there are extra cosmetics that you can pick up for your avatar.
You can get a festive hat, a festive jacket and a festive pair of shorts from the item shop. This green ensemble makes you resemble a Christmas elf.
Meanwhile, there are also holiday-themed stickers (that are collected by spinning PokéStops and opening gifts) and some other festive bundles that will be added to the in-game storefront throughout the event. The latter will include things like PokeCoins, Poke Balls, battle passes, incubators, incense and start pieces.
Featured Pokemon
Of course, the main reason to get excited about any event in Pokemon GO is that special characters will be more readily available.
In this instance, the ice-type Pokemon Bergmite will make its grand debut in the second part of the holiday season, alongside its evolution form, Avalugg. In general, winter-themed monsters will be a lot more prolific in the game for the rest of December, as will festive variants of old favorites.
Here is a comprehensive breakdown of every Pokemon that is somehow featured in the event and how to get them.
Pokemon GO Holidays Event Part 1 (December 16 - 23)
| | |
| --- | --- |
| Pokemon | Unlock Criteria |
| Holiday Hat Pikachu | Wild Encounter, One-Star Raids, Field Research Encounters |
| Swinub | Wild Encounter, One-Star Raids, Field Research Encounters |
| Holiday Stantler | Wild Encounter, One-Star Raids, Field Research Encounters |
| Holiday Delibird | Wild Encounter, One-Star Raids |
| Snorunt | Wild Encounter |
| Holiday Spheal | Wild Encounter, One-Star Raids, Field Research Encounters |
| Snover | Wild Encounter |
| Vanillite | Wild Encounter |
| Holiday Cubchoo | Wild Encounter, One-Star Raids, Field Research Encounters |
| Alolan Sandshrew | Wild Encounter, One-Star Raids |
| Cryogonal | Wild Encounter |
| Cloyster | One-Star Raids |
| Holiday Glaceon | One-Star Raids |
| Kyurem | Five-Star Raids |
| Mega Steelix | Mega Raids |
| Alolan Vulpix | Field Research Encounters |
| Cryogonal | Field Research Encounters |
Pokemon GO Holidays Event Part 2 (December 23 - 31)
| | |
| --- | --- |
| Pokemon | Unlock Criteria |
| Holiday Hat Pikachu | Wild Encounter, One-Star Raids, Field Research Encounters |
| Swinub | Wild Encounter, Hatching 7K Eggs, Field Research Encounters |
| Holiday Delibird | Wild Encounter, Three-Star Raids |
| Holiday Stantler | Wild Encounter, Three-Star Raids, Field Research Encounters |
| Holiday Spheal | Wild Encounter, One-Star Raids, Field Research Encounters |
| Snorunt | Wild Encounter |
| Snover | Wild Encounter |
| Holiday Cubchoo | Wild Encounter, One-Star Raids, Hatching 7K Eggs, Field Research Encounters |
| Vanillite | Wild Encounter |
| Alolan Vulpix | Wild Encounter, One-Star Raids |
| Cryogonal | Wild Encounter, Hatching 7K Eggs |
| Bergmite | Wild Encounter, Hatching 7K Eggs |
| Galarian Darumaka | One-Star Raids, Field Research Encounters |
| Lapras | Three-Star Raids |
| Holiday Glaceon | Three-Star Raids |
| Kyurem | Five-Star Raids |
| Mega Abomasnow | Mega Raids |
| Smoochum | Hatching 7K Eggs |
| Galarian Darumaka | Hatching 7K Eggs |
| Alolan Sandshrew | Field Research Encounters |