When Does 'Pokemon GO's' Brilliant Diamond Event End & When Does Shining Pearl Begin?
Pokemon GO is currently in the midst of a two-part celebration, with its Brilliant Diamond and Shining Pearl events.
For a bit of context, Pokemon Brilliant Diamond and Pokemon Shining Pearl are two separate versions of what is largely the same game (there are a few differences in terms of the character roster but that's about it). These will both be launching on the Nintendo Switch on Friday, November 19.
They are remakes of fourth-generation Pokemon games (Diamond and Pearl) and will update their respective counterparts with enhanced visuals, new customization options and extra features, such as the ability to have your pocket monsters follow you around in the overworld.
To celebrate these imminent releases, Pokemon GO is hosting a pair of limited-time events. The general idea behind this is that many of the creatures featured in Brilliant Diamond and Shining Pearl will be more readily available in the immensely popular mobile game for a few days.
This means that you will have a better chance of capturing the likes of Turtwigs, Chimchars and Piplups and might even stumble across some of them that are wearing rare costumes.
Like Brilliant Diamond and Shining Pearl themselves, the Pokemon GO event is split into two halves. The Brilliant Diamond celebration comes first and, as soon as it finishes, Shining Pearl will then take over and bring a suite of new challenges and rewards.
When Does 'Pokemon GO's' Brilliant Diamond Event End?
Pokemon GO's Brilliant Diamond event is already running.
The main gimmick here is that you will be able to find Turtwigs, Chimchars and Piplups variants with special red Sinnoh hats (out in the wild) and white Sinnoh hats (as research encounters). You can find out more about the various challenges and rewards on the official Pokemon GO website.
The event is scheduled to end on Thursday, November 18 at 10:00 a.m. local time.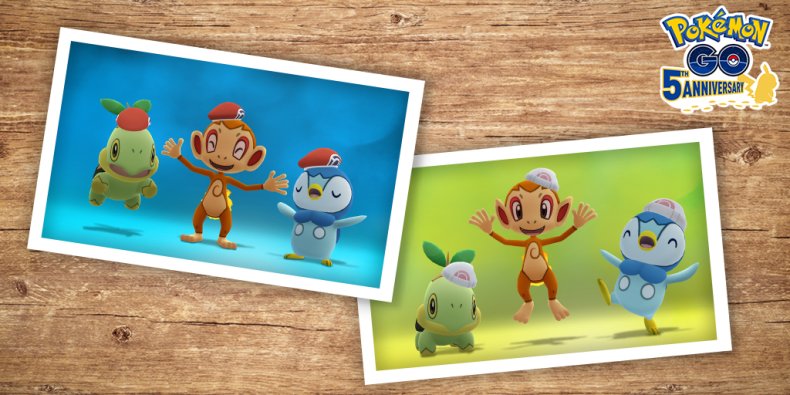 When Does 'Pokemon GO's' Shining Pearl Event Begin?
The Shining Pearl event will begin immediately after its Brilliant Diamond counterpart ends and will basically inverse it.
This means that the red-hatted Pokemon will now be available to unlock as research encounters and those adorned in white headgear will be the ones found out in the wild.
In addition to this, the Shining Pearl event will also be offering unique raids, with Pokemon like Shieldon, Drifloon, Bronzor, Salamence, Gallade, Toxicroak, Cresselia and Mega Lopunny up for grabs. Meanwhile, Budew, Bonsly, Happiny, Mime Jr. and Riolu will all be hatching from eggs (and, if you are lucky enough, you might even get a few shinny variants).
Not to mention, there will also be cosmetic items for your avatar that you can redeem at no cost from the item shop. These will still be available after the event concludes.
Speaking of which, Shining Pearl has a start time of 10 a.m. on November 18 and will run through to 8 p.m. on November 21.
Pokemon GO is no stranger to these kinds of events. In fact, earlier this month is had a celebration for Dia de Muertos that, for the first time ever, was available globally.