'Pokémon Go' 3rd Anniversary Celebration: Start Time, Shiny Alolan Pokémon and More
Pokémon Go is celebrating its 3rd anniversary with a special event that brings a ton of new Shiny Pokémon and bonus goodies to the mobile game throughout the summer.
This new event will benefit longtime players, and Niantic is also incentivizing new trainers to join in the fun with special research tasks. Trainers will have until the start of September to enjoy all the Pokémon Go 3rd Anniversary event has to offer.
If you want to take advantage of it all in the coming weeks, here's the essential information you'll need, including start times.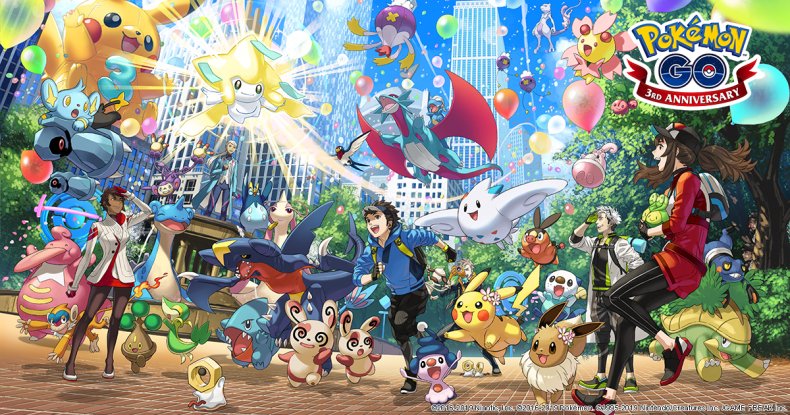 POKEMON GO 3RD ANNIVERSARY START TIME
The Pokémon Go 3rd Anniversary event starts Friday, June 28 at 4 p.m. EDT.
SHINY ALOLAN POKEMON
Starting Friday, trainers will have the chance to encounter the Shiny variations of all of the Alolan Pokémon.
This marks the first time Pokémon Go trainers can catch Shiny versions of the following Pokémon:
Alolan Rattata
Alolan Sandshrew
Alolan Vulpix
Alolan Diglett
Alolan Meowth
Alolan Geodude
Alolan Grimer
Alolan Exeggutor
Alolan Marowak and Alolan Raichu's Shiny forms are already available in Raid Battles.
In past events that introduced a Pokémon's Shiny form, the rate of encountering one is increased. It's likely that the same will be the case for the Alolan Pokémon until September 2, when the final feature of the event ends.
Certain Alolan Pokémon - Rattata, Geodude, Exeggutor and Diglett - can be caught in the wild. The rest can only be hatched from 7km Eggs, which are obtained from friend gifts.
IN-GAME BONUSES
Starting June 28, new avatar items will be available in the shop. These will represent the three team leaders, so give them a look.
The event will also include special limited-time features and perks.. Here's each of the 3rd Anniversary celebration perks and when they end.
Party Hat Pikachu will photobomb your photos and hatch from 7km Eggs until July 6 at 4 p.m. EDT.
The Jump-Start Research tasks are designed to help new Pokémon Go players receive beneficial items. Special Research tasks will be available for players at level 10 or higher, granting extra Premiere Balls for taking down Raid Bosses and reducing the cost of trading Pokémon by a quarter. These features will end September 2 at 4 p.m. EDT.
So what do you think of the Pokémon Go 3rdAnniversary event? Let us know in the comments section below.