'Pokémon Go' Celebi: New Research Task Coming Soon
It's the second anniversary of Pokémon Go and Niantic is celebrating with a brand new special Pikachu and by bringing Celebi, the Mythical Pokémon of the Johto Region, to the popular mobile game.
According to the official Pokémon Go blog post, from July 6 to July 31, Pikachu and Pichu will appear more frequently. The Pikachu that spawn in that time frame will have a chance to be donning a straw hat and sunglasses. These "Summer Style" Pikachu will appear in similar fashion to the Party Hat, Santa Hat, Witch Hat and Ash Hat Pikachus. It's unclear if the "Summer Style" Pikachu will keep its hat and glasses when it evolves into Raichu, but the other hats do, so it's likely the same will be the case this time around.
Take a look at how the "Summer Style" Pikachu will look in Pokémon Go.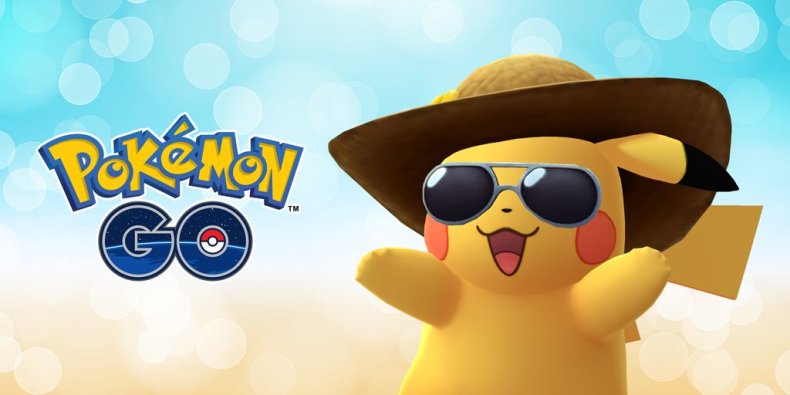 Pikachu Fan Avatar items will also be available to purchase in the game's store after getting a gold Pikachu Fan medal. This is similar to how the Magikarp hat can be obtained in the game already. The items include a Pikachu T-shirt and Pikachu ears for your trainer to wear.
As for Celebi, the Grass and Psychic-type Pokémon will be obtainable in Pokémon Go soon. The official blog post announced that Special Research on Celebi will be available globally in the "near future."
Pokémon Go players already have access to the Special Research for Mew. The Mew Special Research has eight steps, with each requiring a trainer to complete three tasks. These tasks range from catching a certain type of Pokémon to hatching eggs and much more.
When the Celebi Special Research task is available, we'll update this section with the steps required to obtain it.
Are you excited for Celebi coming to Pokémon Go? Will you be purchasing the Pikachu items for your avatar? Let us know in the comments section below.