'Pokémon Go' Update: How to Catch Shiny Mew, Field Research Tasks and Everything You Need to Know
A new update for Pokémon Go adds Mew and more daily missions trainers can complete for items and chances to catch Legendary Pokémon.
Niantic announced the Research update for Pokémon Go will go live on March 30, and revealed new information on the official Pokémon Go Japanese website -- via Serebii -- including how to catch Mew and how to accept the various Research Tasks that coming to the game. Dataminers over on the Silph Road subreddit have also discovered some interesting tidbits about Mew.
The new Pokémon Go update is not yet live. We will update this information if anything changes. Here's everything you need to know about the different Research Tasks and how to catch Mew in Pokémon Go.
HOW DO FIELD RESEARCH TASKS WORK?
Every day, a new Field Research Task will be set at a PokéStop. Every Pokémon Go player will receive the same task, whether it's to catch a certain type of Pokémon, battle in Gyms or complete a certain number of Raids. Trainers can cancel a Field Research Task if they want, and can receive the task again by spinning the same PokéStop.
You can hold up to three Field Research Tasks at once. After one is completed, you can receive the reward for its completion and pick up another one.
Once a Field Research Task has been completed, the trainer will receive a stamp. Collecting seven stamps will unlock a Research Breakthrough. The Research Breakthrough will give a trainer a special item or a chance at catching a Legendary Pokémon. Moltres is confirmed as one of the Legendary Pokémon that can be caught in a Research Breakthrough.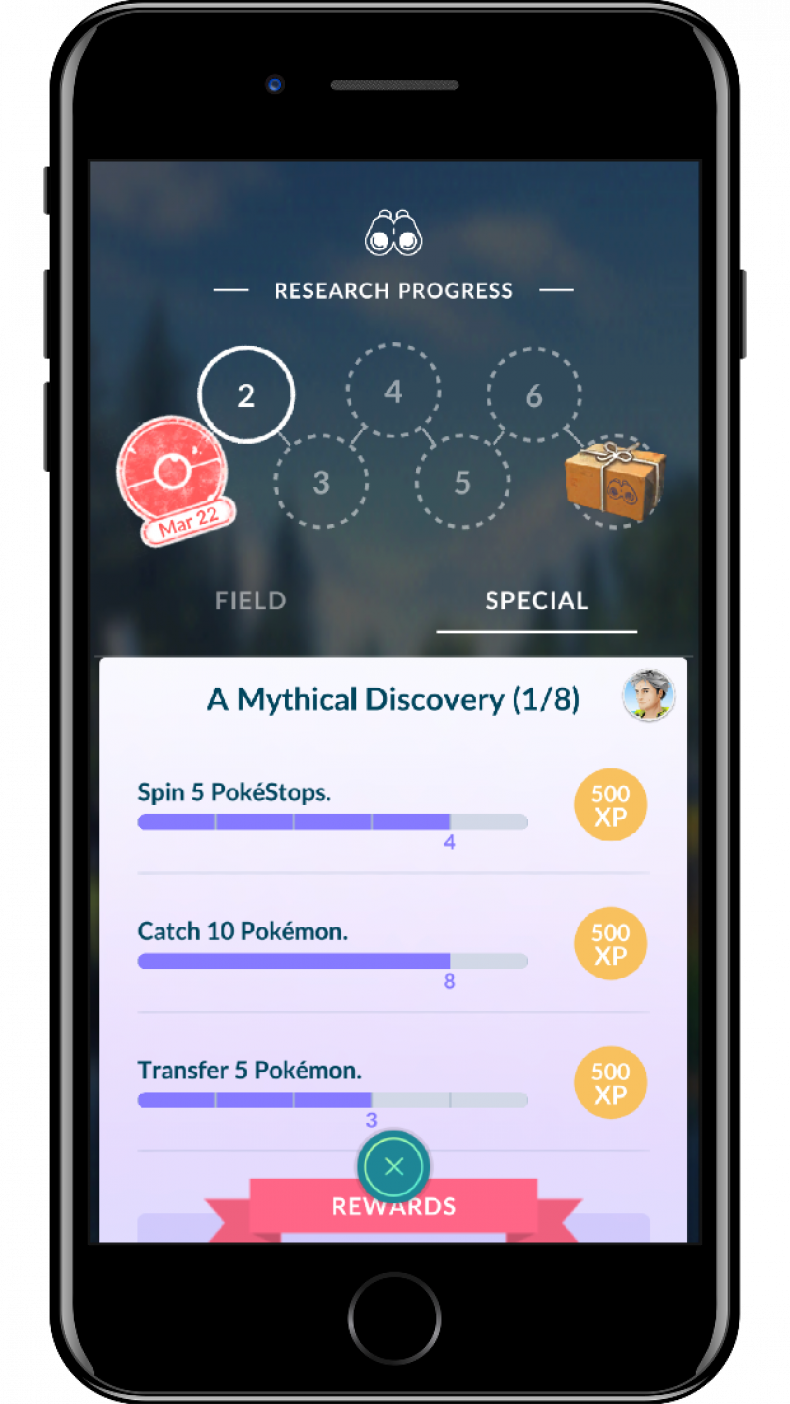 CATCHING MEW
To catch Mew in Pokémon Go, you'll need to accept the Special Research Task from Professor Willow. An icon may appear in place of the research icon on the main screen. Players need to be Level 5 or above to go through the "Search for Mew" story. However, trainers can only go through this special mission once, so be prepared before you begin.
Here are all the challenges trainers will need to complete to catch Mew.
Redditors also report Mew can be found in its Shiny form. Unlike some other Shiny Pokémon whose Shiny form isn't noticeable, Shiny Mew is a bright blue. Mew's movesets and IVs were also uncovered in a recent datamine.
Are you enjoying the latest Pokémon Go update? Are you excited to go on a mission to catch Mew? Let us know in the comments section below