'Pokémon Go' Community Day: Shiny Machop, Start Time and Everything You Need to Know
The first Community Day in Pokémon Go of 2021 is about to begin and features the Fighting-type from the Kanto region, Machop.
Machop's final evolution, Machamp, is one of the best Fighting types in Pokémon Go and this Community Day will give trainers the best chance to catch a powerful one with an exclusive move that will help it takedown Psychic types.
For a few hours this Saturday, Pokémon Go trainers will benefit from increased spawns of Machop in the overworld, including the debut of its Shiny form, and a handful of in-game bonuses that will benefit players.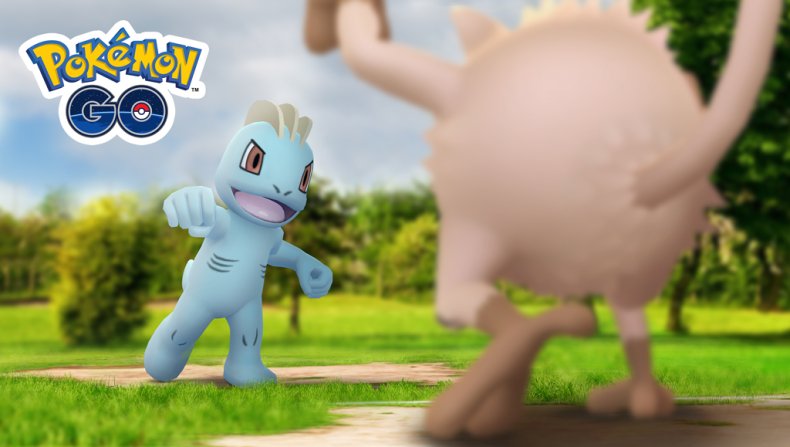 POKÉMON GO MACHOP COMMUNITY DAY START TIME
The Machop Community Day event in Pokémon Go begins Saturday, January 16 from 11 a.m. to 5 p.m. local time
SHINY MACHOP
While trainers will see more Machop in the wild during the event, its Shiny variant will also have a higher chance of being discovered.
Machop has a very unique Shiny as its bluish skin changes to a greener color. Trainers won't have a hard time distinguishing between the two. Shiny Machop will be permanently in Pokémon Go after this week's Community Day, but the best chance to catch one will be on Saturday.
PAYBACK
Trainers who evolve their Machoke—the evolved form of Machop—to Machamp up to two hours after the Community Day is over will learn an exclusive Charged Move.
Payback is a Dark-type attack that will help Machamp take on Psychic and Ghost-type Pokémon in battle. It'll be Machamp's best counter to those types and give the Fighting-type Pokémon a chance against them.
IN-GAME BONUSES
During the six-hour event, trainers can benefit from the following in-game bonuses:
3× Catch Stardust
Incense activated during the event will last for three hours
Trading range will be temporarily increased to 40 km starting on Friday, January 15, at 2 p.m. until Monday, January 18, at 2 p.m. EST. Remember, Trainers—Machoke that are traded can be evolved without using Candy
Take a few snapshots during Community Day for a surprise!
There'll be a special one-time-purchase Machop Community Day Box available for 1,280 PokéCoins, featuring an Elite Charged TM, four Incense, four Star Pieces, and 30 Ultra Balls.
For $1, trainers will be able to access the Machop Community Day–exclusive Special Research story, Straight to the Top, Machop!
Are you excited for the Machop Community Day? Let us know your favorite Fighting-type in the comments section.