'Pokémon Go' Community Day: Shiny Porygon, Start Time and What You Need to Know
Porygon was selected as the next Community Day Pokémon by Pokémon Go players and the event is about to begin.
This Sunday, trainers will see an abundance of Porygon, the Normal-type Pokémon from the Kanto region, in the overworld, along with a bevy of in-game bonuses that include two sets of research tasks and an exclusive move.
Porygon Community Day also gives trainers the best and easiest chance to evolve their Porygon into its two evolutions.
With Porygon Community Day coming soon to Pokémon Go, here's everything trainers will need to know.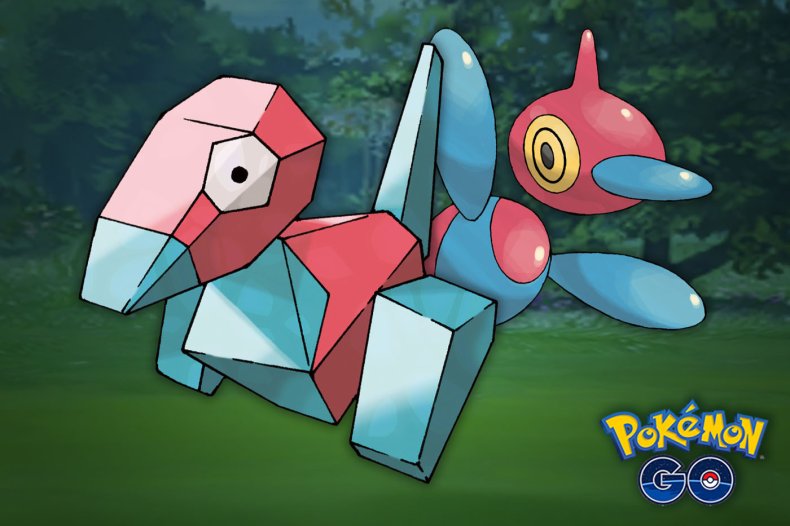 POKEMON GO PORYGON COMMUNITY DAY START TIME
The Porygon Community Day event in Pokémon Go will begin Sunday, September 20, from 11 a.m. to 5 p.m. local time.
SHINY PORYGON
As with other Pokémon who receive the Community Day spotlight in Pokémon Go, Porygon will appear more frequently in the overworld. However, this event will mark the debut of Shiny Porygon into the game.
Shiny Porygon has a vastly different appearance from its normal counterpart. Normal Porygon has a pink and blue color while Shiny Poryong changes its pink color to a deep blue and its light blue into a grayish purple color.
The rate that trainers will be able to encounter a Shiny Porygon will be higher during the six-hour event than any other time.
TIMED RESEARCH TASKS
Niantic confirmed on its blog that there will be a timed research to coincide with the Porygon Community Day event.
We won't know the exact tasks that can be completed until Sunday, but Niantic revealed that the rewards will include up to three Upgrades and three Sinnoh Stones, special items needed to evolve Porygon into its two evolutions.
A Special Research story is also available in the Pokémon Go in-game shop for $1. This story will likely reward players with Porygon encounters and items to help evolve your Pokémon.
Community Day Research
Power Up Pokemon 5 Times - Upgrade (x1)
Catch 5 Porygon - Upgrade (x2)
Make 3 Nice Throws - Sinnoh Stone (x2)
Special Research
Power Up Pokémon 10 Times - PokeBall (x100), Stardust (x2000)
Catch 15 Porygon - Porygon Candy (x20), Incense (x1)
Make 5 Nice Throws - Porygon Encounter (x2)
--------
Catch 15 Porygon - Upgrade (x1)
Transfer 15 Pokemon - Porygon2 Encounter
Evolve 3 Porygon - Porygon Candy (x20)
--------
Make 3 Great Curveball Throws - Porygon Candy (x20)
Evolve 1 Porygon2 - Golden Razz Berry (x5)
Transfer 10 Pokemon - Sinnoh Stone (x1)
--------
Claim Reward (x3) - Stardust (x5000), 1500 XP, Silver Pinap Berry (x5)
PORYGON-Z AND TRI ATTACK
Along with new Shinies, Community Days add exclusive moves that can't be learned any other way.
For Sunday's Community Day, Porygon2 (the evolved form of Porygon) that evolves into Porygon-Z up until an hour after the event ends, will learn the exclusive charge move Tri Attack.
Tri Attack is a powerful Normal-type that has a chance of decreasing the opposing Pokémon's Attack and Defense in PVP battles.
Porygon evolves into Porygon2 with an Upgrade and 25 Porygon Candy. Porygon2 evolves into Porygon-Z with a Sinnoh Stone and 100 Porygon Candy.
IN-GAME BONUSES
During Porygon Community Day, trainers will earn three times the experience for catching Pokémon and Incense will last for three hours during the event.
Trainers can also take advantage of a special one-time-purchase: The September Community Day Box will be available for 1,280 PokéCoins, and features an Elite Fast TM, three Incense, six Lucky Eggs and 30 Ultra Balls.
Are you excited for Porygon Community Day? Let us know your thoughts in the comments section.