'Pokémon Go' Fest Weekly Challenge Event: Shiny Pidove, Ducklett and More
Pokémon Go Fest and the popular mobile game's fourth anniversary is just around the corner, and Niantic is celebrating with weeks of in-game events.
Starting this Friday, the first week in the Pokémon Go Fest Weekly Challenge event will bring new Pokémon, new shinies and much, much more. There is a lot to do in the five-day window of the event, and a lot to cover, so continue reading for all the pertinent information on the Pokémon Go Fest Weekly Challenge event.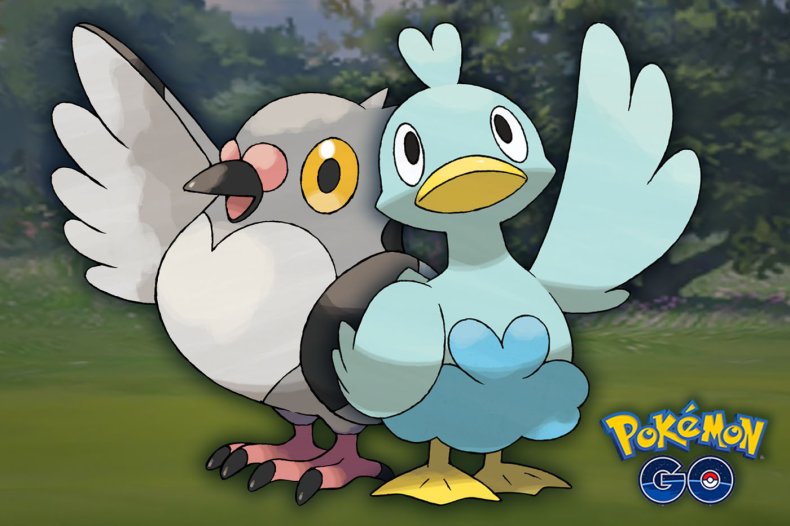 POKEMON GO FEST WEEKLY CHALLENGE WEEK 1 START TIME
The first week of the Pokémon Go Fest Weekly Challenge will begin Friday, July 3, at 8 a.m. local time and end Wednesday, July 8, at 10 p.m. local time.
POKEMON GO FEST WEEKLY CHALLENGE TASKS
When the event begins, there will be three sets of tasks for players to complete. These tasks are based on "Skill" and will test your ability to throw PokeBalls and much more.
Complete these timed research tasks to win an encounter with Ducklett, the Water and Flying-type Pokémon from the Unova region. Ducklett, and its evolution Swanna, are making their Pokémon Go debuts this week, so be sure to complete the tasks to get this new Pokémon.
If one million trainers from each team complete the tasks, these Pokémon will appear more frequently during Pokémon Go Fest:
One million Team Instinct Trainers: Chimecho
One million Team Mystic Trainers: Alomomola
One million Team Valor Trainers: Chansey
Completing the Weekly Challenge research will also earn you access to the GO Fest Elite Skill Challenge, a set of difficult tasks that you can complete to earn personal bragging rights. These don't count towards the Pokémon Go Fest 2020 unlock goals.
Once the event is live, we'll update this section with the tasks.
DUCKLETT AND SHINY PIDOVE
Ducklett will appear as a reward encounter for completing the tasks, but trainers will also have a chance to catch the blue duck in 5km Eggs and in the wild.
In fact, Flying-type Pokémon will be appearing more frequently during this event, including Pidove. The "regional bird" of Unova will appear more often, but its Shiny form will also be making its debut in Pokémon Go.
Shiny Pidove sees its black colors turn blue while its gray coloring becomes more washed out. It's easy to differentiate the Shiny from its normal coloring.
FLYING PIKACHU
There are a lot of different Pikachus in Pokémon Go. Mostly, Pikachu wearing various hats are prevalent in these events, but for the fourth anniversary, Flying Pikachu will appear in the wild and in Raids.
Flying Pikachu is a special Pikachu that is elevated by a bunch of balloons. It's unknown what will make this Pikachu different aside from its appearance, but it may learn the move Fly. Lucky trainers can also find a Shiny Flying Pikachu.
We'll update this section with more information as it comes.
HO-OH RAID WEEKEND
The Fire and Flying-type Legendary Pokémon Ho-Oh will return to Raids this weekend. When the event begins on Friday until Monday, July 6, at 10 p.m. local time, trainers can go battle and catch Ho-Oh in Five-Star Raids.
Are you excited for the first week of this event? Which Flying-type Pokémon is your favorite? Let us know in the comments section.