'Pokémon Go' Halloween 2020 Event to Bring Galarian Yamask, Shiny Spiritomb & More
Niantic has finally revealed its plans for its annual Halloween event in Pokémon Go and it brings new challenges, Shiny forms and Pokémon.
Monday, the official Pokémon Go blog detailed what trainers can expect from the Halloween event this year starting with when it releases in the mobile game, which is Friday, October 23 starting at 9 p.m. EDT. The event will last until Tuesday, November 3 at 9 p.m. EDT.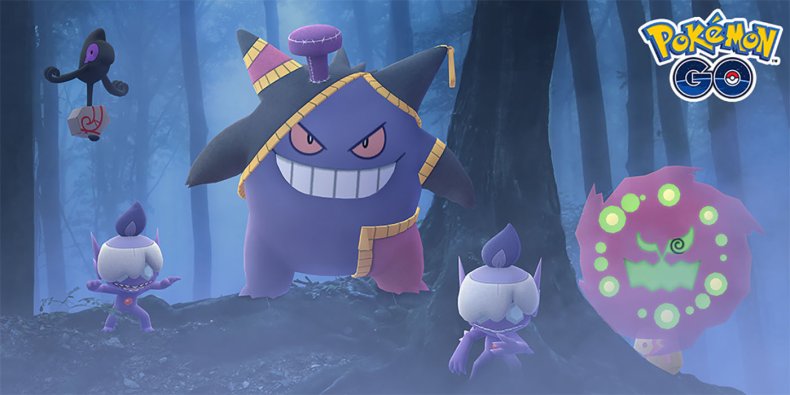 Ghost-type Pokémon will appear more often in the wild, in Raids and hatching from Eggs. Two Ghost-type Pokémon in particular, Gengar and Sableye, can be caught wearing special Halloween costumes.
Sableye can be caught in the wild or hatched from Eggs wearing a Litwick hat while Gengar, wearing a Banette costume, can be caught in Raids during the event.
Galarian Yamask from Sword and Shield will make its Pokémon Go debut during this year's Halloween event. It will be featured in a new special research as you help Professor Willow find out the truth behind this spooky Pokémon.
Certain Field Research and a special research story will also be available to complete that will reward trainers with Spiritomb, the Ghost and Dark-type Pokémon that debuted last year. However, this time around trainers will have a chance at catching a Shiny Spiritomb.
A Timed Research event will go live when Halloween festivities in Pokémon Go begin that will reward trainers with Mega Gengar Energy. Mega Gengar Raids will begin appearing on October 23 to give trainers a chance at getting this powerful Ghost-type Pokémon.
Darkrai, the mysterious Dark-type Mythical Pokémon, will return to Five-Star Raids during the event and there will be Halloween-themed field research that trainers can gather by spinning Poke Stops.
New avatar items will have trainers looking spooky and there will be special boxes to purchase in the in-game shop.
Throughout the Halloween 2020 event, trainers will benefit from double the candy for transferring and catching Pokémon.
In addition to the main Halloween event, Pokémon Go will have three different mini-events that will give trainers more to do in October. The first is Alolan Marowak Raid Day that sees the Ghost and Fire-type Pokémon appear in Raids for four hours on Saturday, October 31. Between 11 a.m. and 5 p.m. local time, trainers can catch as many Alolan Marowak as they can in Raids.
The Ghost Day Catch Mastery event will start Sunday, October 25 from 8 a.m. to 10 p.m. local time that lets trainers complete an event-exclusive Timed Research that will incentivize catching Ghost-type Pokémon.
And finally, we have the Halloween Cup in the Go Battle League. From Monday, october 26 to November 3 trainers can go into battle with just Poison, Bug, Ghost, Dark and Fairy-type Pokémon to earn exclusive rewards.
Trainers will also have a chance to encounter costumed Bulbasaur, Charmander and Squirtle during this event.
What do you think of this year's Halloween event in Pokémon Go? Who is your favorite Ghost-type Pokémon? Let us know in the comments section.