'Pokémon Go' Is Teaming Up With Verizon for New Content and to Let Your Avatar Wear a Mask
Pokémon Go is teaming up with Verizon to bring trainers who are also Verizon customers more content in the mobile game.
In an announcement on Tuesday, the Pokémon Go team detailed some in-game benefits that Verizon customers will soon be able to redeem, including new avatar items and access to a future special event.
Pokémon Go trainers in the U.S. can obtain a special ticket to gain access to a special event with its own Timed Research and much more.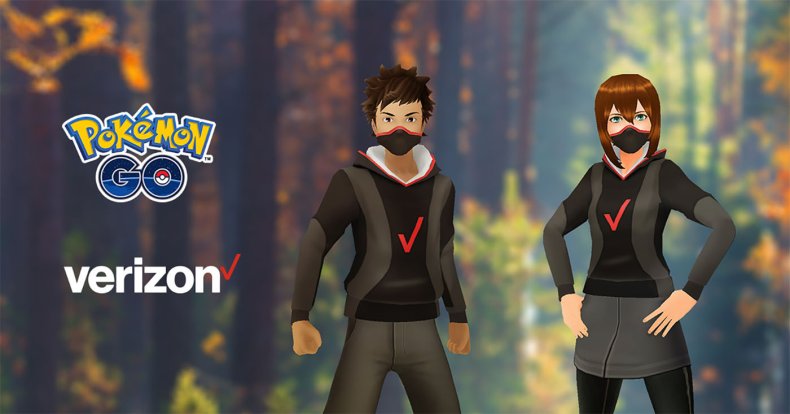 HOW TO CLAIM VERIZON/POKEMON GO EVENT TICKET
From now until November 7 at 2 p.m. EDT, Verizon customers can claim their ticket through their Verizon Up rewards program.
Sign in to the Verizon Up rewards program app with your Verizon ID or mobile phone number. Only one ticket can be redeemed per Pokémon Go account. Codes are personal and cannot be transferred. If you're eligible, you can unlock your ticket on the official Verizon site.
We claimed the ticket on the My Verizon mobile app and by tapping on the Verizon Up tab on the bottom of the screen. Among the "Bonus Rewards" section, the card for the Pokémon Go ticket was there. Tap on the card and hit "Claim" to get your code.
Once you've obtained your special code, redeem your ticket on the Niantic Redemption portal, which will automatically give you the item in the Pokémon Go app.
POKEMON GO/VERIZON EVENT FEATURES
Now that you have your special ticket, what can you expect? Starting Saturday, November 7, from 11 a.m. to 2 p.m. local time, you'll be able to complete a Timed Research that will earn you experience points, Stardust, three Incense, a Star Piece, and 100 Charizard Mega Energy.
Trainers will also receive encounters with Chansey, Spoink, Absol, Bronzor, Gible and Sewaddle.
Use an Incense during the event to have the following Pokémon appear more frequently: Bulbasaur, Charizard, Squirtle, Pikachu, Unown V, Unown Z, Sableye, Patrat, Minccino and Ferroseed. Trainers will also have the chance to find Ferroseed in its Shiny form.
Niantic noted that trainers won't be able to encounter a Shiny Unown during the event and Incense will last for one hour.
HOW TO CLAIM VERIZON AVATAR ITEMS
To claim the Verizon Avatar Items, which includes a mask and hoodie, sign in to the Verizon Pokémon GO page. Scroll down to find the "Get Started" button to see if you're eligible.
Codes will be available in the Verizon Pokémon Go portal for eligible Verizon users from Tuesday, October 20, at 9 a.m. EDT to Friday, January 1, at 2:59 a.m. EST. The codes must be redeemed on the Niantic Offer Redemption portal in that time. Only one code can be redeemed per Pokémon Go account. Codes are personal and cannot be transferred.
If you're not a Verizon customer, you can wear a white mask by going into your "Style" feature and equipping it.
So what do you think of the Verizon/Pokémon Go partnership? Have you had trouble redeeming avatar items or the special ticket? Let us know in the comments section.