'Pokémon Go' Team Go Rocket Takeover Event: Start Time, Shiny Skorupi & More
The first Pokémon Go event in March involves the return of Team Go Rocket, the dastardly group that has corrupted Pokémon in an attempt to take over the world of the popular mobile game.
During the event, Poison and Dark-type Pokémon appear more frequently in the wild. This includes Pokémon like Zubat, Koffing, Ekans and other monsters that Team Rocket frequently use.
The event also gives players a chance to catch Absol in the wild as opposed to during a Raid. This rare Dark-type Pokémon is something players will want to hunt down before the event period ends.
If you want to take full advantage of the Team Go Rocket Takeover event, here's everything you need to know including its start time.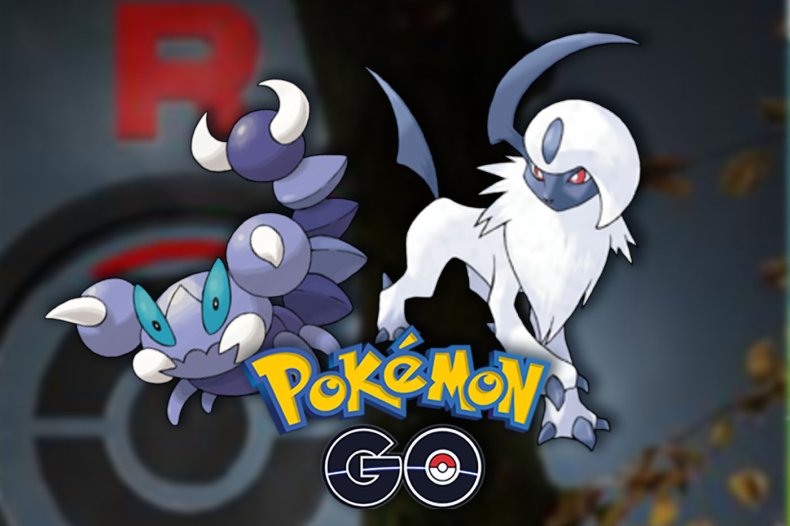 POKEMON GO TEAM GO ROCKET EVENT START TIME
The latest Team Go Rocket Takeover event begins Friday, March 6 at 8 a.m. to Monday, March 9 at 10 p.m. local time.
SHINY SKORUPI
Skorupi will appear more frequently in the wild alongside fellow Poison and Dark-type Pokémon. However, the Poison and Bug-type Pokémon will also have its Shiny variant debut in Pokémon Go during this event.
While Shiny Skorupi will be a regular part of Pokémon Go after the takeover ends, the chance of encountering it is increased during the event window.
Shiny Skorupi changes from its usual bluish purple color to a bright red hue, so it's easy to spot. Trainers must encounter a Skorupi in the wild before finding out if it's a Shiny or not.
TEAM GO ROCKET TAKEOVER & SHADOW POKEMON BUFF
Starting Saturday, March 7 from 2-5 p.m. local time, Team Go Rocket Grunts and Leaders will appear more frequently at PokeStops.
Shadow Pokémon rescued from the Team Go Rocket Leaders (Sierra, Cliff, Arlo) have a chance at being Shiny. Also, during the takeover, trainers will be able to rescue all six of the Shadow Pokémon left behind by Team Go Rocket Leaders.
Trainers may have already noticed, but Shadow Pokémon have increased damage, making them some of the hardest-hitting Pokémon in the game. The tradeoff is that Shadow Pokémon's defenses are lower than usual, however.
During the Takeover on Saturday, trainers can use a Charged TM to change Frustration into a new attack. It should be noted that trainers who purify these Pokémon will have the move Return replace any attack learned from the Charged TM.
Players who defeat the Team Go Rocket Grunt Leaders will also receive double the Stardust for their victory.
What do you think of the upcoming Team Go Rocket event? Which Shadow Pokémon is your favorite? Let us know in the comments section.