'Pokémon Go' Valentine's Day Event: New Research Tasks, Heart Pattern Spinda and More
This year's Valentine's Day event in Pokémon Go is live and brings more pink Pokémon to catch than trainers know what to do with.
Niantic confirmed on its blog that increased encounters of pink Pokémon like Clefairy and Chansey will occur. The company also confirmed that some of the Egg pool is changing as well as which Pokémon appear in Raids.
There are reports of a heart patterned Spinda, as well as new research tasks from Pokémon Go players. If you're looking for all the essential information on the Pokémon Go Valentine's Day event, check it out below.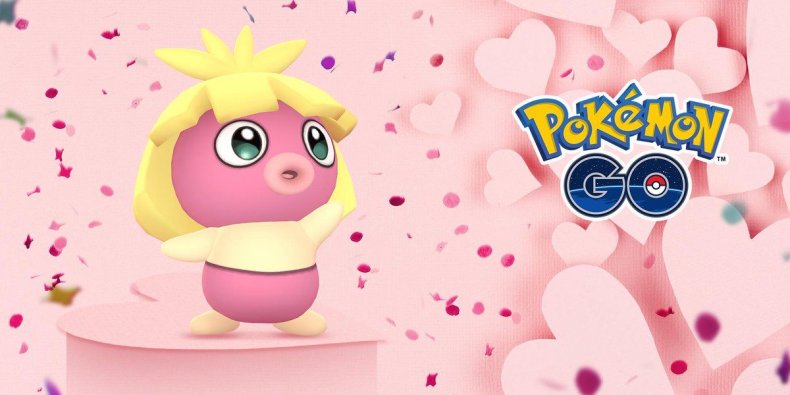 POKEMON GO VALENTINE'S DAY EVENT START/END TIME
The special Valentine's Day event in Pokémon Go begins February 13 at 4 p.m. EST and ends February 21 at 4 p.m. EST.
NEW RESEARCH TASKS
There are three reported research tasks for the Valentine's Day event. Here they are and their rewards:
Catch 20 Luvdisc -> Chansey encounter
Throw 5 Great curveballs in a row -> Heart pattern Spinda
Catch a Chansey -> 3 Rare Candy
We'll update this section if more research tasks are found.
INCREASED POKEMON ENCOUNTERS
Pink Pokémon are the name of the game during this week-long event, and Pokémon Go players will see plenty of them in the wild.
Niantic confirmed in its blog that Pokémon like Clefairy, Hoppip and Luvdisc will appear more frequently.
RAID CHANGES
This new event has shifted the Raid Bosses for the time being. Niantic confirmed Chansey and Porygon will not appear more frequently in Raid Battles.
Here's all the Raid Boss changes during the Valentine's Day event.
EGG POOL CHANGES
Niantic teased that pink Pokémon will hatch more frequently from 7 km Eggs during the event. Trainers know that 7 km Eggs can only be obtained through a gift sent by a friend when you have a slot open in your Egg pocket.
Eggs obtained prior to February 13 at 4 p.m. EST will not have an increased chance of hatching a pink Pokémon. Niantic didn't confirm what Pokémon exactly will hatch, but the promotional image for this event shows Smoochum, so it's safe to assume that it's one of the increased hatches.
Here's the new Egg Pool.
IN-GAME BONUSES
During the Valentine's Day event, Lure Modules will last six hours. Trainers will also benefit from double candy from captures. Catch as many Pokémon as possible to gain the candy needed to evolve, power up or teach new moves to your pink Pokémon.
What do you think of this latest Pokémon Go event? Who do you hope to catch during this week? Let us know in the comments section below.