Pokémon Home Can't Transfer Every Pokémon to 'Pokémon Sword and Shield'
There was quite a bit of new information about Pokémon Sword and Shield revealed at E3 2019, but one detail regarding Pokémon Home is problematic.
Pokémon Home was announced in May during the Pokémon conference in Japan and is the replacement for Pokémon Bank. It will allow trainers to transfer Pokémon from the 3DS games, Pokémon Go and Let's Go to Pokémon Sword and Shield.
Director Junichi Masuda came on the Nintendo Treehouse Live stream following the Nintendo Direct at E3 2019 on Tuesday to explain a little bit more about how Pokémon Home works. He says the team has decided to allow only Pokémon found in the Galar region to be transferred to Sword and Shield and deliberated for a long time about which to make available.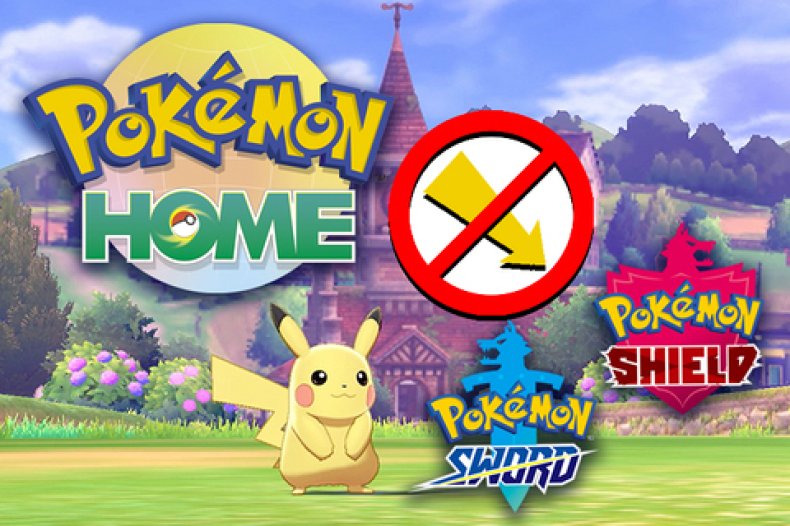 Of course, this brings up a big problem. With more than 800 species of Pokémon in existence, not all of them will be in Sword and Shield. That means Pokémon bred and raised for competitive battles, or Shinies, will essentially be left behind.
While we don't know all of the Pokémon that will be a part of the Galar region, the fact that trainers won't be able to bring some of them to the new console seems short-sighted. Perhaps The Pokémon Company will bring an update down the line that will allow for all of them to be transferred, but for now the cold hard truth is that some won't make the leap to the Switch.
After all, the confirmed Pokémon from other regions that will appear in Sword and Shield are less than 200 out of 809 known species.
Pokémon Home is expected to launch in early 2020, after Sword and Shield's release, so perhaps TPC will change course in that time. For now, here are the confirmed - so far - Pokémon from other regions that will be transferable through Pokémon Home separated by generation. This list will be continuously updated as more information is obtained.
GENERATION 1
Pikachu
Raichu
Snorlax
Eevee
Vaporeon
Jolteon
Flareon
Rhyhorn
Rhydon
Onix
Gastly
Haunter
Gengar
Caterpie
Metapod
Butterfree
Charmander
Charmeleon
Charizard
Magikarp
Gyarados
Growlithe
Arcanine
Vulpix
Ninetales
Machop
Machoke
Machamp
Goldeen
Seaking
Diglett
Dugtrio
Clefairy
Clefable
Mew
GENERATION 2
Pichu
Hoothoot
Noctowl
Larvitar
Pupitar
Tyranitar
Umbreon
Espeon
Wobbuffet
Steelix
Mantine
Chinchou
Lanturn
Togepi
Togekiss
Cleffa
Wooper
Quagsire
Sneasel
GENERATION 3
Trapinch
Vibrava
Flygon
Wailmer
Wailord
Duskull
Dusclops
Feebas
Milotic
Wingull
Pelipper
Roselia
Snorunt
Glalie
Electrike
Manectric
Lotad
Lombre
Ludicolo
Ralts
Kirlia
Gardevoir
GENERATION 4
Riolu
Lucario
Munchlax
Glaceon
Leafeon
Wynaut
Hippopotas
Hippowdon
Snover
Abomasnow
Rhyperior
Dusknoir
Mantyke
Budew
Roserade
Combee
Vespiquen
Bronzor
Bronzong
Froslass
Togekiss
Weavile
Drifloon
Drifblim
Gallade
GENERATION 5
Minccino
Cinccino
Deino
Zweillous
Hydreigon
Rufflet
Braviary
Sawk
Roggenrola
Boldore
Gigalith
Golett
Golurk
Frillish
Jellicent
Tympole
Palpitoad
Seismitoad
Axew
Fraxure
Haxorus
Joltik
Galvantula
Vanillite
Vanillish
Vanilluxe
Trubbish
Garbodor
GENERATION 6
Espurr
Meowstic
Sylveon
Bergmite
Avalugg
Hawlucha
Pancham
Pangoro
Inkay
Malamar
Bunnelby
Diggersby
Swirlix
Slurpuff
Goomy
Sliggoo
Goodra
GENERATION 7
Grubbin
Charjabug
Vikavolt
Wishiwashi
Bounsweet
Steenee
Tsareena
Stufful
Bewear
Mudbray
Mudsdale
Mimikyu
Pokémon Sword and Shield will release November 15.
What do you think of this restriction to Pokémon Home? Let us know your thoughts in the comments section below.