New 'Pokémon Sword and Shield' Gym Leader and PokeBall Plus Details Revealed at E3 2019
Some new details for Pokémon Sword and Shield were revealed during Nintendo's E3 2019 online presentation.
Not much was announced but fans did get to see a brand new trainer named Nessa. She is the Water-type Gym Leader and she is shown using the Water and Rock-type Pokémon, Drednaw. Those in attendance at E3 will be able to battle Nessa in the demo booth.
It was also revealed that the PokeBall Plus can't be used as a controller, but you can bring Pokémon with you on the go. It was teased that some perks will be obtained if the PokeBall Plus is used.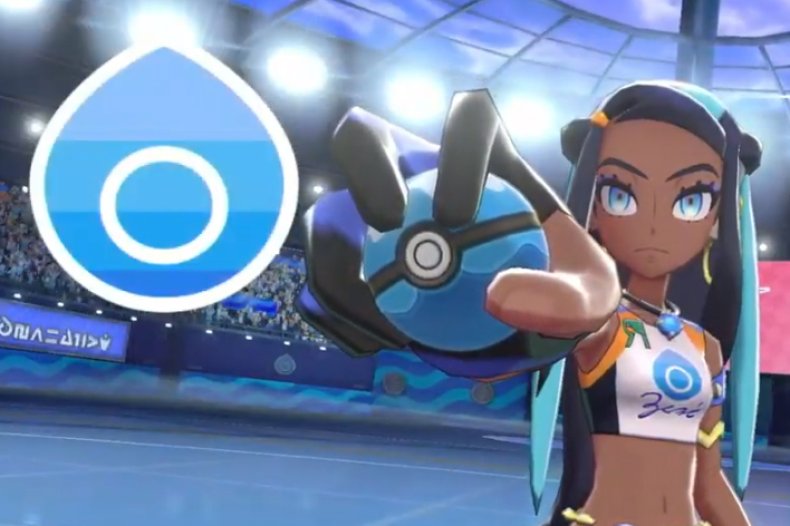 Nessa is the second confirmed Gym Leader of the Galar region, following the reveal of Milo the Grass-type Gym Leader. It should be noted that the leak that popped up online in May mentioned Nessa's name among the Gym Leaders. This latest bit of news gives more credence to that leak.
Other new information about the Wild Area and Max Raid Battles were also revealed. Here's the information straight from the official Pokémon Company press release:
The types of Pokémon that appear, as well as battlefield conditions, can be affected by the weather in the Wild Area. For example, a Trainer who enters a battle during a thunderstorm will find the power of their Water- and Electric-type moves increased.
Trainers can find other players who want to participate in a Max Raid Battle through a notification on their Y-Comm, a new feature in Pokémon Sword and Pokémon Shield. On the Y-Comm screen, players can also trade Pokémon and have Link Battles via the internet or local communication.
Wild Dynamax Pokémon can create mysterious barriers that prevent almost all damage. To properly damage a Pokémon behind one of these barriers, Trainers will need to break it down by repeatedly attacking it. When a player's Pokémon is knocked out in a Max Raid Battle, they can still assist other Trainers by cheering them on. If a Trainer emerges victorious from a Max Raid Battle, not only will all participating Trainers have an opportunity to catch the defeated Dynamax Pokémon, they can also be rewarded with many useful items.
A week prior, The Pokémon Company held their own Direct that revealed the new battle mechanic for Gen 8 - Dynamax - which allows for Pokémon to grow to monsterous sizes for only three turns. Their attacks while Dynamaxed will also change and have various effects.
The Wild Area was shown off during the Direct, which allows for trainers to explore various biomes that show Pokémon in the overworld. This is also where Max Raid Battles take place. Similar to the Raid Battles in Pokémon Go, Max Raid Battles lets trainers bring up to four trainers into battle with a Dynamax Pokémon. Some of the Pokémon found in these raids can only be found in these special battles.
Fans were also treated to new Pokémon of the Galar region. Gossifleur, Eledgoss, Corviknight, Drednaw and Wooloo were introduced. Trainers also got to see the box Legendary Pokémon, Zacian and Zazamenta who represent swords and shields.
Pokémon Sword and Shield will release November 15 on Nintendo Switch.
What do you think of the latest information on Gen 8? What are your thoughts on the new Pokémon of the Galar region? Let us know in the comments section below.