'Pokémon Legends: Arceus' Full Pokédex: All Nintendo Switch Game's Characters Confirmed
Pokémon Legends: Arceus has an enormous Pokédex for you to fill out, although it's not quite the largest one in the franchise's history.
Essentially a prequel, the open-world game is set in a bygone era before Pokémon and humans had learned to live in peaceful harmony. You play as an intrepid adventurer who has been sent on an expedition to study the hitherto uncharted region of Hisui (which will one day be known as "Sinnoh") and uncover its hidden secrets.
Completing this endeavor will require you to become familiar with the diverse flora and fauna of Hisui. You will need to research the area's plant life, survey its wild terrain, learn to craft materials and invent new gear by harvesting its resources.
Of course, your main task will be to compile an exhaustive Pokédex that lists every living creature that can be found roaming this newly-discovered land. Think of it like you're cataloguing the wilderness.
As seasoned veterans of Nintendo's franchise will know, the only way to add entries into your bestiary is to capture the relevant Pokémon. In the case of Legends: Arceus, your method for doing this will be slightly different, as you won't be solely reliant on defeating pocket monsters in combat. Instead, you'll need to use your wits to sneak up on them, lure them into traps and even tame them with an offering of their favorite foods.
How Long Is 'Pokémon Legends: Arceus' and How Many Pokémon Are There?
According to estimates from those who have managed to play the game early (via leaked files), it takes roughly 20 hours to blast through the main story here. If you truly want to "catch 'em all" and fill out the entire Pokédex, then it could take you upwards of 35 hours.
This is because Pokémon Legends: Arceus has a roster of 242 individual creatures for you to discover. That might not be as many as are featured in titles like Pokémon GO or Ultra Sun and Moon, but it's undeniably a lot to get through.
If it follows in the footsteps of Pokémon Unite, then you can also expect to see those ranks swell as more and more characters are added to the Legends: Arceus roster over time.
'Pokémon Legends: Arceus' Full Pokédex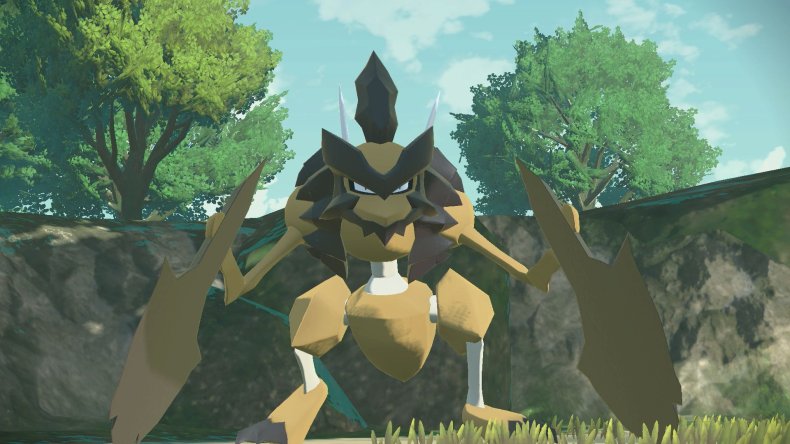 Although Pokémon Legends: Arceus is not out yet in North America, many details about the game have already started to filter through online.
Once people got their hands on early leaked copies (in the week commencing January 17), it was only a matter of time before the full Pokédex became public knowledge. Data miners quickly scoured through the game's code and began to share lists of all 242 creatures that can be captured in Hisui on Reddit.
These reports have now been corroborated by other players who have managed to produce detailed video walkthroughs on where to find each of the new beasts.
With that said, here are all 242 Pokémon that are included in Pokémon Legends: Arceus at launch. The numbers correlate to their respective Pokédex entries.
You can consult this list throughout your journey to see if you're missing any particularly elusive critters.
Rowlet
Dartrix
Decidueye
Cyndaquil
Quilava
Typhlosion
Oshawott
Dewott
Samurott
Bidoof
Bibarel
Starly
Staravia
Staraptor
Shinx
Luxio
Luxray
Wurmple
Silcoon
Beautifly
Cascoon
Dustox
Ponyta
Rapidash
Eevee
Vaporeon
Jolteon
Flareon
Espeon
Umbreon
Leafeon
Glaceon
Sylveon
Zubat
Golbat
Crobat
Drifloon
Drifblim
Kricketot
Kricketune
Buizel
Floatzel
Burmy
Wormadam
Mothim
Geodude
Graveler
Golem
Stantler
Wyredeer
Munchlax
Snorlax
Paras
Parasect
Pichu
Pikachu
Raichu
Abra
Kadabra
Alakazam
Chimchar
Monferno
Infernape
Buneary
Lopunny
Cherubi
Cherrim
Psyduck
Golduck
Combee
Vespiquen
Scyther
Kleavor
Scizor
Heracross
Mime Jr.
Mr. Mime
Aipom
Ambipom
Magikarp
Gyarados
Shellos
Gastrodon
Qwilfish
Overqwil
Happiny
Chansey
Blissey
Budew
Roselia
Roserade
Carnivine
Petilil
Lilligant
Tangela
Tangrowth
Barboach
Whiscash
Croagunk
Toxicroak
Ralts
Kirlia
Gardevoir
Gallade
Yanma
Yanmega
Hippopotas
Hippowdon
Pachirisu
Stunky
Skuntank
Teddiursa
Ursaring
Ursaluna
Goomy
Sliggoo
Goodra
Onix
Steelix
Rhyhorn
Rhydon
Rhyperior
Bonsly
Sudowoodo
Lickitung
Lickilicky
Togepi
Togetic
Togekiss
Turtwig
Grotle
Torterra
Porygon
Porygon2
Porygon-Z
Gastly
Haunter
Gengar
Spiritomb
Murkrow
Honchkrow
Unown
Spheal
Sealeo
Walrein
Remoraid
Octillery
Skorupi
Drapion
Growlithe
Arcanine
Glameow
Purugly
Machop
Machoke
Machamp
Chatot
Duskull
Dusclops
Dusknoir
Piplup
Prinplup
Empoleon
Mantyke
Mantine
Basculin
Basculegion
Vulpix
Ninetails
Tentacool
Tentacruel
Finneon
Lumineon
Magby
Magmar
Magmortar
Magnemite
Magneton
Magnezone
Bronzor
Bronzong
Elekid
Electabuzz
Electivire
Gligar
Gliscor
Gible
Gabite
Garchomp
Nosepass
Probopass
Voltorb
Electrode
Rotom
Chingling
Chimecho
Misdreavus
Mismagius
Cleffa
Clefairy
Clefable
Sneasel
Sneasler
Weavile
Snorunt
Glalie
Froslass
Cranidos
Rampardos
Shieldon
Bastiodon
Swinub
Piloswine
Mamoswine
Bergmite
Avalugg
Snover
Abomasnow
Zorua
Zoroark
Rufflet
Braviary
Riolu
Lucario
Uxie
Mesprit
Azelf
Heatran
Regigigas
Cresselia
Tornadus
Thundurus
Landorus
Enamorus
Dialga
Palkia
Giratina
Arceus
Phione
Manaphy
Shaymin
Darkrai