'Pokémon Let's Go' Blue, Red and Green Locations: How to Find and Battle Legendary Trainers
Pokémon Let's Go Pikachu and Eevee are retellings of 1998's Pokémon Yellow Version, but with some twists. While the world of Let's Go and many of the story beats are familiar, some features are unique to these games. That includes finding and battling the Legendary Trainers, Red, Blue and Green.
While many are familiar with Red and Blue, because they recently appeared in Pokémon Sun and Moon, their reveal in Let's Go was a big surprise. Even more surprising was the inclusion of Green, a trainer only seen in the Pokémon manga.
Although having Red, Blue and Green in the games are neat Easter Eggs they can be hard for new Pokémon trainers to defeat. So if you're ready to take on some of the best Pokémon trainers ever, follow this guide.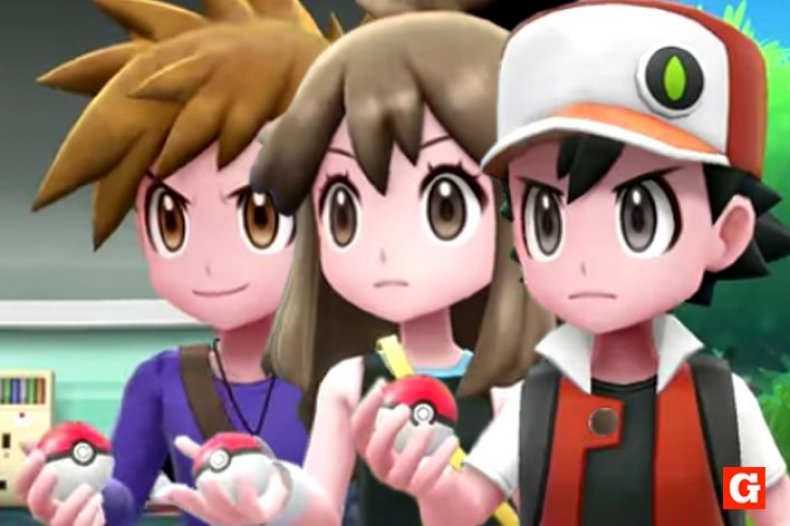 HOW TO FIND AND BATTLE BLUE
Out of the three Legendary Trainers, Blue shows up the most often in Let's Go. Trainers will run into him quite a bit in the story, from Pewter City to after receiving your eighth Gym Badge in Viridian City.
However, you can battle Blue after he takes over the Viridian City Gym once Giovanni disbands Team Rocket. After defeating the Elite Four, head back to the Gym and face Blue and his team of Pokémon whose levels range from 66-68.
Tauros
Double Edge
Earthquake
Iron Tail
Rock Slide
Gyarados
Earthquake
Waterfall
Crunch
Outrage
Aerodactyl
Rock Slide
Crunch
Iron Tail
Earthquake
Alakazam
Psychic
Foul Play
Dazzling Gleam
Reflect
Exeggutor
Psychic
Stomp
Power Whip
Light Screen
Mega Charizard Y
Fire Blast
Hyper Beam
Air Slash
Dragon Pulse
HOW TO FIND AND BATTLE GREEN
Green can only be found in the Let's Go post-game. Once you defeat the Elite Four and become the Pokémon League Champion, you'll need to head to Cerulean Cave and catch Mewtwo. Once you've done so, Green will appear and challenge you to a battle.
Here's a rundown of Green's team, whose levels range from 66-68:
Clefable
Moonblast
Reflect
Light Screen
Tri Attack
Ninetails
Fire Blast
Dark Pulse
Foul Play
Hyper Beam
Gengar
Dark Pulse
Sludge Bomb
Will-o-Wisp
Shadow Ball
Kangaskhan
Dizzy Punch
Sucker Punch
Brick Break
Thunderpunch
Victreebel
Poison Jab
Leech Life
Sucker Punch
Power Whip
Mega Blastoise
Fake Out
Hydro Pump
Flash Cannon
Ice Beam
After defeating Green the first time, she will reappear in Cerulean City once a day for you to have a rematch.
HOW TO FIND AND BATTLE RED
Red is often considered the best Pokémon trainer ever. He's the embodiment of your character from Pokémon Red and Blue Version , and the champion of Silver and Gold. He appears in Let's Go Pikachu and Eevee in front of Indigo Plateau after defeating six of the Master Trainers that can be found throughout the Kanto Region.
After defeating six of these Master Trainers, Red will appear and he'll challenge you with Level 85 Pokémon. Here's a rundown of his team:
Pikachu
Thunderbolt
Reflect
Brick Break
Iron Tail
Lapras
Ice Shard
Waterfall
Body Slam
Megahorn
Snorlax
Toxic
Protect
Body Slam
Rest
Machamp
Earthquake
Fire Blast
Superpower
Hyper Beam
Arcanine
Heat Wave
Will o Wisp
Roar
Crunch
Mega Venusaur
Sludge Bomb
Mega Drain
Leech Seed
Amnesia
After defeating Red, you'll receive a new title for online battles and will reappear after you defeat the Elite Four once more.