'Pokémon Masters' Celebrates 1-Year Anniversary With a New Name and Updates
It's been one year since the launch of DeNA and The Pokémon Company's latest mobile game, Pokémon Masters, and the title is ready to undergo a massive update that will bring two powerful Sync Pairs and a bunch of other goodies for players to enjoy.
First and foremost, Pokémon Masters is about to go undergo a slight name change. To celebrate its first year, Pokémon Masters will now be known as Pokémon Master EX in a future update, to signify how much the game has evolved since its release.
Players will also see the return of Cynthia, the Champion of the Sinnoh region, with a brand new Pokémon. Originally, Cynthia joined Pokémon Masters with her trusty Garchomp, but now players will get a chance to recruit Synga Suit Cynthia and her Komo-oo.
This Dragon-type sync pair will make their debut in the Sync Pair Spotlight Scout, which is available now until September 3 at 1:59 a.m. EDT. This sync pair uses moves like Eyes on the Prize!, which raises a player's critical-hit rate while also reducing their sync move countdown, and Clanging Scales, which attacks all opponents at once.
A new trailer highlighting this sync pair can be found on the official Pokémon Masters YouTube channel.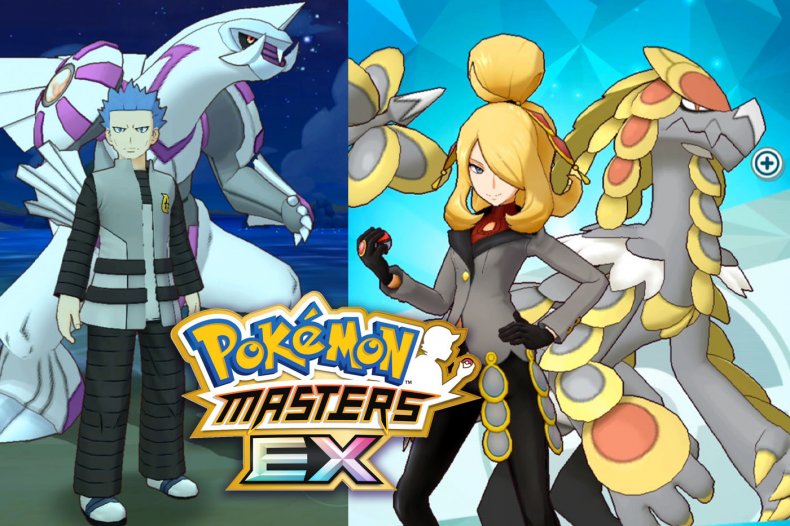 In addition, a new Legendary event has begun featuring Cyrus and Palkia. Cyrus, the leader of Team Galactic, stars in the in-game event titled New World Dilemma, which is available now until September 3 at 1:59 a.m. EDT for players who have completed the first chapter of the Main Story.
In this event, players will adventure with Cyrus and Sygna Suit Cynthia. Players who complete New World Dilemma will have the sync pair of Cyrus & Palkia join their teams. Don't miss out on this chance to add a Legendary Pokémon to their roster.
Pokémon Masters players will not only have a chance to draw Cynthia and Komo-oo in the Sync Pair Scout, but also the Dragon-type master Lance and his Dragonite. For a limited time, this Sync Pair will appear in the Sync Pair Scout Spotlight—from August 20 at 2 a.m. EDT until September 3 at 1:59 a.m. EDT—so save up your Gems and try your luck pulling them.
To help players recruit these powerful Sync Pairs, a new mission bingo will appear that will reward players with 3,000 Gems for completing them.
Since its release, Pokémon Masters has undergone some major changes, including new battle types, features and, of course, new Sync Pairs. Trainers originally were only battling in the Main Story and some online co-op levels with the occasional event sprinkled in. Today, Pokémon Masters has added new chapters to the Main Story and rolling events that bring out the best of the game, including the Battle Villa and Legendary Events.
Players saw the inclusion of Sync Grids to make some Sync Pairs even stronger, and a new Egg and stamina system that changes how trainers play the game.
Are you excited for the new features coming to Pokémon Masters? Let us know in the comments section.