Community Raid Hour Brings Pokémon Fans Together During Isolation
Newsweek's "Heroes of the Pandemic" series features everyday heroes showing service, sacrifice or kindness in the time of COVID-19.
Online features in past Pokémon games only allowed players to trade and battle one another, but the latest Nintendo Switch titles now allow trainers to team up for a common goal.
And with the current coronavirus pandemic keeping everyone at home, a new initiative called "Community Raid Hour" is leveraging these Max Raid Battles to bring players together during these uncertain times.
"We all tried to think of ways to bring the community together and distract us, and this was one of the ideas," Joe Merrick, webmaster of Serebii.net, told Newsweek. "The goal of it is quite simple: to come together for an hour a week with friends, old and new, to focus on this and mostly just have fun."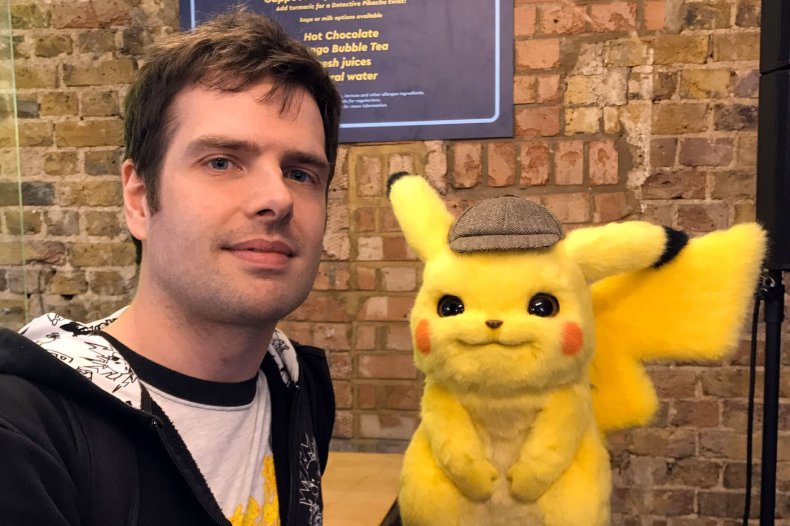 Established back in 1999, Serebii is arguably the largest and most comprehensive site and database for everything Pokémon—it draws between 300,000 and three million visitors a day. Merrick, who resides in the U.K., and his friends devised a plan to bring the Pokémon community together by playing Sword and Shield using the Wild Area online feature. This Community Raid Hour is a weekly initiative where content creators can play with fans from around the world to lift people's spirits and have fun.
The 33-year-old contacted over 60 content creators from more than 10 countries to participate in the first Community Raid Hour on April 8. Each week for one hour starting at 12 p.m. EDT, players can jump into their Sword or Shield game and enter Raids. If they're lucky, players can partner up with one of these content creators.
For a little bit of fun, Merrick and the other content creators also challenge themselves and others to limit the types of Pokémon used. Last week, they chose Easter- and spring-themed Pokémon like Togepi and Bunnelby. This week will be based on Cherry Blossoms, so trainers should aim to use just pink- and purple-colored Pokémon.
"I was honestly flabbergasted by the amount [of content creators] who said yes," Merrick said. "It was nearly unanimous."
Merrick says that the only holdouts were those who didn't have the equipment at the moment to stream or had prior engagements.
Dan, also known to his fans as aDrive, was one of those content creators unable to make the first Community Raid Hour due to a business conflict. But he sees the importance of what this initiative is doing and is looking forward to this week's stream.
"I think the Community Raid Hour initiative is a great thing. Anytime you can bring people together for a goal or objective, there are usually some positive takeaways," aDrive told Newsweek. "This idea has brought together a ton of streamers in the Pokémon community and gives fans something to look forward to every week. Right now, I think having something to look forward to is one of the most crucial pieces to getting out of this health crisis with a good state of mental health."
ADrive, a 29-year-old content creator from Connecticut, has been making content for 10 years and bolsters a substantial YouTube and Twitch following. Even before the pandemic, aDrive would run his own weekly series, like "Max Raid Mondays," but with the world changing he started up the Champions Cup, another initiative that focuses more on the competitive aspect of Pokémon, after this year's official World Championship tournament was cancelled due to the coronavirus.
But the pandemic has affected him on a more personal level.
With a 2-year old daughter and, like many others, without the ability to see his extended family, aDrive is constantly trying to keep his family safe and their spirits high while also giving back to his fans and viewers. Making content and giving back to the community is one way he plans to help people get through.
"I typically work seven days a week and don't go out a ton, thus I'm one of the fortunate people able to continue working. I've taken it upon myself to try to create more content to help others cope with the difficult time," aDrive said. "I know that my videos and streams can serve as a great distraction for those in a challenging position and I'm doing my best to be there for my fans and friends."
Simply searching #CommunityRaidHour on Twitter brings up hundreds of screenshots, tweets and videos of players participating in the community-driven initiative, a number that will certainly grow with each week.
"The feedback [to Community Raid Hour] was honestly overwhelming. It has been so widely accepted and loved," Merrick said following his first stream last week. "With my stream, I had so many people coming in and thanking me for it and for what I do on Serebii. I'm not a streamer, so I am not a natural in things such as that, so it was really overwhelming. Just seeing how so many people were jumping in, getting excited and so forth. It allowed people to focus on this one task and everyone involved had fun."
A positive outcome for such a down time in the world is what Merrick was hoping for with the creation of the Community Raid Hour.
"The Pokémon Community has always been one of the most dedicated and resilient fan bases in the gaming world. The overwhelming love for the franchise, as well as the willingness to welcome new fans and players with open arms, are what help make the Pokémon community amazing," aDrive said. "The response to these events shows how much passion these fans and players have, and I look forward to continuing to help aid in that love for Pokémon fans across the world."
"It's commonly said by people that the Pokémon community is constantly fighting with each other, but this shows otherwise," Merrick explained. "It shows that we can come together and have fun, and support each other in these dark times."
Know a hero you want to nominate to be featured in our series? Drop us a line at heroes@newsweek.com.