'Pokémon Sword and Shield' Trailer Reveals Starter G-Max Moves Revealed
A new Pokémon Sword and Shield trailer released Thursday gives players more information on the new Gigantamax forms coming to the Gen 8 games with the release of the first DLC.
The Gigantamax forms of your fully evolved Starter Pokémon - Rillaboom, Cinderace and Inteleon - were previously announced to be a part of the first Sword and Shield DLC in June. However, more information on these new forms was just revealed.
Before we dive in, check out the latest Pokémon Sword and Shield Expansion Pass trailer below.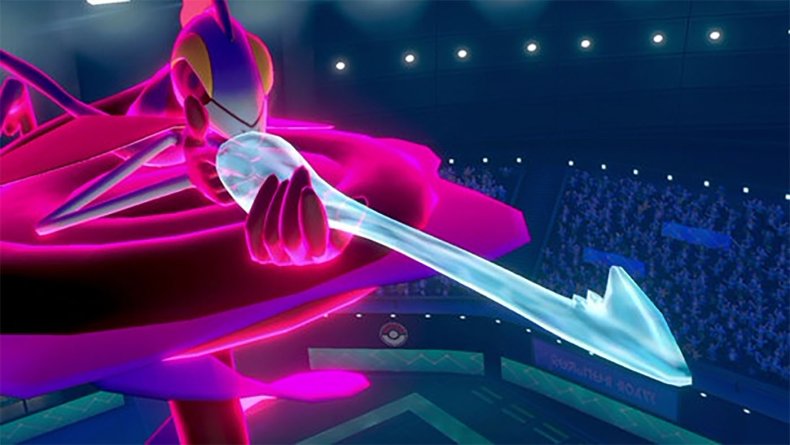 First we have Gigantamax Rillaboom that knows G-Max Drum Solo. If your Rillaboom knows a Grass-type attack, it will unleash this powerful move. The attack ignores your opponent's abilities, as it's able to attack Shedinja with a non-super effective move.
Gigantamax Cinderace learns G-Max Fireball when it knows a Fire-type attack. Here's the official summary of the move:
"G-Max Fireball is an extremely powerful move where Cinderace will use its strong legs to kick a gigantic fireball at the opponent, causing an explosion when the fireball hits! This move is more powerful than other Max Moves and can also ignore any effects of the target's Ability."
Inteleon's Gigantamax form gives it G-Max Hydrosnipe when it knows a Water-type attack. Here's the official summary of the new G-Max attack:
"G-Max Hydrosnipe is a move with extremely high power. Inteleon will take aim from on top of its towering tail, gathering water at its fingertip before blasting it at the opponent. The water is launched with such force and speed that it causes a huge explosion when it hits and packs a greater punch than other Max Moves! This move also ignores any effects of the target's Ability."
The Sword and Shield Expansion Pass also adds more Trainer Outfits and League Card Designs for players who want even more more customization in their Pokémon game. The trailer shows outfits that resemble Chairman Rose, Marnie, Beedie and Team Yell.
And finally, the first gameplay of Kubfu the new Mythical Pokémon that was revealed alongside the Expansion Pass announcement earlier in the year, was released.
Fans see Kubfu interacting with Mustard, a new NPC that will help you on your journey in the Isle of Armor DLC. We see Kubfu using different Fighting-type attacks like Rock Smash and even evolving into Urshifu.
Kubfu can evolve into one of two forms of Urshifu depending on a trainer's choice. In the Isle of Armor players will receive permission to challenge the Towers of Two Fists. Once one of the two towers has been conquered, Kubfu will evolve into Urshifu. The tower you choose will be what determines Kubfu's evolution.
The Pokémon Sword Expansion Pass and Pokémon Shield Expansion Pass Part 1 – The Isle of Armor launches by the end of June. Additional information about the Pokémon Sword Expansion Pass and Pokémon Shield Expansion Pass Part 2 – The Crown Tundra will be revealed in the future.
Pokémon Sword and Shield are available now for Nintendo Switch.
What do you think of the upcoming Gigantamax forms? Let us know in the comments section.