Poland, Baltic States Now Looking at HIMARS for Protection Against Russia
Several Eastern European countries concerned about Russian aggression are moving forward with deals to secure long-range missile systems after watching Ukrainian forces successfully use them against Russia.
Defense officials in Poland, Latvia, Lithuania and Estonia are in the process of purchasing High Mobility Artillery Rocket Systems (HIMARS) from the U.S., with Russia's invasion of Ukraine spurring the countries to begin upgrading their militaries. While deals are pending, Ukraine's smaller military says it has used the relatively nimble rocket launchers to strike key Russian targets from behind the frontlines.
Polish Defense Minister Mariusz Blaszczak in May told Parliament that Russia's attack on Ukraine was a wakeup call to expand and modernize the military of Poland, a member of the NATO military alliance. Shortly after, he announced on Twitter that he had requested from the U.S. about 500 M142 HIMARS launchers and ammunition.
The Pentagon announced on July 15 that the U.S. State Department had signed off on a potential sale to Estonia of six M142 HIMARS and related equipment worth an estimated $500 million. The announcement noted that Estonia is also a member of NATO and the sale would help it "deter regional threats" while advancing U.S. interests.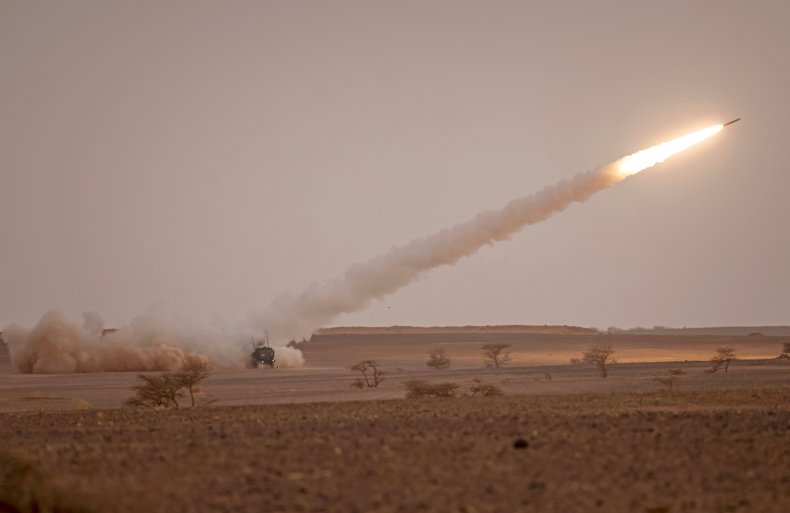 Kusti Salm, Estonia's defense minister, told Estonian Public Broadcasting on July 18 that Russia has military bases close to borders with Baltic states and relies on railroads for supply routes. He said an Estonia armed with HIMARS would make a Russian attack much costlier.
"If they know we can destroy certain kinds of targets, they will have to start looking for alternative solutions," Salm said, according to Estonian Public Broadcasting. "However, those are notably more expensive. Attacking Estonia, Baltic countries and NATO will become a lot more complicated and expensive for the enemy."
Essentially a truck mounted with a rocket launcher, HIMARS can be maintained with relatively few soldiers and are easily maneuvered compared to other missile launchers. The U.S. agreed in June to give the weapons system to Ukraine's military.
The Pentagon and Ukrainian defense officials have already said they have used HIMARS to upend Russia's war effort by destroying ammunition depots, command posts and bridges from afar.
Gabrielius Landsbergis, foreign minister of Lithuania, on Friday posted a tweet saying that arming Ukraine with HIMARS was essential to getting an agreement with Russia to unblock a port in Odessa to allow grain shipments.
"It's now very clear that the war will end earlier if we arm Ukraine faster," he said.
Latvia, another Baltic state and a member of NATO, has recently approached the U.S. about purchasing HIMARS, according to Defense News.
During a June meeting with U.S. Defense Secretary Lloyd Austin and his counterparts from the Baltic states, Lithuanian Defense Minister Arvydas Anušauskas indicated all three countries were moving ahead with acquiring HIMARS.
"Together with the Latvian and Estonian Allies we are looking into developing a HIMARS artillery rocket system capability," Anušauskas said in a statement. "Lithuania plans signing a corresponding contract before the end of this year."
Newsweek reached out to the Pentagon for comment.