Police Across America Rebel Against Vaccine Mandates
COVID-19 is taking out more law enforcement officers than anything else in 2021.
Over 157 officers have died of the virus so far this year, according to the Officer Down Memorial Page, while a report by the National Law Enforcement Officers Memorial Fund found COVID-19 to be the "leading cause of law enforcement deaths" in 2021.
The highly contagious Delta variant of the coronavirus is fueling a surge in infections and deaths nationwide, yet significant numbers of police officers are refusing to get vaccinated.
Over the weekend, six employees of the Los Angeles Police Department filed a lawsuit against the city over its vaccine mandate, claiming it has created a "hostile work environment" in the department. An LAPD spokesperson declined to comment on the litigation.
But in a video statement, Los Angeles City Attorney Mike Feuer said he was confident the city would prevail. "I have tremendous respect for our first responders and for all City employees," he said. "But in this pandemic, it cannot be the case that the health of anyone's child, anyone's grandma, anybody in our city could be put at risk because they come into contact with a first responder who hasn't been vaccinated and could be transmitting COVID-19."
Yet the lawsuit is indicative of a bigger trend of officers and police unions across the country opposing vaccine mandates.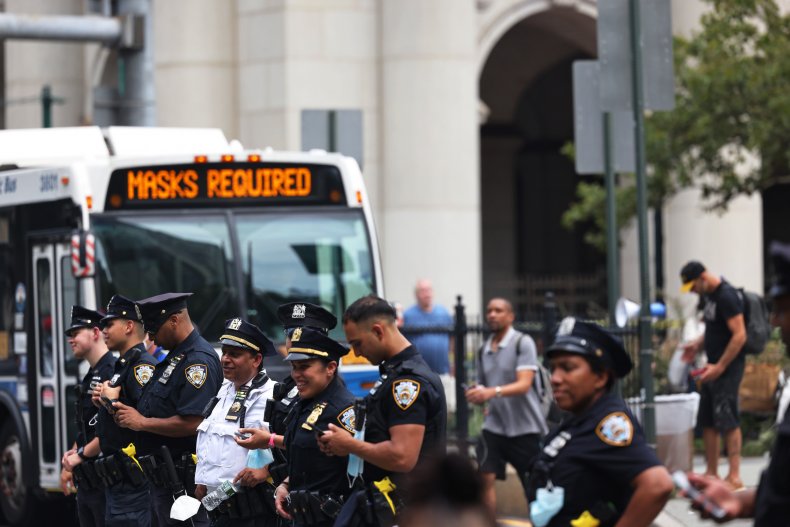 Last week, President Joe Biden announced sweeping new vaccine requirements affecting as many as 100 million Americans in a bid to drive up vaccination rates across the country. In his remarks, the president sharply criticized the millions of Americans who are not yet vaccinated.
Public health experts agree that high numbers of police officers remaining unvaccinated will only prolong the pandemic.
Officers are "very much in the face of the public," Dr. Robert Murphy, executive director of the Institute for Global Health at Northwestern University Feinberg School of Medicine, told Newsweek. "They often can't wear masks and they can't socially distance. They are a very high risk mobile group that interacts with multiple communities."
Unvaccinated officers are "putting themselves at risk, they're putting their families at risk their colleagues at risk, and they're putting the community at risk," he added.
Dr. Robert Kim-Farley, an epidemiologist and infectious disease expert at the UCLA Fielding School of Public Health, added that vaccines mandates would not have been necessary if enough people were inoculated, especially with the Delta variant driving up cases.
"Had there been this voluntary acceptance and recognition of the value of vaccination, mandates would not have been required, because greater than 95 percent of the people who have gone ahead and voluntarily been vaccinated," he told Newsweek.
But police unions argue that mandates are an affront to their officers' civil liberties and the decision to get vaccinated should be one they make for themselves.
Larry Cosme, the president of the Federal Law Enforcement Officers Association, slammed Biden's mandate for federal employees as "misguided."
"This executive order villainizes employees for reasonable concerns and hesitancies and inserts the federal government into individual medical decisions," Cosme said. "People should not be made to feel uncomfortable for making a reasonable medical choice. We will continue to review the legal landscape for this order and act as appropriate to support our members and voice their concerns."
The Fraternal Order of Police, a national union representing over 350,000 officers, also doesn't back vaccine mandates, despite its own numbers estimating that 644 officers have died from COVID-19 since the pandemic began.
Asked by Newsweek about the union's stance, a spokesperson pointed to a recent statement that noted that "vaccinations work to prevent people from becoming infected by or transmitting COVID-19."
However, it adds that the union "will take every step and use every available approach to protect our members and their rights" against mandates. "Whether or not to accept the vaccine is a personal decision that our members should make for themselves after consultation with their doctor or other medical professionals," it added.
But even before Biden's announcement, police unions across the country were railing against local vaccine mandates—despite far lower vaccination rates than among the general public and rising numbers of deaths from COVID-19 among their own.
Police unions in New Jersey have continued to oppose local vaccine mandates despite 22 officers having died from the virus in the state last week.
In the LAPD, around half of the department's 12,000-plus employees remain unvaccinated, prompting the department to release a video featuring widows of LAPD employees killed by COVID-19 urging them to get their shots. Earlier this month, the Los Angeles Times reported that 85 percent of LAPD employees infected with COVID-19 since June were unvaccinated.
Vaccination rates are similarly low in the New York Police Department. Just 53 percent of NYPD employees have received one dose of the vaccine, compared to 79 percent of adults across the city, according to Gothamist.
Kim-Farley says the low uptake among police officers is surprising.
"It is still somewhat a mystery in my mind, about why the resistance is there in a group of people that you would have thought would have been the first to embrace being vaccinated to protect themselves and others," he told Newsweek. "Police really, ideally, should be at the forefront of embracing vaccination as an example to their communities."
The low uptake among officers led New York City's Mayor Bill de Blasio to say the city would withhold paychecks for NYPD employees who refuse to get vaccinated or undergo weekly testing—a directive all four of the city's police unions have reportedly vowed to challenge in court.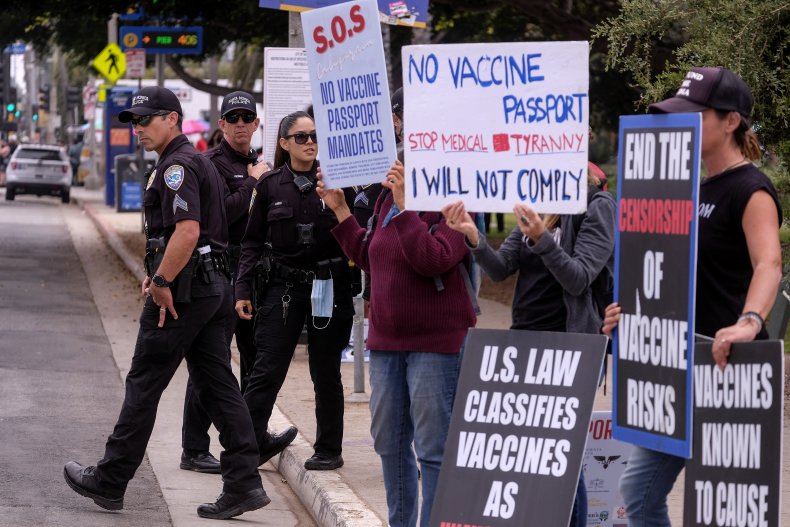 Meanwhile, the city's largest police union has been vocal in its criticism of mandates, and its president threatened to sue if officers are required to get vaccinated.
"If the City attempts to impose a vaccine mandate on PBA members, we will take legal action to defend our members' right to make such personal medical decisions," Patrick Lynch, the president of the Police Benevolent Association, told the New York Post last month.
In Chicago, the city's largest police union, the Fraternal Order of Police, also vowed tot take legal action after Mayor Lori Lightfoot said there would be a vaccine mandate for city employees.
"It cannot be mandated. It's that simple. Our members don't want to be mandated to do anything like that," the union's president, John Catanzara, said.
He later went as far as to liken vaccine mandates to the Holocaust. "We're in America, g*ddamn it. We don't want to be forced to do anything. Period. This ain't Nazi f***ing Germany, [where they say], 'Step into the f***ing showers. The pills won't hurt you.' What the f***?" he said.
Such forceful resistance to mandates appears to have worked in Portland, Oregon.
Portland Mayor Ted Wheeler recently announced that he will not impose a vaccine mandate on the city's police force, a decision that came after the city's police union pushed back forcefully against the citywide vaccine mandate, warning that requiring vaccines for officers would prompt mass resignations and exacerbate existing staffing shortages.
Many officers are "so deeply" opposed to vaccine mandates that they would leave the force before getting vaccinated, the Portland Police Association's lead attorney had argued, according to the Willamette Week.
But Murphy says it was reckless for police officers not to abide by government mandates and do everything possible to curb the spread of the virus.
"They are government workers, they really are not going to have a choice," he said. "They went into this business, they put themselves on the line every day, get shot at and everything, and they're worried about a vaccine? This is ridiculous."
Kim-Farley added: "Police are sworn to protect and to serve... the most important measure to protect themselves, their families and the population against COVID is to be vaccinated."