Police 'Arrest' Alligator For 'Suspicious Activity' In Woman's Backyard
This gator will think twice before it engages in future "suspicious activity."
A group of deputies-turned-alligator wranglers "arrested" a massive alligator after it put up quite the fight while being removed from a Florida resident's backyard last week.
Osceola County Sheriff Marco Lopez posted a humorous video to the department's Facebook page on Thursday detailing the alligator's removal.
"A complainant called about 'suspicious activity' in her backyard," Lopez said in the video. "There was noise at the back door, hissing, scratching like if someone was trying to make entry into her house."
Osceola County deputies paid the woman's home a visit, only to discover a massive alligator making itself comfortable on the property.
"Lo and behold, you'll never believe what they caught in progress," Lopez said.
The video cuts to on-scene footage of officers trying to handle the massive alligator. Although Lopez did not specify how large the gator is, it appeared to be at least five feet in length.
Lopez noted that the gator put up quite the resistance to officers trying to remove it from the woman's backyard. The video showed the reptile bearing its sharp teeth, twisting and turning to try and free itself of a neck harness. The gator even barrel rolled several times.
"He fought. He tried to run. He twisted and turned," Lopez said in a voiceover. "But guess what? He was no match for the Osceola County deputies."
Lopez then joked that the law-breaking gator "was apprehended, taken into custody and safely released into another side of the lake."
The video cut to include a humorous graphic of an alligator, named "Swampy Chomps," behind bars for his crimes.
Lopez concluded the video reminding viewers that Florida is in the midst of "gator mating season," and recommends families keep their kids and pets out of open waters as an added precaution.
"Please be alert, take care and be safe," Lopez added.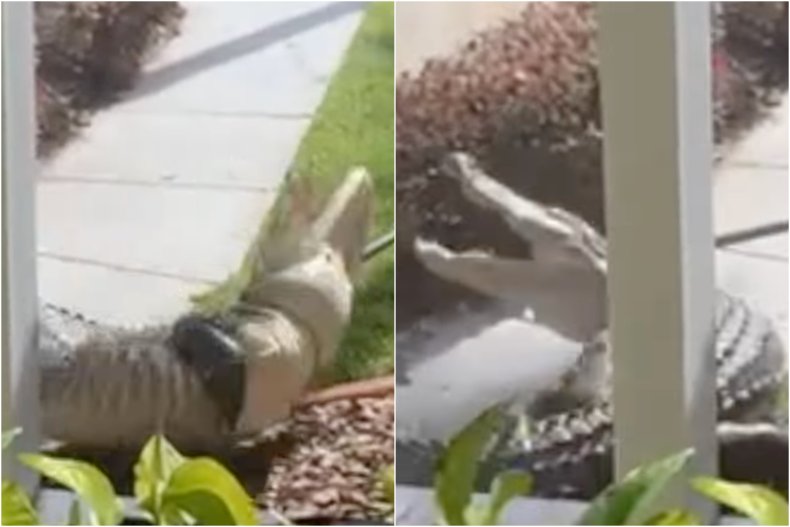 The video quickly amassed over 9,000 views on Facebook, and viewers praised the officers for their quick-thinking in the "arrest."
"Good job catching alligator. It could have hurt or killed somebody or another animal or pet, Small child whatever. They don't differentiate between food and threat in mating season," one person said.
"Sorry Sheriff ... for that job, don't count on me," another joked in the comments after seeing how viciously the alligator fought the responding deputies.
Newsweek reached out to the Osceola County Sheriff's Department regarding the video and the alligator's "arrest," but they did not immediately respond to requests for comment.
This is not the first viral alligator wrangling case in recent weeks. Also in Florida, the Lee County Sheriff's office was called in after a 7-foot alligator was seen terrorizing patrons of a local Wendy's. In Hillsborough County, a brave deputy managed to handle an aggressive gator with just a house broom.