Over 100 people have made violent threats against U.S. election workers and officials, inspired by false claims of widespread fraud during the 2020 elections. However, only four of those people have been arrested and none have been convicted, according to a recent Reuters report.
The publication called the threats part of "an unprecedented campaign of intimidation" inspired by baseless election fraud claims championed by Republican former President Donald Trump.
Reuters tracked 102 threats of death or violence targeting over 40 election officials and workers within eight hotly contested battleground states during the 2020 election. The targets ranged from low-level election workers to secretaries of state.
"Each threat was explicit enough to put a reasonable person in fear of bodily harm or death, the typical legal threshold for prosecution," Reuters reported. Many of the threats contained misogynist and racist comments, including ones directed against children and other family members. All the threats were reported to legal authorities.
Only four arrests resulted from the threats, news reports and police records confirmed. It's possible more arrests occurred but weren't reported, the outlet added.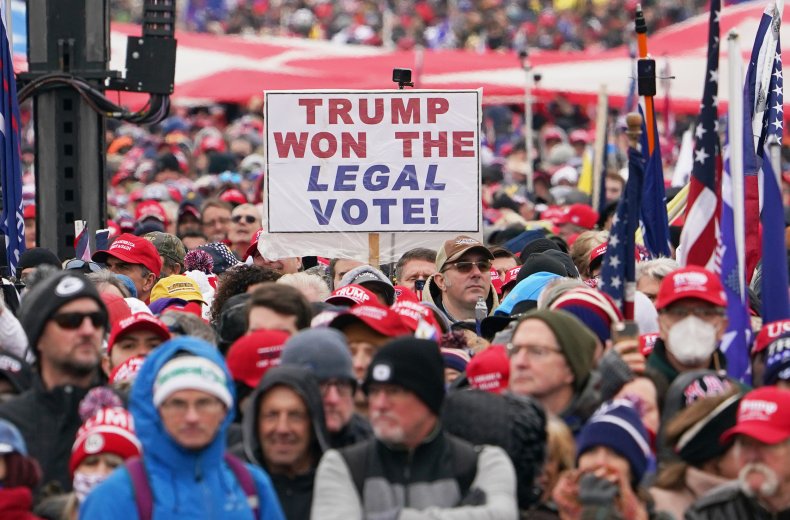 Such arrests have been hampered by people concealing their identities and authorities mislabeling the threats as "free speech" protected by the Constitution's First Amendment. Violent threats aren't considered a form of political speech protected under Constitutional law.
A lack of information sharing between local law enforcement and federal authorities has also hindered arrests, the FBI said. Some legal authorities don't take the threats seriously or don't know whether their prosecution falls under local or federal jurisdiction, Reuters wrote.
John Keller, the head of a Justice Department task force for investigating threats against election workers, said federal authorities lack the "infrastructure" to deal with the sudden increase in threats. Most investigations begin, he said, when people who received threats report them directly to federal legal authorities.
Tricia Raffensperger, wife of Georgia's Republican Secretary of State Brad Raffensperger, said her family and her husband's staffers have received numerous death threats since her husband affirmed now-President Joe Biden's election victory in the state. Despite the bomb and death threats, no one has been arrested.
"You look at January 6 and how many people they've arrested," Tricia Raffensperger said of legal authorities arresting insurrectionists who participated in the U.S. Capitol riots. "They were able to locate those people and arrest them. Why can't they follow up on the death threats we get?"
Janice Winfrey, a city clerk and election official in Detroit, Michigan, said of the threats, "I've never signed up for this. I just wanted to help my city." Winfrey said a man confronted her outside of her home and also threatened via Facebook Messenger to bomb her residential area.
"It's kind of scary when you know they know where you live," she added. "My kids, they bought me mace, they bought me stun gun. I always have something with me."
She noted that most election workers are elderly people above the age of 60 who never expected to be the target of political violence. The workers follow preset election protocols rather than determining elections' winners, she said.
Trump has claimed that Biden only won the election through an unprecedented nationwide conspiracy of widespread voter fraud. Trump, his campaign lawyers and Republican Party officials made this claim in over 60 court cases following the 2020 elections. Almost all of the cases were dismissed from court due to lack of evidence.
Trump lost the 2020 election by over seven million popular votes and 74 electoral votes. Trump's own attorney general and federal head of election security both said there is no evidence that fraud affected the election's outcome.
Newsweek contacted Trump's office for comment.