Bodycam Footage Shows Police Entering Las Vegas Killer Stephen Paddock's Suite
Dramatic footage has been released of the tense final moments before police stormed the Las Vegas hotel room of gunman Stephen Paddock, just after he carried out the biggest mass shooting in U.S. history.
Police released nearly three hours of footage that shows two officers going through the floors of the Hotel Mandalay, where Paddock was holed up after opening fire on concertgoers attending the Route 91 Harvest Festival last October.
The footage was released by order of the Nevada Supreme Court following appeals from media organizations.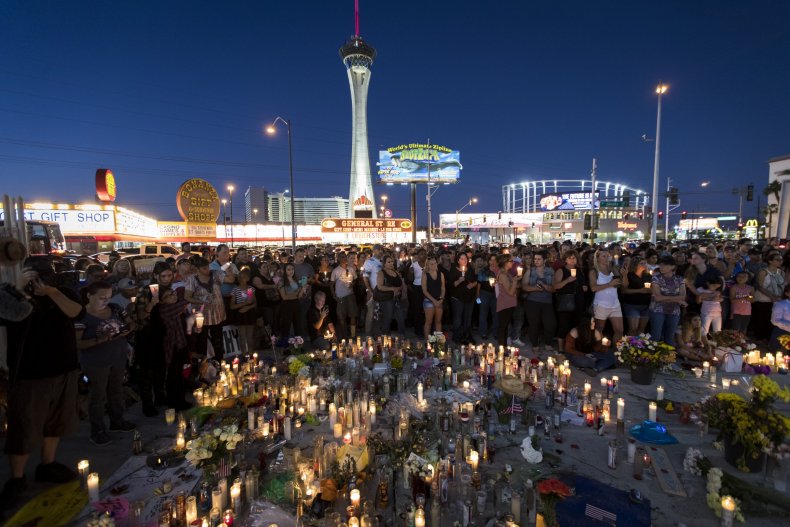 The body camera film broadcast on CNN shows the drama unfolding as police respond to the massacre. The footage starts inside a police car racing to the hotel just after the shooting. You can hear descriptions on the police radio traffic scanner of the carnage.
The officers rush to several floors, issuing warnings to people in the lobby to take cover or run, with one shouting, "Lock the door, your door was open, there's someone shooting inside the casino."
One officer asks another how many people the shooter had killed, and the reply, "A lot," is heard.
The officers search every room on floors 29, 30 and 31 before they get to Paddock's suite on the 32nd. A policeman shouts, "Breach. Breach. Breach!" and then a loud blast is heard as an explosion rips open the door to the room where the gunman is found dead from a self-inflicted gunshot wound, wearing dark trousers and a long-sleeved shirt.
More officers enter the room, and one notes that there are at least 10 high-powered weapons there. The FBI said they believed the 64-year-old retired accountant had acted alone.
Video footage, documents and a 911 call audio will be released into the public domain over the coming weeks, Sheriff Joe Lombardo of the Las Vegas Metropolitan Police Department said.
There has been criticism of the police's response, with reports that there was a six-minute delay between Paddock shooting a security guard and then opening fire on the crowd below the hotel.
The release of the documents and footage was done to ensure that the public had confidence in the transparency of the police investigation, Lombardo said.
"I want the community to know the release of the videos, 911 and documents will have a significant impact on the victims of this tragedy. We believe the release of the graphic footage will further traumatize a wounded community and for that, we apologize," Lombardo said.