Idaho Murder Update: Police Find Bryan Kohberger's Knife
Police in Pennsylvania seized two knives and dozens of other items from Bryan Kohberger's family's home in Albrightsville, Pennsylvania, according to newly unsealed court documents.
On Thursday, Fox News obtained the unsealed search warrant for Kohberger's family's residence revealing what police recovered following his arrest on December 30 for the fatal stabbings of four University of Idaho students.
Kohberger has been charged with four counts of first-degree murder in the November 13 deaths of Kaylee Goncalves, 21, Madison Mogen, 21, Ethan Chapin, 20 and Xana Kernodle, 20. He was also charged with one count of felony burglary. Kohberger's former attorney in Pennsylvania said that the 28-year-old was "eager to be exonerated."
The items recovered included two knives, with one identified as a "Smith and Wesson pocket knife," a Glock 22 firearm, a book with underlining on a specific page, an Acer laptop, a white paper with a password, black gloves and several clothing items. Dozens of other items were recovered from the residence, as well as his 2015 Hyundai Elantra.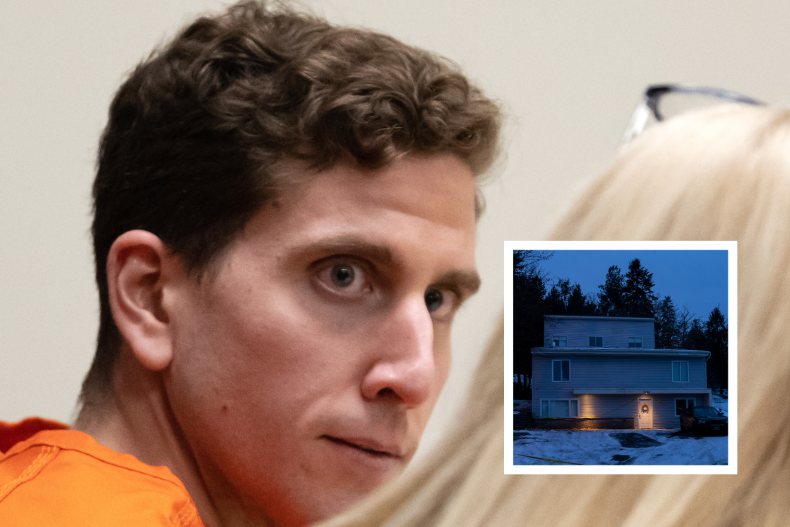 Police in Moscow, Idaho previously said that they believed a fixed-blade style knife was used in the crime and a probable cause affidavit used in the arrest of Kohberger said that a knife sheath for a "Ka-Bar" style knife was found at the scene. It is currently unclear what specific type of knife police recovered and if it was used in the crime.
The release of the search warrant return on Thursday comes just a few days after police unsealed a search warrant of Kohberger's person following his December 30 arrest. The items taken from his person included several clothing items, black and white size 13 Nike shoes, medical-style gloves and a flashlight. One buccal swab was also taken from Kohberger at the time of this arrest, the unsealed search warrant revealed.
Jennifer Coffindaffer, a former FBI agent, told Newsweek earlier this week that the buccal swab happened at the time of his arrest because investigators "wanted it quick."
"Once you have a search warrant, there's no discussion," Coffindaffer told Newsweek.
While speaking with Newsweek in January, Coffindaffer said that the fixed-blade knife that was believed to be used in the crime would likely be found either by "sheer luck," or if Kohberger admitted the location in court.
"I think he went to a remote area on that route and got rid of what he was wearing, the knife and where, we don't know," Coffindaffer said.
Following Kohberger's arrest, a judge in Idaho's Latah County issued a gag order, barring any individual involved in the case from speaking to the public.