Police Group Slams Psaki for Comments on Crime Amid Rash of Officer Shootings
A national law enforcement organization, the National Fraternal Order of Police (NFOP), has blasted White House press secretary Jen Psaki following her recent comments on crime, which come during a recent wave of attacks on police, some deadly.
On Monday, the NFOP released a statement on social media in which the organization and its president, Patrick Yoes, called out Psaki for "mocking" and "belittling" Americans who have concerns about "the nation's skyrocketing crime rates and increased violence."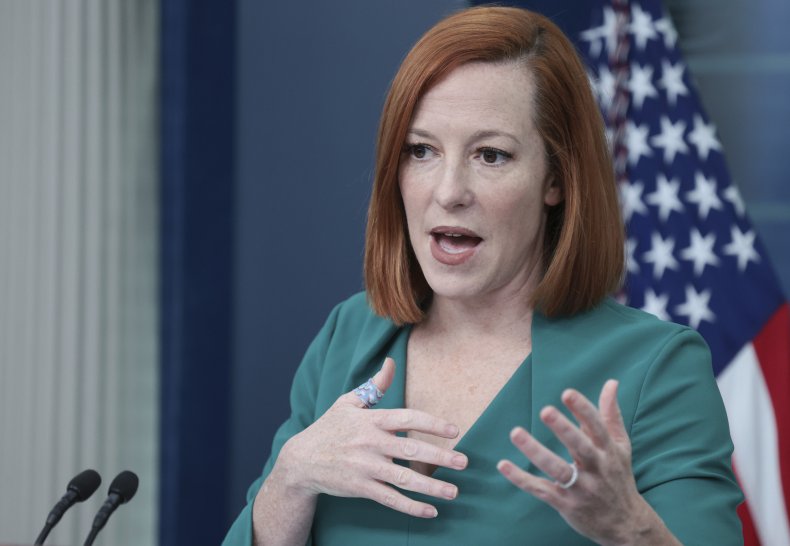 "I think it's wrong—very wrong—for Mrs. Psaki to suggest that violent crime in our country is of no concern or to just laugh it off. She may be safe in the White House, one of the most protected buildings in the United States, but not everyone feels safe in their workplace," said Yoes. "The world we find ourselves in is dangerous and is becoming increasingly more so. Tens of thousands of people have been the victims of crime this month alone and some of them never made it back home."
Over the weekend, during an interview on a podcast, Psaki, was discussing national news coverage, when she specifically mentioned a Fox News segment with Jeanine Pirro.
"If you look at Fox at a daily basis. I mean, do you remember the four boxes that you, that we had on all the TVs, right? Which is on my TV right now. So, right now, to give you a sense, so CNN: Pentagon as many as 8,500 U.S. troops on heightened alert, OK. True. Same on MSNBC. CNBC is doing their own thing about the market. And then on Fox is Jeanine Pirro talking about soft on crime consequences. I mean, what, what does that even mean, right? So, there's an alternate universe on some coverage. What's scary about it is a lot of people watch that."
The statement from the NFOP and Yoes goes on to state that while there may be many reasons for the recent uptick in attacks on police officers, they point to one specific reason: the judicial system.
"There are many reasons for this escalating violence in many of our communities, and one of them is the agenda-driven prosecutors who have gone rogue. Many of them are refusing to bring charges against so-called 'low-level' or 'non-violent' offenders. Under their leadership, which has been abhorrent in many cases, many violent offenders don't stay in jail—they're back on the streets and free to commit more crimes. That is the universe in which I, and millions of Americans, live in."
During Monday's afternoon White House press briefing, Psaki was asked about her comments that have led to the controversy. A reporter asked if those statements reflected Psaki's personal opinion or if there were reflective of the Biden administration's priorities.
Psaki shot back that her comments have been taken out of context and that she was instead criticizing Fox News' coverage of the administration.
"I encourage anyone to listen to the full context of the interview and the conversation. What I was speaking to was a chyron on Fox News, since you raised it, which suggested this administration is soft on crime with no basis. Given we have had many conversations and back and forths with you and your colleagues about the prioritization of the president to ensure that we are working as close partners with leaders."
She went on to highlight some of the things President Joe Biden has done to support police and law enforcement.
"Whether it is Mayor [Eric] Adams, who he is going to spend the day with on Thursday, or others in the country. And the facts speak for themselves. This is what I was talking about in the interview, for the full context. In the American Rescue Plan, there was additional funding to support local cops' programs—something that every single Republican voted against. I said in that interview, I know that they don't like that when we call that out. I'm going to keep calling that out because that's a fact. Also, President Biden has proposed a significant increase in funding for local cops' programs in his budget, more than the prior president. That's a fact."