'War on Cops': Biden Faces New Crisis in Wake of High-Profile Violence Against Police
A wave of high-profile attacks on police officers risks creating a new political crisis for Joe Biden and the Democrats, who face an uphill to retain control of Congress in midterm elections in November.
Republicans and police unions are framing the attacks as a war on cops, triggered by Democrats soft on crime policies that they say are fueling the biggest rise in violent crime in a generation.
On Thursday, Patrick Yoes, the president of the National Fraternal Order of Police, a major law enforcement union, declared that the current level of violence being directed at police officers is the "worst" he's ever seen.
His comments came nearly a week after two New York City police officers were shot dead responding to a domestic incident, and days after a Houston-area deputy was killed during a traffic stop.
On the same day that he released the statement, news broke that three officers in Houston had been shot and injured. Yoes said that "as crime rates continue to rise, the violence directed at law enforcement officers is skyrocketing."
In an interview on Fox News the next day, the Fraternal Order of Police's national vice president, Joe Gamaldi, directed criticism at Biden.
"Our cities are war zones, our country is in turmoil and police officers are being hunted in the streets. Where are you, Mr. President?" Gamaldi said. "You need to give a national address that condemns that violence against law enforcement and talk about the real crime issues in America because the silence from the White House right now is deafening."
This month alone, nine police officers in the U.S. have been shot and killed, according to data from the Gun Violence Archive. The archive shows a total 32 have been injured by gunfire since the beginning of the New Year.
In an interview with Newsweek, Brandon Rottinghaus, a political science professor at the University of Houston, said that crime is "politically tricky because perception often outweighs reality. And so even if, as a total number of incidents, things aren't changed that much, the high-profile nature of these cases can be a real political liability for the president."
He added that "when you layer this problem on top of other problems, it makes it look like the White House is at best out of touch and at worst, negligent. For instance, if crime and inflation are both rising, it's a double whammy for the White House in terms of pocketbook and safety issues that voters demand of incumbents."
The criticism directed at Biden and Democrats comes as some progressive prosecutors, including Manhattan District Attorney Alvin Bragg, are also facing backlash. Bragg was criticized after releasing a memo on his first day on the job outlining policies including his intention to hold back on the prosecution of minor, non-violent crimes.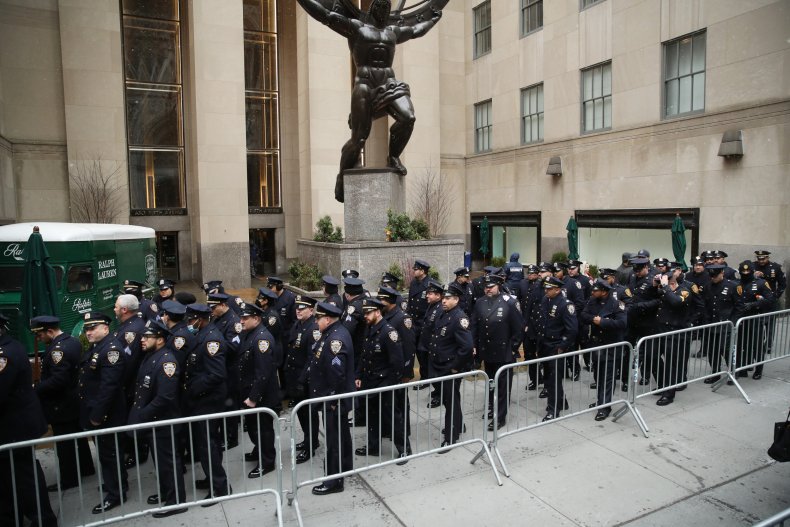 During the nationally televised funeral for 22-year-old Jason Rivera, one of the New York officers killed this month, his wife, Dominique Luzuriaga, called out Bragg.
"I know you were tired of these laws, especially the ones from the new DA. I hope he's watching you speak through me right now," she added, speaking to her husband during her eulogy.
Following the funeral, Kayleigh McEnany, a Fox News host and former White House press secretary under former President Donald Trump, said "there is a war on cops in this country."
"A war. And I'm not saying that lightly, I'm saying that with facts to back it up," she stated.
Criminal justice experts who spoke with USA Today for a story published on Sunday pushed back on the idea that officers are increasingly the targets of violence. They said instead that increasing gun violence in general is making officers' jobs more dangerous.
Howard Henderson, of the Center for Justice Research told the newspaper that the higher number of officers being shot is "coinciding with the overall rise in violent crime." Justin Nix, a criminal justice professor at the University of Nebraska Omaha, also told the paper that increased violence against police follows an overall uptick in U.S. violence, and said the idea that there is a "war on police" is "propaganda."
As the crime rate sees an increase, Rottinghaus pointed out that Biden is limited in what he can do to address the issue.
"Much of this can't be blamed directly on President Biden, but there's a perception that presidents can do it all, and if things are unraveling locally, and these incidents are happening in a more high-profile way, it is a political problem for the White House," he said. While presidents can provide grants to local police forces, and set up crime task forces, he argued that it's "going to be hard for them to make a real dent in peoples' perceptions unless things improve greatly, or there's a limit on the number of these high-profile cases that spring up."
Biden has sought to address the surge in violent crime that the U.S. has seen since the onset of the COVID-19 pandemic. In June, for example, he unveiled a plan to stem the "the flow of firearms used to commit violence" and providing additional resources to local law enforcement.
Despite his efforts, the public appears to have low confidence in Biden's ability to address public safety. In a recent poll from ABC News, only 36 percent of Americans approved of his handling of crime—a drop from 43 percent in October.
A study from the Council on Crime looking at 22 U.S. cities found that homicides increased by 5 percent in 2021, compared to 2020. However, that increase is lower than the jump in homicides the nation saw in 2020, when Trump was president (a 29 percent hike year-over-year).
As they did during the 2020 election, Republicans are attempting to tie Biden to progressive efforts to defund the police, even though he opposes them.
Former Vice President Mike Pence, when asked about crime in U.S. cities during a Fox News interview Thursday, said "the politics of the left, including all the politics of defund the police, are driving this administration."
"I've spent a lot of time moving around, I get to spend a lot of time with members of law enforcement in cities around the country, and I've got to tell you, their hearts are broken by what they're seeing happening," he stated.
While crime and public safety may be a vulnerability for Democrats, it's unclear how much it will hurt Biden or the party in future elections.
"Republicans criticize Biden for getting up in the morning, and police unions have been in the Republican camp for years—so I'm not sure any of this is new," wrote Stephen Craig, a political science professor at the University of Florida, in an email to Newsweek.
"The question is whether the issues raised are salient enough to swing voters (the few of them that remain in this era of hyper-partisanship) to push them into the GOP column when they would otherwise lean to the Democrats. My guess is probably not, but perhaps there is evidence (presumably based on polling data) with which I am unfamiliar that suggests otherwise," he added.
Rottinghaus said that when it comes to crime there's a "tremendous advantage for Republicans" in future contests.
"They're able to own the issue of crime. They're also able to put all these issues at the doorstep of the White House," he said. "And even if the president can't do anything about it, the perception will still be that the president should be trying and they can label any effort is not sufficient."
The White House did not respond to a request for comment from Newsweek in time for publication.
Correction 1/31/22: This article was updated to correct the spelling of Joe Gamaldi.