Police Intervene as Sides Clash After Florida School District Announces Mask Mandate
Police had to intervene outside the headquarters of a Florida school district on Monday afternoon when a mask debate turned physical.
In a video shared by NBC-2, the altercation between anti-mask protesters and pro-mask demonstrators can be seen after the Lee County School District announced a temporary mask mandate. Individuals seen in the video start to shove one another, prompting police on the scene to break them up before things escalated further.
The announcement was made at the meeting by the district superintendent. The mandate's rules go into effect on Wednesday for 30 days. At that point, the district will assess the potential need for a further mandate, based on the county's COVID-19 situation.
Lee County is the latest Florida school district to impose mask mandates after Governor Ron DeSantis' order banning schools from imposing them was thrown out by a judge last week.
Students and staff in the Lee County School District will be required to follow the mandate unless they go through the process of getting a medical exemption. Students will need a note signed by their licensed health care provider, while faculty members will need to file for an exemption under the Americans With Disabilities Act.
The district will work with any students or staff that had medical exemptions from the 2020-2021 school year to get them back to regular status quickly. Anyone who fails to abide by the mandate without an approved reason will be subject to disciplinary measures.
"To those that are angry with this decision today, I will likely not be able to assuage your frustrations," interim Lee County Superintendent Ken Savage said in a statement. "I can only say if we can save even one additional life that would have otherwise perished then this extraordinary additional effort will have been worth it."
While Savage said that he personally dislikes mask wearing and does not think it will by itself eliminate the coronavirus from his district, he views it as one step in the mitigation process.
"This is an 'all hands on deck' moment in our entire community and our school system is just one partner in that effort," Savage said at the end of his announcement, according to a transcript sent to Newsweek. "I also maintain that you are entitled to your potentially conflicting perspective and every due process remedy you are afforded. I will continue to stand for the law and will trust in the democratic and legal process to reconcile varying interpretations of the laws of our great state and nation."
Similar to other school board meetings around the U.S., especially ones pertaining to coronavirus measures, the Lee County meeting brought out some extreme comments from the public. One district parent, Brian Biggs, wearing a note on his shirt that read "Resist, defy, do not comply," accused the school district of aiding child sex traffickers with the mask mandate.
"I want to talk about the real pandemic: child sex trafficking," Biggs said, as heard in a video posted to Twitter. "By putting masks on these kids' faces, you can't identify any of them. So by the nine of you already voting on this, tells me you guys support sex trafficking."
When told by the board that he was out of order, Biggs shouted, "Good!"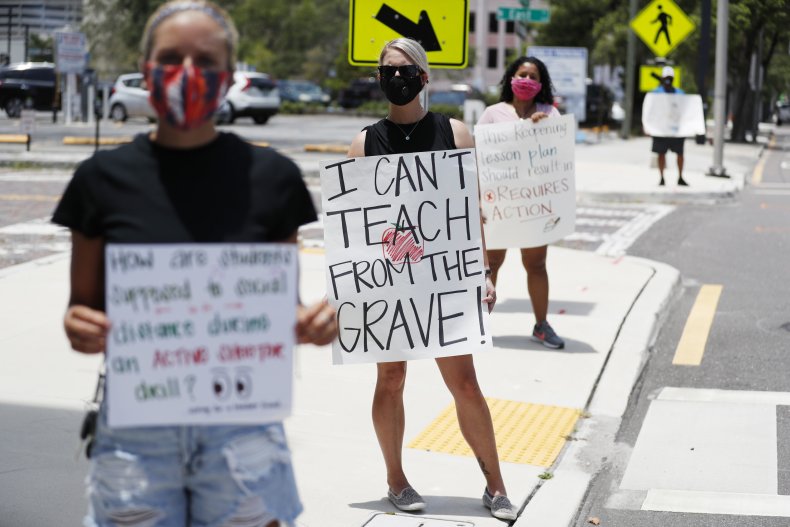 This story has been updated with a quote from the school board meeting.