Police Investigate Drone Flying Over Emmanuel Macron's Summer Vacation Residence
Police are investigating the flight of a drone over the Mediterranean fortress on Monday afternoon, where French President Emmanuel Macron is spending his summer break.
Authorities said Tuesday that the drone had been "neutralized" by scrambling its wave frequency, before it fell into the sea, AFP reported.
The Fort de Brégançon, situated on a secluded patch of France's Côte d'Azur, has served as the beach retreat for the country's leaders since 1968 and Macron arrived there for the first time in his presidency this month. The building stands on a mountainous islet surrounded by water, providing privacy to French presidents.
Paparazzi have caught snaps of the nation's leaders at the fort in the past, however—and now police are investigating the passage of a drone over the residence, the presidential administration said in a statement to French broadcaster Europe 1.
The statement did not provide details about what the suspected goal or identity of the drone operator was.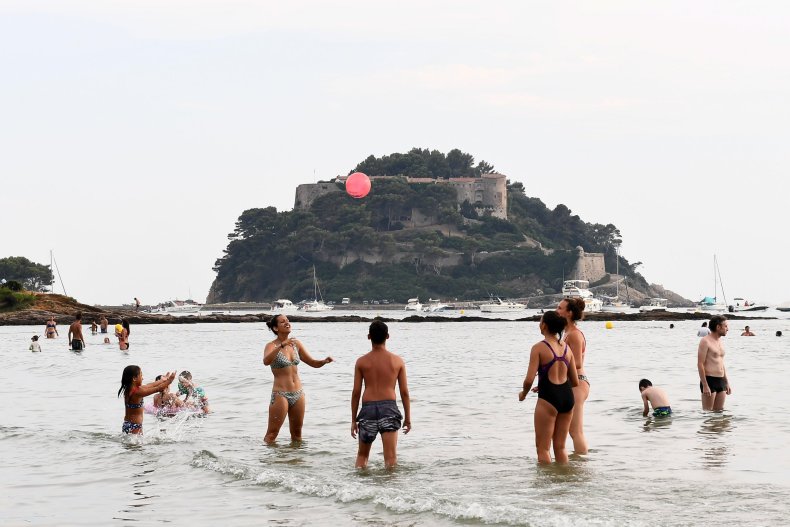 Macron arrived at the residence with his wife Brigitte Macron on Friday, where the pair received British Prime Minister Theresa May, who also took time out of her summer break in nearby Italy to meet with the French leader.
Besides that, the Macrons have announced no public events and a statement from the presidential Élysée palace suggested this is by design, emphasizing that "the whole of the President's holiday programme is private and unofficial" and that "the outings of the president are all private ones," during his summer break, which will last until the end of next week, broadcaster France Info reported.
The statement from the Élysée pointed out that as of 2008, French authorities can restrict overflights around the area and this flying regimen is currently in place until the last few days of August, the details of which have been made public by the local naval air station, Le Point magazine reported.
Read more: France's Emmanuel Macron thanks Australian PM for his "delicious wife" on camera
The property in the southern French commune of Bormes-les-Mimosas has served as a low-profile vacation option for eight French presidents, starting with Charles de Gaulle, who first transformed the fort into a presidential seaside residence. The fort has become part of political folklore on several occasions for various reasons, most spectacularly under President Jacques Chirac in 2001, when major French publications confirmed that photographers had managed to get shots of the head of state peering out to sea in nothing but a pair of binoculars. However, editors refused to run the images as a matter of principle, The Guardian reported.