Police Killings Such as Tyre Nichols' are Becoming Less, Not More Common
Tyre Nichols' killing by Memphis police in early January has sparked protests and debate over police tactics and brutality. And much like the death of George Floyd in 2020, there will be a trial, with five police officers charged with murder.
Linking the two cases, as many have, and highlighting the record of law enforcement, it would be easy to form the impression that unarmed Black people (predominantly men) are being killed more frequently by the U.S. police.
However, the statistics show a different story. Using data from the online database, Mapping Police Violence, Newsweek can show that in 2022, the proportion of police deaths that involved unarmed Black people was the lowest of any year tracked.
In 2022, there were 1,192 police killings in the U.S. Of those, 35 involved unarmed Black people, which is 2.9 percent. This is down from a peak of 7.2 percent in 2015 (79 out of 1,101 killings). The chart below shows the change over the last 10 years, which is as far back as the dataset goes. The police may be killing more people, and more Black people than in previous years, but not unarmed Black people, like Floyd and Nichols, and that in some way makes their cases so shocking.
Rather, Americans are being killed by police in higher numbers because, across all categories of race, they have more guns—or, to be precise, guns are more present in incidents with the police. Certainly, the number of guns bought in 2020 and 2021 was significantly higher than pre-pandemic. And the number of police killings that involve guns is rising.
Black Killings Still Proportionately Higher
The number of Black people killed by police in 2022 was 313, the highest number on record, 26 percent of the overall number of 1,192 killings. This percentage is double that for the overall population, which is 13 percent Black, and in that regard is a damning statistic. Overall, when comparing police killings to the overall white and Black populations, Black people are three times more likely to be killed by police.
While this disparity is alarming in the context of how the police deal with Black people, it's not new. The percentage of those killed by the police who are Black hasn't varied much over the last decade — most years it has been around 26 percent. The overall increase in killings by the police has gone up across the board for those armed with guns. According to the Mapping Police Violence data, "allegedly armed" victims of police killings rose from a low of 688 people, or 66 percent, in 2014, to 947 people in 2022, nearly 80 percent.
While the police in Memphis have come under criticism for the SCORPION unit that was supposed to target violent offenders in areas beset by high crime, over the last decade the department overall has one of the more equal racial outcomes when it comes to police killing. The Memphis PD average annual police homicide rate for Black People is 4.9 (per million population), while that rate for white people is 3.3. For context, there are police departments where the rates are hugely different—for example, in St. Louis the rate for Black and white people respectively is 32 and 3.
(The annual homicide figures above take the census population and average yearly deaths of people of that race, and work out the rate per million people. That doesn't mean 32 Black people per year die in St. Louis, but rather if the Black population was 1 million, that would be an average yearly figure).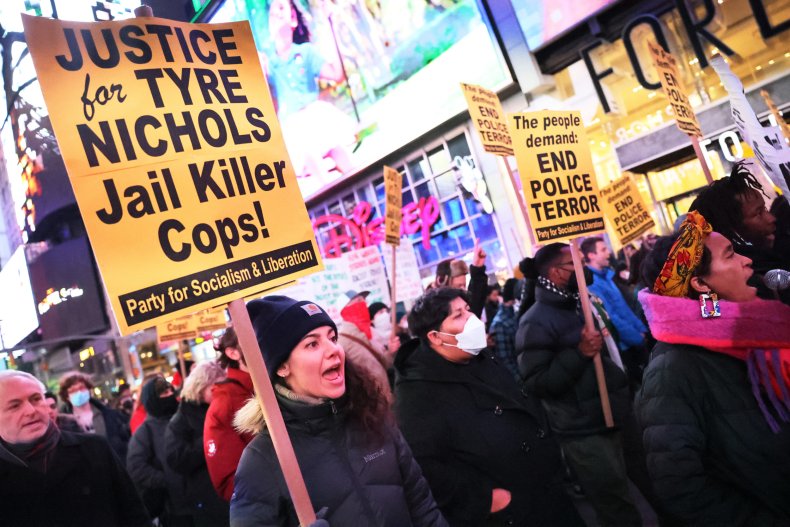 Killing vs Aggression
While the figures show an improving rate for Black, unarmed victims, the data doesn't capture the level of police aggression and attitudes to different racial groups in the U.S.
Alexis Hoag-Fordjour, Assistant Professor of Law and Co-Director of the Center for Criminal Justice at Brooklyn Law School, told Newsweek: "The idea that the decline in lethal force of Black, unarmed people shows that the police are less violent is just not realistic. The data won't show when there are violent police encounters that don't result in death. Before Tyre Nichols, this unit [the SCORPION unit in Memphis] was celebrated, and the department talked up the high number of arrests. But did those arrests result in charges?
"If Nichols hadn't died, there would almost certainly be no scrutiny of this case. Would the camera footage have even come to light?"
Dr. Amara Enyia, the Policy and Research Coordinator for the Movement for Black Lives, told Newsweek that while individual cases come to national attention, the system of policing "is causing harm across the board."
"These cases are often brought to our attention by the families, who highlight the scourge of police violence", she said. "The underlying issue is the harm caused by the system of policing, which cuts across race and ethnicity and is not just a Black issue. There is a problem in the system, and it's not just a case of a few bad apples."
Shalomyah Bowers, Board Member for Black Lives Matter Global Network Foundation, told Newsweek via email: "When we talk about instances where Black people are harmed by police, the 'big picture' isn't about the specific details of a particular incident or police force. It's about how this country keeps people safe. Until we start building a safety infrastructure that invests in root causes and in people, not in structures that are still killing people unjustly every day, we'll never get to zero extrajudicial killings by police and to the genuine safety that all people deserve."
Bowers also noted that the decline in the number of police killings involving unarmed Black people "is a major victory of the Black Lives Matter movement, which started in 2013. Frontline organizers have fought hard for every single life saved. And that work will not stop until we get to zero killings—because even one life is far, far too many for our communities."
Memphis Police Force: Less Disparity
Looking at the data, the Memphis Police Department has a narrow gap in terms of the disparity between the Black and white population being killed by the police. The Black-white disparity according to Mapping Police Violence is 1.48, which is low compared to other departments. At the other end of the scale, Minneapolis has a figure of 27.7—meaning a far greater number of Black people are killed as a proportion of the Black population, compared to the figures for white people.
However, this is based on quite a small sample: the Memphis P.D. has killed 29 people in the last 10 years. Of those, 19 were Black. Of those 29 killings, six were of unarmed people. Of those six, five were black, including Nichols.
Hoag-Fordjour said: "Memphis has a different racial demographic to other cities, it is two-thirds Black, so it's hard to make comparisons with Minnesota and other less Black jurisdictions. In general, police officers use more discretion when encountering white suspects, which leads to a higher hit rate for police uncovering drugs and weapons from white people than from Black people. In Memphis, the increase of Black officers combined with more discretion used when encountering white people, may be impacting the rate of lethal encounters with white people."
Bowers said: "Memphis may theoretically seem like a 'leader,' and yet, Tyre was still brutally beaten and killed by the police."