Police Make Unexpected Discovery Investigating Report of 'Skeletal Remains'
Some calls to the police are not as they seem.
Such was the case with a call made last week to the Converse Police Department in Texas. Officials from Converse, located within about 15 miles of San Antonio, later published a Facebook post about supposed "skeletal remains" being reported in the area.
Officers were dispatched to the area of FM 1516 and Binz-Engleman Road to investigate. The eerie report was quickly verified to be a hoax as police realized the skeleton in question was just a plastic prop. Photos showed the visible plastic bones in a mound of gravel and dirt.
"After a thorough investigation the 'remains' were removed and given a proper burial," police said. "Let's all work together and discard our trash properly to keep Converse clean."
It was never specified who made the crank call.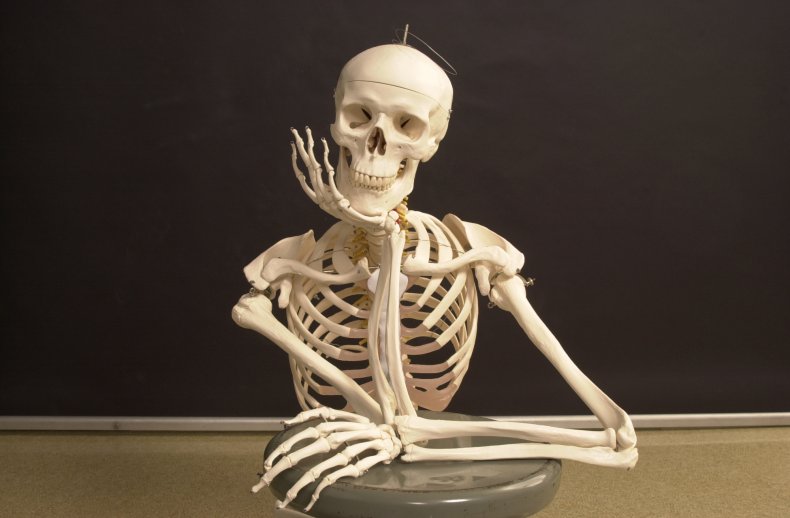 The post drew quite a few comical reactions. One Facebook user who said he was a former member of law enforcement joked that the department should have placed the skeleton in the back of a patrol car to frighten future perpetrators.
"Thank you for this lighthearted story," said the user, who goes by the name John Coupland. "We ALL need a break from the doom and gloom that seems to be the case more often lately."
Pranks involving police don't always end on a lighthearted note.
That was the case last year in Wichita, Kansas when a woman was arrested for a fake emergency. She reportedly texted her daughter and told her she had been shot, but the joke quickly turned real when between 15 and 20 police officers, firefighters and EMS showed up at the woman's home and eventually broke down her front door with guns drawn.
Trends grow quicker nowadays due to social media. Last summer, police in North Carolina warned about a TikTok trend involving "young people" pointing toy guns at other drivers. The toy guns looked authentic and resulted in multiple calls to police, including multiple 911 calls.
At the beginning of March, the Erie-Times News reported a "swatting" incident in which a Pennsylvania residence was evacuated at the discretion of state troopers who received a 911 call that a domestic incident involving weapons was taking place.
Swatting refers to prank emergency calls made to sound serious, causing larger numbers of law enforcement to become involved in real-time danger scenarios
Newsweek previously reported several police departments around the U.S. were warning parents about kids' use of replica guns filled with Orbeez gel water beads for a TikTok challenge after departments had received reports of teenagers shooting gel beads at others.