Police Officer Beheaded in Kazakhstan As Violence Escalates
A policeman was reportedly beheaded during protests in Kazakhstan that have increased in violence since they broke out five days ago.
The unrest, sparked on Sunday by a sharp rise in fuel prices in the Central Asian country, has widened as citizens express anger at their government. On Thursday, eyewitnesses said they had seen an explosion and gunfire in Republic Square in the capital Almaty, Radio Free Europe reported.
Monitoring groups have said it is proving difficult to confirm what is happening as the country has faced an internet blackout, according to the BBC, and some security forces are said to be siding with the protesters.
However, the Kazakh Ministry of Internal Affairs said 18 security officials had been killed, another 748 people had been wounded and 2,298 people had been detained, according to the Russian language news site The Insider.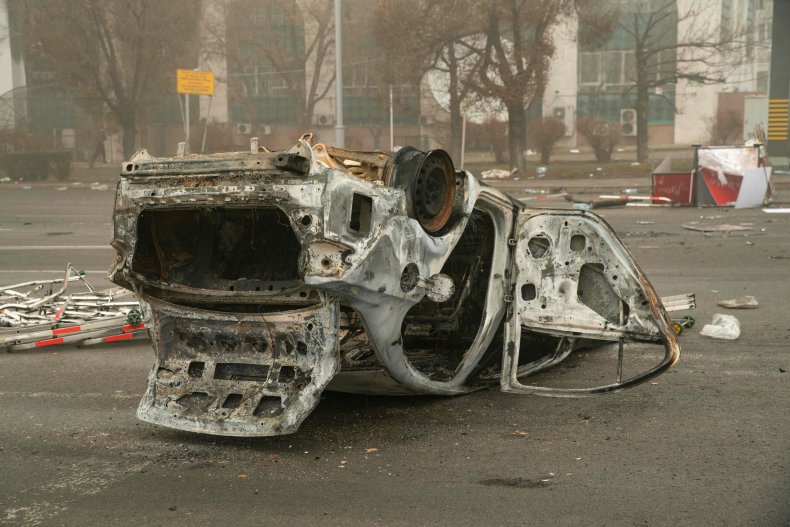 Citing the state-run outlet Khabar-24, the Insider's live blog said the decapitated body of a police officer had been discovered. This was also reported by the Associated Press. Agence France Press reported that two officers had been beheaded.
The Insider reported on Thursday that at least 30 protesters had been killed in clashes with security officials in Republic Square.
Almaty police spokeswoman Saltanat Azirbek said attackers who had tried to storm police buildings had been "eliminated," the BBC reported, with the mayor's office and the city's airport also targets for the protesters.
President Kassym-Jomart Tokayev has imposed a state of emergency until January 19 and has fired his powerful predecessor Nursultan Nazarbayev—who had held a national security role since stepping down as president in 2019 after 29 years in office. The country's government has also resigned.
Russian troops from the Moscow-led Collective Security Treaty Organization, which is composed of other post-Soviet states, have arrived at Tokayev's behest to help quell the unrest.
The clashes pose a big risk to the stability of the energy-rich post-Soviet state. Public anger was sparked by an increase in prices for liquid petroleum gas (LPG) and has morphed into protests against the leadership of the tightly controlled country.
The violence will be watched closely by President Vladimir Putin of Russia, who will be concerned that an attempted uprising in his close neighbor does not form a blueprint for protesters in his country.
"Just as Russia seemed to be poised to invade Ukraine, protests broke out all over Kazakhstan," tweeted Alexander Baunov, a senior fellow at the Carnegie Moscow Center, "so the Kremlin needs to divide attention between the two and manage strategic instability on two fronts."