Russia has condemned GOP Senator Roger Wicker for suggesting that the U.S. should consider launching a nuclear strike to defend Ukraine.
The Russian embassy in Washington also hinted that Wicker was championing businesses in his home state of Mississippi when he called for U.S. military intervention over Moscow's buildup of troops close to the Ukrainian border.
Wicker provoked the stern Russian response after telling Fox News host Neil Cavuto: "I would not rule out American troops on the ground. We don't rule out first-use nuclear action."
In a statement on its Facebook page, which has been reported by Russian media, Moscow's mission in the U.S. said: "Such statements are irresponsible."
The embassy added: "We advise all the unenlightened to pick up and carefully acquaint themselves with the joint statement of the presidents of Russia and the United States of June 16, 2021"—a reference to the Geneva summit between Joe Biden and Vladimir Putin.
"This document confirms the commitment of the two countries to the principle that there can be no winners in a nuclear war," the statement said.
The embassy also pointed out a number of military-industrial companies—such as Lockheed Martin, Northrop Grumman, Raytheon and General Atomics—have offices in Wicker's home state.
"It raises the question, whose interests are promoted by the senator calling for war—the Ukrainians or the U.S. military-industrial complex?"
The statement added that "long-term security guarantees" between the U.S. and Russia required "a demonstration of readiness to compromise. It is unlikely that Roger Wicker's ill-considered statements will help us get out of the current acute phase of Russian-American relations."
Although he stopped short of advocating a nuclear option, Senator Jim Inhofe (R-OK) has also called for more military support to be provided to the Ukrainian army than was made available in 2014, when Russia occupied Crimea.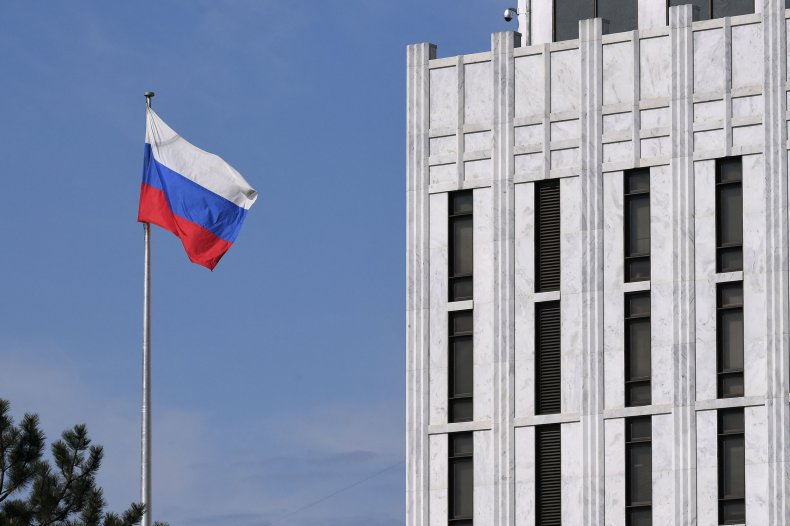 "This should include anti-air, anti-tank and counter-artillery weapons," Inhofe said in a statement, as the Biden administration and its Western allies consider how to respond to fears that Moscow is planning an assault on eastern Ukraine.
Russia has said it will not attack Ukraine and Putin has accused Ukraine of provocation. The Russian president also wants guarantees from his U.S. counterpart about eastward NATO expansion.
On Tuesday, the presidents held virtual talks after which the White House said it would look at economic sanctions, additional troop deployments to NATO allies in the region and more defence equipment for Kyiv, in order to deter Moscow.
Biden also said on Wednesday that putting American troops on the ground in Ukraine was "not on the table," particularly without the support of NATO allies.
The tone of the comments by Wicker and other U.S. lawmakers has also been criticized by Tucker Carlson.
The Fox News anchor said on Tuesday that Wicker's remark about nuclear weapons "is so crazy, that no one seems aware of how crazy it is."
Newsweek has contacted Senator Wicker's office for comment.