Officer Crushed in Capitol Riot 'Doing Well' As Girl's Card to Him Goes Viral
The officer captured on film being crushed in the Capitol riot is "doing well", the Washington, D.C. police have said as they replied to a 10-year-old girl whose letter of support has gone viral.
It comes after a disturbing video of the officer being crushed during the Capitol Hill siege on Wednesday caused shockwaves.
Five people including a police officer died during the violence that engulfed the Capitol just hours after President Donald Trump addressed crowds at a Stop the Steal rally.
In the clip, which was filmed by journalist Jon Farina for the news outlet Status Coup, the officer can be seen pinned between waves of Trump supporters and a door.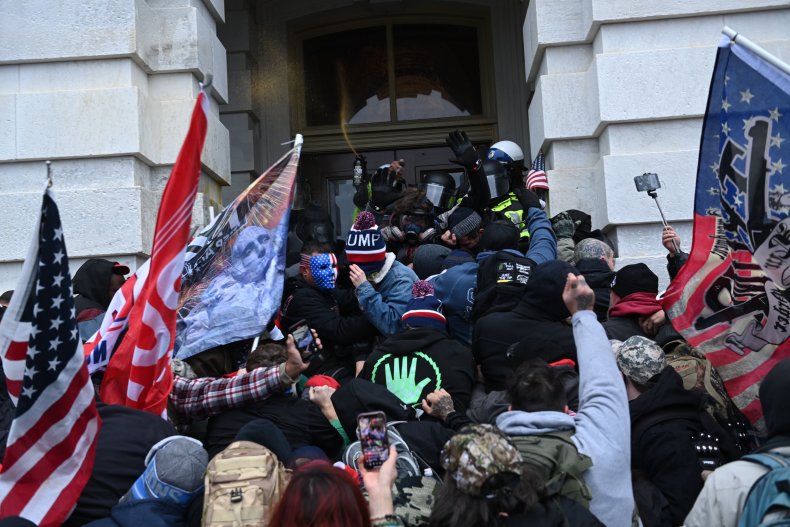 It also shows one rioter trying to pull at the officer's mask when he is unable to move and screaming with pain.
As the camera pans across the scene, the mob can also be seen chanting "Heave, ho! Heave, ho!" as they try to push further into the building.
The officer is later seen without his mask and bloodied as he yells for help and a voice says: "Let him back, let him out!" The officer is then able to free himself.
Among the horrified viewers was 10-year-old Emma Jablonski from Billings, Montana, whose mother Johnna said she became visibly upset when she watched the clip.
Johnna told Fox 5: "As she was watching it, she started saying, 'What is happening? What are they doing to that man? Why are they doing this?' And she started to cry. It made me very sad."
She said Emma grabbed a piece of paper and her colored pencils to write "what was in her heart."
The letter read: "Dear Officer, I'm Emma, and I'm 10 years old. I hope you heal from being crushed. I feel bad for you. Those people are really bad hurting you. I hope you and your family are nice and healthy. When I saw the video on CNN about people crushing you with a door I almost cried. Get well. - Emma"
Emma also drew a squirrel and a heart with a Band-Aid on it.
Johnna said she didn't know where to send the letter, so she decided to tweet it instead, writing: "@cnnbrk Do you know how we could get this letter to the officer that was crushed in the doorway? My daughter was so devastated and sad to see that Americans were hurting each other. Your help would be greatly appreciated!"
The Washington, D.C. Metropolitan Police Department retweeted the letter and replied, saying: "Hi Emma - thanks for sharing your card! Just wanted to let you know Officer Hodges is recovering and doing well. Thank you for the kind words! We'll DM you an address of where to send it!"
The retweet has now gone viral with almost 3,000 likes.
The officer was at first only identified by the number on his riot helmet and badge, 4518. But the D.C. police revealed his name was "Officer Hodges" as they replied to Emma before NBC reported his full name.
The broadcaster said Emma met Daniel Hodges on a Zoom call on Tuesday.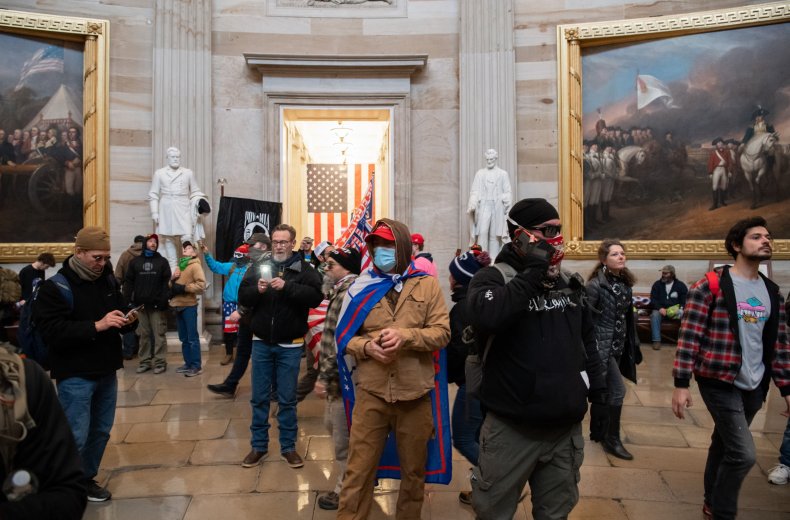 Hodges reportedly said: "From the bottom of my heart, thank you so much. I'm ... kinda banged up but I'm looking forward to getting back out there."
He also said that he has a "headache that won't quit" but is "doing all right all things considered."
The broadcaster reported that Emma told him she had not thought the voice of a girl from Montana would be heard all the way in D.C.
It comes after Capitol Police Officer Brian Sicknick died from injuries sustained during the riots.
Another shocking video from the siege shows an officer being dragged down a set of steps outside the Capitol before being beaten by the pole of an American flag.