Police Officer Eric Talley's Sister Posts Heartbreaking Tribute After Boulder Shooting
Police Officer Eric Talley's sister shared a heartbreaking message to honor her brother after he was killed in a mass shooting at a Colorado grocery store on Monday.
"Officer Eric Talley is my big brother. He died today in the Boulder shooting. My heart is broken. I cannot explain how beautiful he was and what a devastating loss this is to so many. Fly high my sweet brother. You always wanted to be a pilot (damn color blindness). Soar," wrote his sister, Kirstin.
Talley, 51, was shot dead after responding to reports of a man possibly armed with a patrol rifle opening fire inside King Soopers grocery store in Boulder at about 2:30 p.m. on March 22.
Talley was the first police officer to arrive on the scene of the shooting. He was one of 10 people killed in the attack.
"He was the first on the scene, and he was fatally shot," Police Chief Maris Herold said while holding back tears during a press conference on Monday. "My heart goes out to the victims of this incident. And I'm grateful to the police officers that responded. And I am so sorry about the loss of Officer Talley."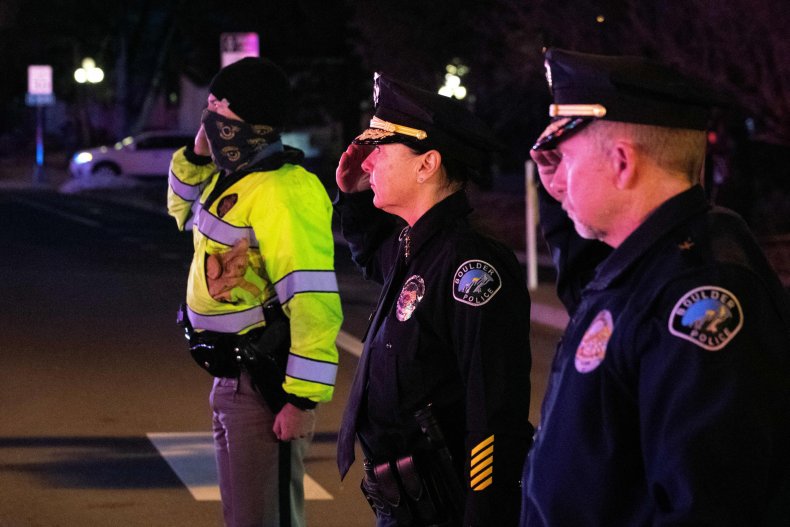 Talley had worked with the Boulder Police Department since 2010 and had served in numerous roles at the department and within the community of Boulder.
The officer was a father of seven, with his youngest child age 7, Talley's father told local media.
"He loved his kids and his family more than anything. He joined the police force when he was 40 years old. He was looking for a job to keep himself off the front lines and was learning to be a drone operator. He didn't want to put his family through something like this and he believed in Jesus Christ," his father, Homer Talley, said.
Other city officials in Boulder honored Talley's life and career through public statements and social media.
"He was by all accounts, one of the outstanding officers of the police department and his life was cut far too short as he responded to the shooting that was taking place," Boulder County District Attorney Michael Dougherty said at the press conference..
On Monday, the Boulder Police Department tweeted: "Rest In peace Officer Eric Talley. Your service will never be forgotten," along with an image of Talley.
During a Tuesday press conference, police identified the shooting suspect as Ahmad Al Aliwi Alissa, a 21-year-old man from Arvada, Colorado. Herold said Alissa was taken into custody and "charged with 10 counts of murder in the first degree and will be shortly transported to Boulder county jail."
The nine other victims were identified by police and range in age from 20 to 65. Herold said their families were notified early Tuesday morning.
Talley is the sixth on-duty death in the Boulder Police Department's history, and the first officer killed in the line of duty since 1994, the New York Times reported.
"I promise the victims and the people of the state of Colorado, that we will secure justice and do everything we must do to get justice in this case. In order for that to happen, a painstaking investigation is already underway, both at the crime scene and in interviews, to make sure we receive all the accurate information," Dougherty said Tuesday.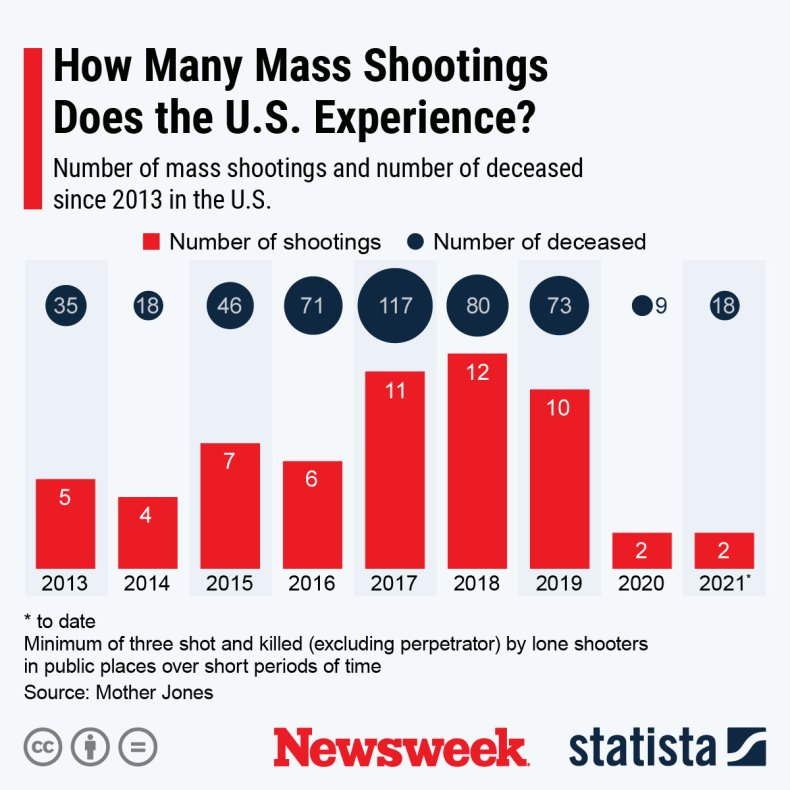 Statista: https://www.statista.com/chartoftheday/