Police Officer Insults Neighbor Over Black Lives Matter Photo on Christmas Card
A police officer in North Carolina reportedly fired off an insulting text message to a white neighbor who sent him a Christmas card that included a photo from a Black Lives Matter protest.
Lori Nelson's card features almost a dozen pictures of her family taken this year, ABC11 reported.
Along with snaps of trips to the beach, mountains and Washington, D.C., there was an image from a Black Lives Matter protest Nelson attended with her children over the summer.
Demonstrations against police brutality and racial injustice took place in cities and towns across the country, sparked by the death of George Floyd in police custody in late May.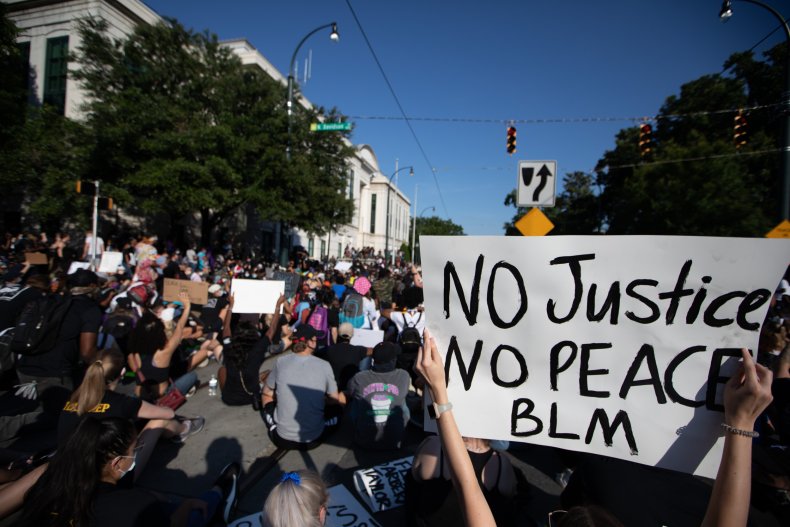 Nelson told ABC11 she took her children to the protest to show them what it means to fight for justice.
But after sending the cards, she said she was stunned by the response she received from the police officer who lives next door to her family in Apex, a town in North Carolina's Wake County.
According to the local television station, the officer—who was not named—sent Nelson a message saying he was "appalled that you would send this to a police officer's house."
"It shows me one, that you have no idea what this message sends, or two, that you did this blatantly," the message read.
"I find it very hard to believe that an upper middle class white family living in the suburbs has the slightest clue about this issue outside of what you watch on the news."
The message also says the officer did not "want to associate with people who are anti-cop" and that he "tolerated the neighborhood signs that are a slap in my face, but this I won't."
Nelson, who is a principal in the Wake County public schools system, told the TV station the signs he referred to were Black Lives Matter posters.
"I can't believe that someone, a leader in my community, would write that to me," she said. "Most concerning was when he said he would not tolerate this anymore."
She added that she believes the message highlights a wider problem within the Apex Police Department.
"If he felt OK to send a response like that, then that's the culture of his work environment," she said.
Nelson added that she had contacted the police department about the matter, but feels she is being placated.
The department has opened an internal investigation, Apex Police Deputy Chief Mitchell McKinney told Newsweek.
"We have met with Mrs Nelson and initiated an internal investigation to review the information she has shared following our personnel complaint process," he said.
McKinney added that "a fair and impartial review" of the complaint would be carried out.
Nelson has been contacted for additional comment.
This article has been updated with a comment from Deputy Chief Mitchell McKinney.