Police Pepper-Spray Novak Djokovic Supporters in Chaotic Scenes
A crowd of Novak Djokovic supporters were pepper-sprayed by police in Melbourne, Australia on Monday night as they gathered around a car they believed was transporting the tennis star.
The world no. 1 emerged victorious earlier in the day, after it was ruled that the Serbian sportsman would not be deported by the Australian government over not being vaccinated against COVID-19.
Djokovic's case has sparked a strong reaction in the city—where Djokovic had traveled to compete in the Australian Open—with one side decrying the star's exemption from the country's strict COVID rules, while others have supported him.
Video footage shared on Twitter by The Guardian journalist Tumaini Carayol showed Djokovic's supporters chanting "Free Nole"—a nickname used by fans—as they marched in the central business district, where his lawyer's office is reportedly located.
The fans, a number of whom were seen sporting Serbian flags, were seen surrounding a black Mercedes with blacked-out windows, which Carayol reported they believed was transporting Djokovic.
In a clip shared by The Age reporter Paul Sakkal, the fans were shown slowing the vehicle's progress as they surrounded it and one man jumped onto the roof.
"Fans were banging on the window, throwing bottles at the car and two people were jumping up and down on top of it," wrote Sakkal on Twitter.
A video clip shared by Australia's ABC News showed police officers attempting to keep the crowd at bay, before pepper spray was used to disperse the supporters.
Earlier in the day, Judge Anthony Kelly ruled that Djokovic, 34, could remain in Australia and should be released from detention within half an hour.
Several hours after the ruling, Djokovic said he was "pleased and grateful that the Judge overturned my visa cancellation."
"Despite all that has happened, I want to stay and try to compete @AustralianOpen I remain focused on that. I flew here to play at one of the most important events we have in front of the amazing fans," he wrote.
And he thanked supporters for "encouraging me to stay strong."
The Australian government, who the judge ruled should pay Djokovic's legal costs, has warned that the tennis player could still face deportation.
Djokovic landed in Melbourne—dubbed the world's most locked-down city for its strict COVID rules—on January 6, ahead of vying for his 21st Grand Slam title at the Australian Open, which is scheduled to begin on January 17.
The star had originally been deemed except from Australia's vaccine entry requirements, leading to an outcry among Melbourne residents, who spent 256 days following the emergence of COVID-19 under severe restrictions.
Foreign travelers are largely prohibited from entering Australia, and those who are permitted entry are required be fully vaccinated or have a medical exemption.
Despite his initial exemption, it was deemed that Djokovic did not have adequate evidence of being medically exempt from taking the COVID-19 vaccine.
After being held and interrogated at the airport, he was transferred to an immigration detention facility in Melbourne ahead of an expected deportation.
Over the weekend, lawyers for Djokovic had argued that the tennis player was granted a COVID vaccine exemption from Tennis Australia, as well as the Australian government, because as he had some immunity after testing positive for the virus in December.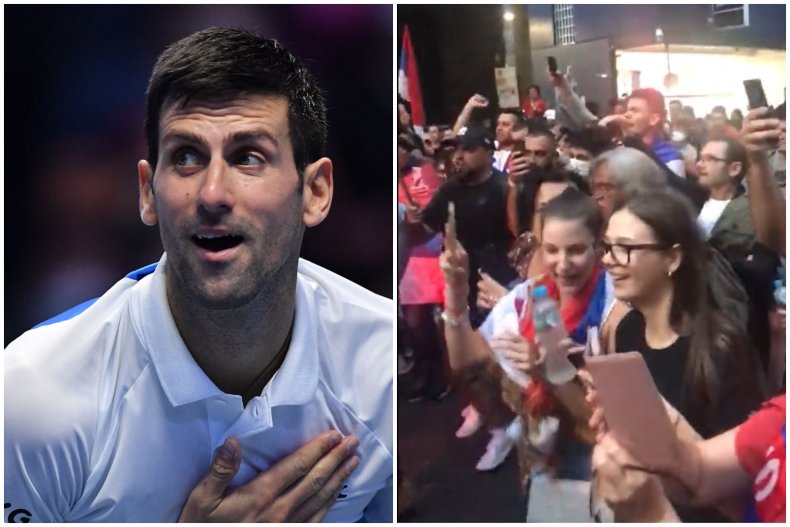 UPDATE: 1/10/22, 9:44 a.m. ET: This article was updated to include Djokovic's Twitter statement.