Law enforcement officials in Pennsylvania posed for a photo with Danelo Cavalcante after the escaped inmate was arrested on Wednesday.
On Wednesday morning, the Pennsylvania State Police announced that Cavalcante, an inmate who escaped the Chester County Prison on August 31, had been captured.
Videos posted on social media following the announcement showed dozens of law enforcement officials crowded around Cavalcante in the area where he was apprehended to pose for a photograph.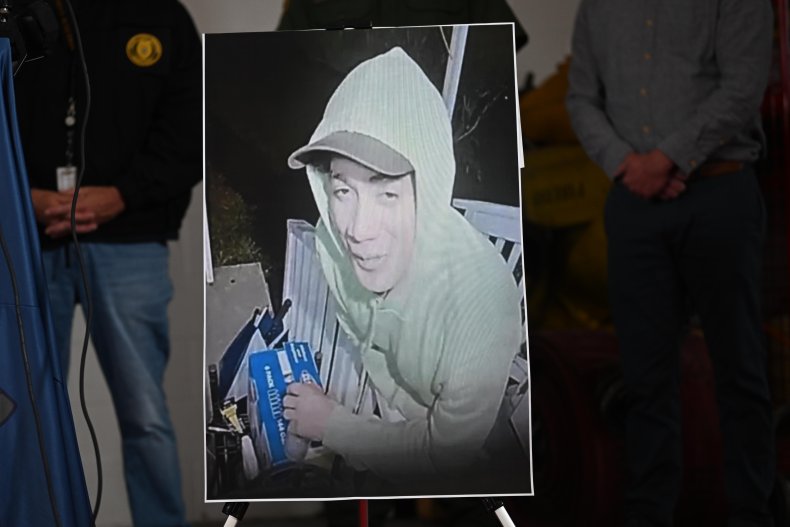 Lieutenant Colonel George Bivens acknowledged the criticism the photo received during Wednesday's press conference. He commended the officers' hard work and said he had no problem with it.
"Those men and women worked amazingly hard, through some very trying circumstances. They're proud of their work. I'm not bothered at all by the fact they took a photograph with him in custody," Bivens said.
Other videos posted on social media showed law enforcement officials escorting Cavalcante into an armored vehicle in handcuffs after his arrest.
Cavalcante has been on the run in Pennsylvania after escaping prison on August 31, where he was serving a life sentence for the murder of his ex-girlfriend, 33-year-old Deborah Brandao. Calvacante escaped the jail by climbing up the side of a wall and through barbed wire.
The 34-year-old was first sighted in Pocopson Township in Pennsylvania. Ryan Drummond told CNN he spotted Drummond in his home late at night. He described the sighting as an "acute moment of terror" and said Cavalcante left shortly after he entered the house.
Security camera footage helped track Cavalcante's movements. He was spotted at the botanical gardens, a few miles from Chester County Prison, and in several neighborhoods. Police got close to capturing him on September 5 after he was spotted in a creek bed, but he escaped before he could be arrested.
Over the weekend, police had to shift their search perimeter after Cavalcante stole a van and fled about 20 miles east of the original search area. He attempted to contact someone he knew, but the person wasn't home and never met up with the fugitive.
Police located the abandoned van on Sunday and issued a warning about Cavalcante on Tuesday. Police said Cavalcante stole a .22 caliber rifle from a resident's garage. The resident fired at the convict, who fled.
"He's killed two people previously. I would suspect that he's desperate enough to use that weapon," Bivens said Tuesday.
A Pennsylvania school district closed after Cavalcante got the weapon, and the fugitive evading capture left the area on high alert. Police sent a reverse 911 call to residents in the area to inform them of his capture.
Update: 9/13/23, 11:32 a.m. ET: This story has been updated with comments from Bivens.