Police Rescue Car Thief Locked Inside Stolen Car
Police in England broke the window of a parked car to free a man trapped inside, only to find out he was trying to steal the vehicle.
The Independent reports that West Midlands Police officers came to the scene after a pedestrian report of a man behaving suspiciously inside a parked Ford Focus. They identified the car and made contact with the man inside, but were unable to extract him from the car.
Efforts to unlock the doors from either side did not work, so one policeman with the Force Response Unit produced a baton and shattered the window to free the captive man.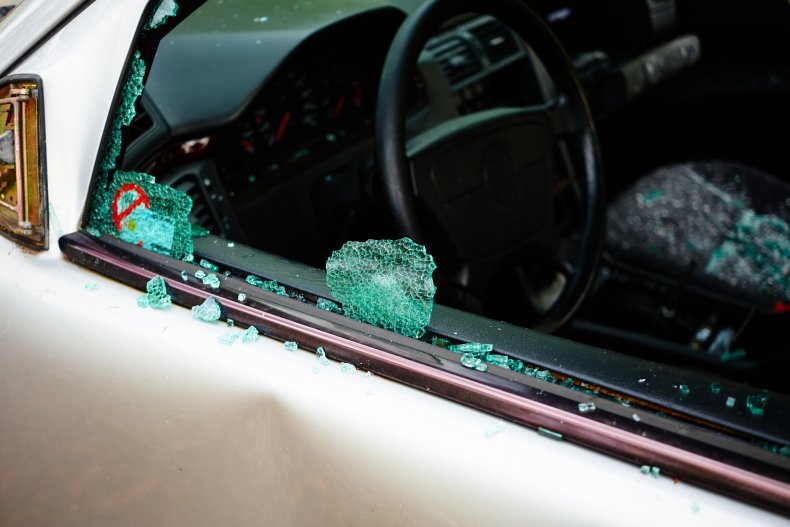 The man's relief was short-lived, however, as a search of the car's plates revealed that they were counterfeit and the vehicle had been stolen. The man was taken into police custody, though his identity has not been released.
The West Midlands Police issued a tweet about the incident, with a photograph of the car's broken window.
It is unknown why the man was unable to unlock the doors of the car from the inside. Many Ford Focus models do come with automatic door locking as a standard feature.
The West Midlands Police did not respond to Newsweek's request for comment on the arrest.
Interestingly, a Reddit thread from January 2018 presents a similar issue. Posted to the NoStupidQuestions subreddit, a British teenager wrote "I don't have any keys and my mum has locked me inside the car. I start work in an hour. Please help me get out. :/" and identified the car as a 2009 Focus.
He was eventually released from the car when his sister found a spare key.
Criminals have turned to the police in times of trouble before. In 2018, Newsweek reported on a Norwegian teenager who attempted to swipe a car on Christmas Eve.
The 17-year-old phoned the Trøndelag police when he managed to gain entry to a Volvo parked outside a car dealership, but once inside the vehicle he could not get the engine started or disengage the door locks to escape.
In a panic, he called police, who showed up to extract him from the situation. The suspect was known to officers from numerous previous car theft attempts, but in those cases he was at least able to get out of the cars when he couldn't start them. They also noted that the doors of the Volvo could have been unlocked when the boy gained entry.
In October of 2013, residents of Swansea observed a thief trying to make off with a Smart Roadster, according to The Telegraph. In that case, neighbors surrounded the car after 23-year-old Matthew Draper gained entry and held the doors closed until police arrived to take him into custody.
Police Rescue Car Thief Locked Inside Stolen Car | News