Police Slap Down Josh Hawley's Claim Antifa Terrorized His Family
Police have contradicted a claim from Sen. Josh Hawley (R-Mo.) that his family were violently "terrorized" by "Antifa" protesters outside his home on Monday night.
After a small group of protesters demonstrated against Hawley's plans to objection to the certification of President-elect Joe Biden in Congress, the senator reacted with outrage on social media. Hawley tweeted that "Antifa scumbags came to our place in DC and threatened my wife and newborn daughter," while he was away on a trip to Missouri, claiming that the group had "screamed threats, vandalized, and tried to pound open our door." He vowed that he and his family would "not be intimidated by leftwing violence."
Officers arrived at the Vienna, Virginia house around 7:45 p.m. after receiving a call about the protest, according to the Associated Press. Police apparently viewed the protest differently than the 41-year-old senator, with Master Police Officer Juan Vazquez, spokesman for the Town of Vienna's Police Department, telling the outlet on Tuesday that "people were peaceful" during the protest.
Vazquez added that the protesters "just left" after officers informed them about an ordinance against making noise in front of houses and littering code. He said that the demonstration had produced "no issues, no arrests" and, contrary to Hawley's characterization, police "didn't think it was that big of a deal."
"The Hawley's are grateful for the support of law enforcement," Kelli Ward, a spokesperson for Hawley, said in a statement obtained by Newsweek. "The left-wing activists refused to disperse until the police showed up."
"In fact, when Erin, Josh's wife, asked them to leave, they instead screamed threats through blow horns at Erin, a newborn baby and their neighbors, and then they followed up by stepping onto their porch to pound on the front door and peer inside the house at Erin," Ward added.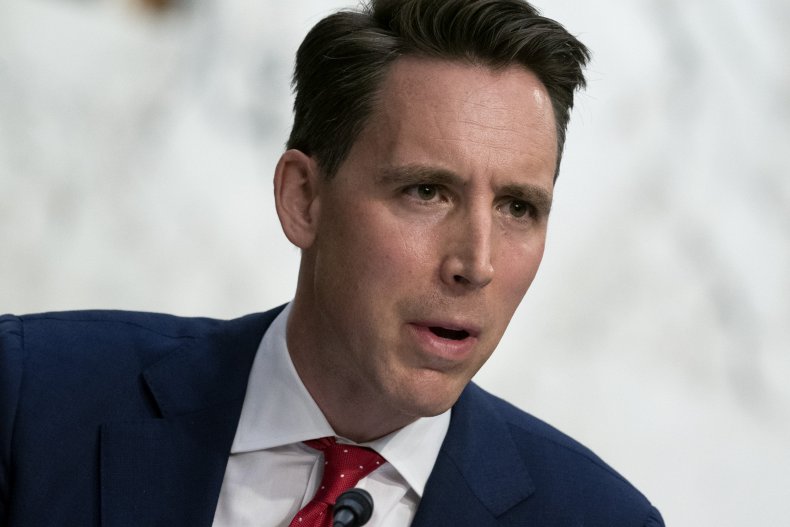 A YouTube video of the protest recorded by the group, which Ward shared with Newsweek, shows around a dozen protesters outside of Hawley's home for less than an hour. The group is seen holding signs and candles, while occasionally repeating a chant promising to "fight back" when "democracy is under attack" as group leaders speak through megaphones in protest of the senator's contesting of the election outcome.
Hawley's wife is shown briefly opening the front door and asking the group to leave, while members of the group are later seen approaching the door and leaving a copy of the U.S. Constitution. Nothing that could accurately be described as terrorism, vandalism or "screamed threats" is shown in the video, nor are the group seen attempting to open the door.
"It was a candlelight vigil, snowflake," ShutDownDC, the group that organized the protest, tweeted in response to Hawley's reaction on Monday. "And your house isn't in DC, it's in a suburb 30 mins outside of the District. You're supposed to be representing Missouri in the senate. Why did you move your primary residence to the Virginia suburbs."
Hawley objected to the characterization of the protest as a "vigil," tweeting that the activists had been "screaming threats through bullhorns, vandalizing property, pounding on the doors of homes and terrorizing innocent people and children." He insisted that video proves "Antifa scumbags" were "trying to intimidate" his family and harass neighbors. It is not clear whether Hawley is referring to the same YouTube video, which has also been shared on Twitter and other social media platforms.
The planned challenges to Biden's win, which multiple GOP members of Congress besides Hawley have indicated that they will take part in, have virtually no chance of changing the outcome of the election. For an objection to even a single state's slate of Electoral College electors to be sustained, it would have to be voted on and approved of by both the House and the Senate.
The Democratic-led House is extremely unlikely to vote in favor of the challenges. The GOP-led Senate is also expected to reject the last-ditch effort to overturn Biden's win, with more than enough Republican senators already congratulating Biden and indicating that they will oppose any effort to undermine the will of the voters. Biden defeated Trump by 306 to 232 Electoral College votes, while his more than 81.2 million national popular votes bested the outgoing president by over 7 million.