Police Told To Boycott Miami Dolphins Games After Kneeling Protest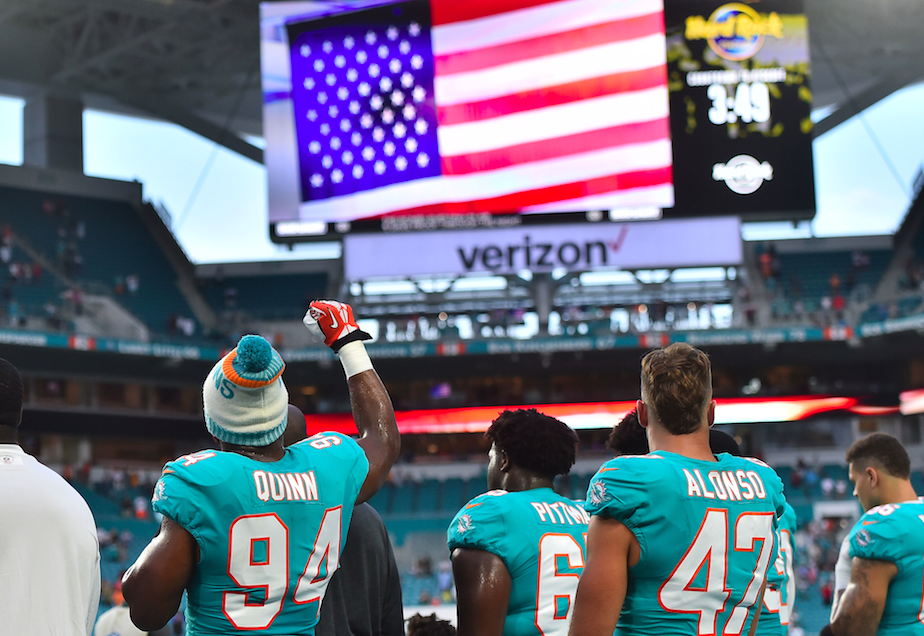 Police officers have been told not to buy tickets to see the Miami Dolphins following a protest against the national anthem by members of the football team at a game on Thursday.
Officers received messages from their unions following the game, instructing them not to buy Dolphins tickets and to ask for a refund for any tickets already purchased after players Kenny Stills and Albert Wilson took a knee during the anthem and Robert Quinn held his fist in the air.
In a statement posted to its Facebook page, The Broward County Police Benevolent Association said the Dolphins did not honor first responders, and as such police should boycott the games and not take advantage of a ticket discount partnership between the benevolent association and the football club, Sports Illustrated reported.
"The Broward County PBA recently offered our members discounts to a Miami Dolphins game because that franchise said they were going to honor all First Responders," the statement said.
"We entered into this partnership with the understanding that the Dolphins organization would require their players to stand for the National Anthem. This did not happen at last night's preseason game against Tampa Bay. As a result, the BCPBA will no longer participate in this ticket program, and we are asking all of our members, as well as members of the Dade County PBA and Palm Beach County PBA, not to participate either," it continued.
"If you have already purchased tickets to this game, we encourage you to call the Dolphins ticket office to request a refund because this organization obviously DOES NOT honor First Responders and the dangers they put themselves in every day," it added, with other associations posting similar messages on Facebook.
Prior protests at NFL games saw players taking a knee to protest police brutality against African Americans; however, in May NFL owners said they were banning the take a knee protests—stating players who did not wish to stand for the national anthem should remain in the dressing room during the anthem.
"It's a slap in the face," Broward PBA Vice President Rod Skirvin said to the Miami Herald: "We have a lot of police officers in the county who are ex-military. It's not just a slap in the face to our military—past and present—but to all law enforcement officers across the country."
"As long as the protest continues, we will protest our attendance at the Dolphins games and continue to stay away from the NFL and its products," Skirvin added.
However, the NFL owners' protest ban has been widely criticized as being an infringement on free speech.