Ex-Minneapolis PD Chief Says Police Union Head Is 'Disgrace to the Badge' After He Called George Floyd a 'Violent Criminal'
A former chief of the Minneapolis Police Department has said the head of Minneapolis police union is "a disgrace to the badge" after he called George Floyd a "violent criminal."
Former Minneapolis Police Department chief Janeé Harteau shared a letter on Twitter that was sent to members of the Police Officers Federation of Minneapolis by the union's president Lt. Bob Kroll.
"A disgrace to the badge!" Harteau wrote alongside the two-page letter. "This is the battle that myself and others have been fighting against. Bob Kroll turn in your badge!"
In the letter, Kroll claimed Floyd had a "violent criminal history" and defended Derek Chauvin and the other three officers involved in Floyd's arrest, saying they were "terminated without due process."
"What is not being told is the violent criminal history of George Floyd," Kroll said in the letter. "I've worked with the four defense attorneys representing each of our four terminated individuals under criminal investigation, in addition with our labor attorneys to fight for their jobs. They were terminated without due process."
Chauvin was charged with third-degree murder and second-degree manslaughter on Friday after he was seen in widely shared video footage kneeling on Floyd's neck for more than eight minutes as Floyd pleaded to let him breathe. He had been arrested after allegedly using a counterfeit $20 bill at a grocery store.
Chauvin and the other three officers present during Floyd's arrest were fired the day after the 46-year-old's death, but the other officers have not been charged.
The letter comes after Floyd's brother Terrence called for an end to violence at the protests, stating "My brother was about peace."
In his letter, Kroll also criticized the city's leadership, blaming a lack of support for the days of protests—some of which have become violent—that have occurred in Minneapolis since Floyd's death on May 25.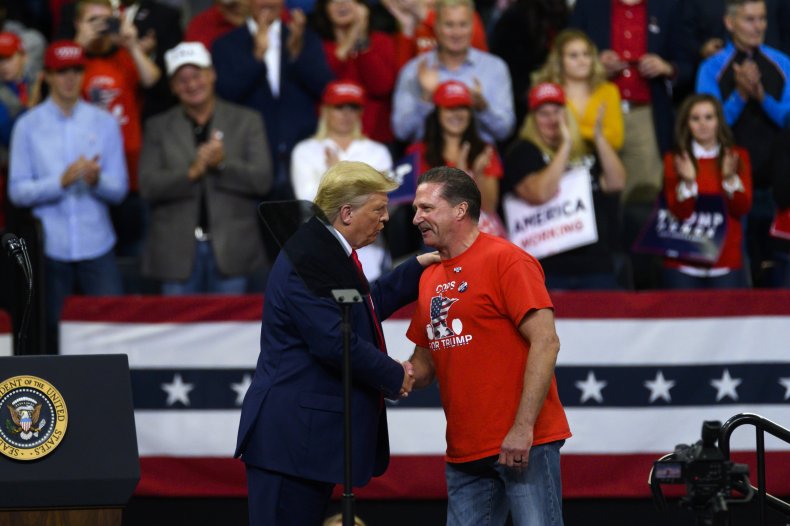 He also commended Minneapolis police for their "excellent police work" during the protests, adding that they were being scapegoated while up against "a terrorist movement."
Kroll said he had provided a "detailed plan of action" to the majority leader of the Minnesota Senate, Paul Gazelka, that involved the deployment of up to 3,000 National Guard troops.
He also claimed that he has been keeping a low profile over the past week because he and the union's board members have been "overworked and overwhelmed."
"My visibility during this time would only increase your danger," he said to members of the union in the letter, adding that he had received "countless" death threats.
Minneapolis Mayor Jacob Frey also issued a response to the letter, warning that Kroll's opposition to reform and lack of empathy was undermining trust in the police.
"For a man who complains so frequently about a lack of community trust and support for the police department, Bob Kroll remains shockingly indifferent to his role in undermining that trust and support," Frey wrote.
"His categorical opposition to reform, his consistent disrespect for civilian leadership, and his lack of empathy for the community have done more to undermine trust in police than any "community activist" ever has."
Former Mayor R. T. Rybak also spoke out against Kroll, noting on Twitter that his letter doesn't mention how Floyd died. "Wonder why people are angry?!" Rybak said. "We have some very courageous cops but you must now stand up to your leader jeopardizing all our safety."
Kroll—who has been a police officer for more than 30 years—has long courted controversy and has a history of making inflammatory statements.
A 2017 lawsuit accused Kroll of wearing a motorcycle jacket with a white-power patch sewed into the fabric, according to Mother Jones. The lawsuit said he had "a history of discriminatory attitudes and conduct."
After the fatal shooting of Jamar Clark, a black man, in Minneapolis in 2015 sparked protests, Kroll spoke of Clark's "violent" criminal history in interviews and also referred to Black Lives Matter as a "terrorist organization," the Star Tribune reported.
And in October last year, he joined President Donald Trump onstage at a rally in Minneapolis wearing a shirt that said "Cops for Trump."
During his speech, Kroll slammed President Barack Obama's administration over what he called its "despicable" treatment of police. "The Obama administration and the handcuffing and oppression of police was despicable," Kroll said, according to CBS Minnesota. "The first thing President Trump did when he took office was turn that around... he decided to start let cops do their job, put the handcuffs on the criminals instead of [on] us."