George Floyd's Son Says Violent Protests Won't 'Solve Anything,' Joins Peaceful Demonstration
George Floyd's son attended a peaceful march in memory of his father on Sunday in Texas and stressed that violence will not "solve anything."
"I'm really excited about all this. Everyone is coming out and showing him love. I love this. My heart is really touched by all this," Quincy Mason Floyd told local CBS affiliate KBTX. Floyd is a resident of Bryan, Texas, where he attended the demonstration.
"Tearing up things, it's not going to solve anything. My dad is in peace, and we have to be the ones to deal with all this stress. It's going to be tough to get over this day by day," he said.
Floyd noted that he had not been close to his dad for some time and did not immediately realize the video was of his father. But his mother pointed it out to him before the name was circulated widely in the media and online.
"I didn't recognize who it was until Mom called and told me. She said, 'Do you know who that guy was?' I said no. She said, 'That's your father.' I was in tears. It's been a long time since I've seen him," Floyd told KBTX.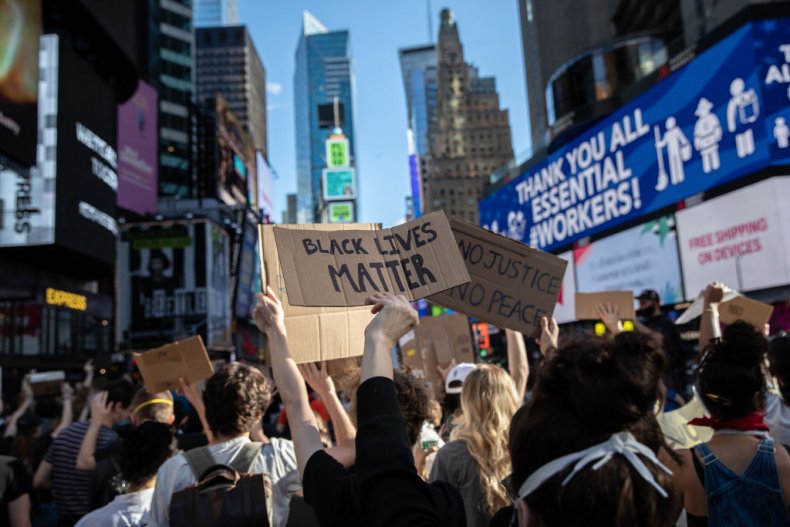 Newsweek reached out to attorney Ben Crump, who is representing members of Floyd's family, for further comment from the family but did not hear back before publication.
The elder Floyd died last Monday after he was detained by police in Minneapolis for allegedly attempting to use a counterfeit $20 bill. A video of the incident, which quickly went viral online, showed white police officer Derek Chauvin pinning Floyd, an African American, to the ground with his knee on his neck.
Floyd repeatedly yelled "I cannot breathe" as onlookers urged the officer to stop. But Chauvin continued to keep his knee on Floyd's neck for nearly nine minutes, and he was later declared dead at a nearby hospital.
Chauvin and three other officers involved in the incident were quickly fired by the Minneapolis Police Department, and later in the week murder and manslaughter charges were brought against Chauvin.
Protests in memory of Floyd and to raise awareness about what many see as systemic racism in policing nationwide have spread across the country over the past week. While most of these demonstrators have been peaceful, many of the protests in major cities turned into riots, with local businesses looted and police facilities and vehicles set on fire.
Terrence Floyd, Floyd's younger brother, has also criticized the violence taking place across the country. "I'm outraged too," Terrence Floyd said in an interview with ABC News. "Sometimes I get angry. I want to bust some heads too. I want to go crazy. My brother wasn't about that. My brother was about peace."
Noting the destruction that has taken place in some cities across the country, he added, "All of this is not necessary, because if his own family and blood is not doing it, then why are you?"