Viral Video Shows Peaceful D.C .Protestors Detain Rioter Causing Damage, Hand Him to Police
A video showing peaceful demonstrators stopping and handing over a rioter destroying a sidewalk to police in Washington, D.C. has gone viral online.
In the clip, a white man dressed in black with his face partially covered can be seen destroying a sidewalk in the Capitol as a large number of demonstrators march nearby. The man appeared to have come prepared with tools, as he had a small black bag and used a hammer to smash the concrete.
Then a group of other demonstrators swarmed the man and dragged him away from the sidewalk into the intersection. Although the man struggled violently, several protesters —who were black and white—dragged him back to the sidewalk and to the police nearby.
The officers, wearing riot gear, appeared confused about what was taking place, but they took the man from the demonstrators. By that point, the unidentified man's face and hair had been uncovered, showing that he had gray hair and appeared to be significantly older than the other protesters.
When reached for comment by Newsweek, a spokesperson for the Washington, D.C. police department said questions about last night's demonstrations would be addressed during a press conference on Monday morning.
"Questions regarding last night's incidents will be addressed during today's press conference scheduled for later this morning," the spokesperson said in an email
Journalist Safvan Allahverdi of Turkey's Anadolu Agency first shared the clip. He wrote: "Protestors in DC handed the white dude who was about to provocate the protest to the police. He has been arrested and taken away."
While the motivations of the man in the clip are not known, there have been reports of white supremacists and far-right infiltrators attending protests held in the memory of George Floyd, a black man who died while being detained by police last Monday. Reports have also circulated suggesting that Antifa (or anti-fascist) activists have been causing destruction in some cities.
Officials in Minneapolis, Minnesota, where Floyd died, have publicly said they believe there white supremacists attending the demonstrations in the city. Minneapolis and St. Paul Department of Corrections Commissioner Paul Schnell said on Sunday evening: "They're agitators," CNN reported. The commissioner also noted that there were reports of Antifa activists attending demonstrations.
Minneapolis Mayor Jacob Frey also warned that white supremacists and people from out of state were coming to instigate destruction and riots.
"We are now confronting white supremacists, members of organized crime, out of state instigators, and possibly even foreign actors to destroy and destabilize our city and our region," he tweeted on Saturday.
VICE News reported on Friday that some white supremacists are attending protests and have the goal of starting a "new civil war" or a "race war."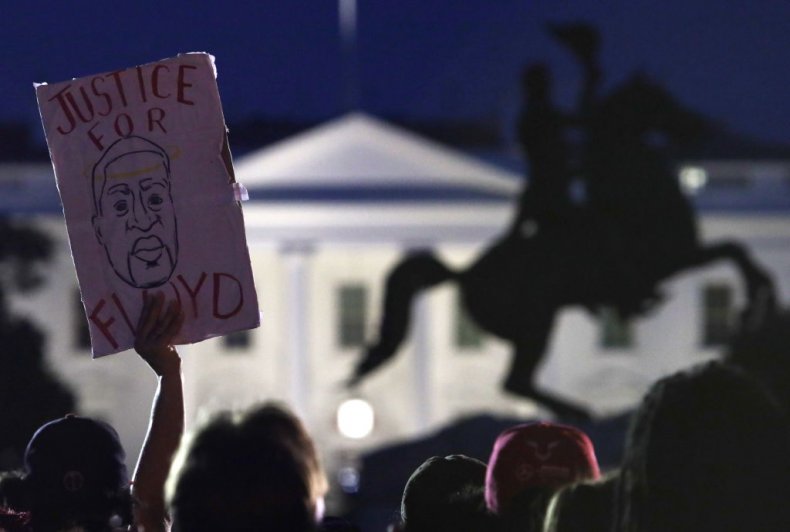 Floyd's detention by police was captured in a now-viral video. A white police officer, Derek Chauvin, can be seen pinning Floyd to the ground with his knee on his neck as the man yells repeatedly: "I can not breathe." Onlookers repeatedly raised concern and urged the officer to stop, but Chauvin kept his knee on Floyd's neck for nearly nine minutes.
Chauvin and three other officers have since been fired by the Minneapolis Police department. Murder and manslaughter charges have been brought against Chauvin as well.
Protests have taken place across the country in the past week as demonstrators have rallied against what many believe to be systemic racism in policing nationwide. Many of the demonstrations in major cities have divulged into riots, with local businesses and police buildings and vehicles being targeted with vandalism.
This article has been updated with a comment from the Washington, D.C. police department.