George Floyd's younger brother has called for peace and condemned the violence that has erupted at protests across the country, triggered by his death while in police custody.
Terrence Floyd told ABC News that he is "outraged" that his 46-year-old brother died after a white police officer in Minneapolis pinned him to the ground for more than eight minutes last Monday.
But Terrence Floyd urged protesters to stay calm and "channel your anger elsewhere" because his brother was "about peace."
He said he wants Derek Chauvin, the officer who knelt on George Floyd's neck, to face first-degree murder charges and the other three officers involved to be charged. Chauvin was charged with third-degree murder as well as manslaughter on Friday. He and the other officers have all been fired.
"I'm outraged too," Terrence Floyd said. "Sometimes I get angry. I want to bust some heads too. I want to go crazy. My brother wasn't about that. My brother was about peace."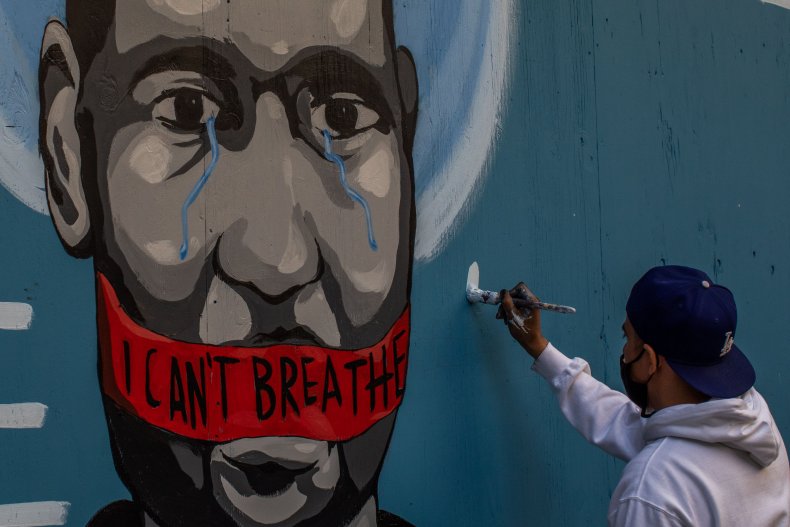 Referring to the destruction seen in some cities where protests have taken place, he added: "All of this is not necessary because if his own family and blood is not doing it, then why are you?"
Terrence Floyd also said that he is planning to visit the spot where his brother died on Monday. The past week has been "hard," he said, adding: "I'm still a little numb to it."
His comments come after Benjamin Crump, the attorney representing the Floyd family, said heightened charges are warranted for Chauvin because the former officer and George Floyd had interacted prior to last Monday's deadly encounter.
"We believe [Chauvin] knew who George Floyd was," Crump said during CBS News' Face the Nation on Sunday morning.
Floyd and Chauvin had both worked security at the same club in Minneapolis, the club's former owner told a local news station after the charges against Chauvin were reported.
A week on from Floyd's death, the U.S. has seen days of protests and violent unrest, which started in Minneapolis before spreading to dozens of cities, from New York to Los Angeles, with thousands of National Guard troops deployed and strict curfews imposed in a bid to maintain the peace.
Some demonstrations have started peacefully, but later erupted into violence, with property vandalized and businesses looted.
Riot police in several cities have clashed with protesters, firing tear gas, pepper spray and rubber bullets to disperse crowds.
At least 4,400 people have been arrested over days of protests, according to a tally by the Associated Press, for reasons ranging from stealing to breaking curfews.