Police Violence and COVID Spurred 30% Spike in U.S. Homicides in 2020
A new study concludes that unrest caused by police violence and the coronavirus pandemic attributed to a significant increase in the number of homicides in the U.S. last year.
The National Commission on COVID-19 and Criminal Justice (NCCCJ) released the report on Monday, which found that homicide rates across the nation were 30 percent higher from 2019 to 2020.
Written in coordination with Arnold Ventures, the Commission reviewed monthly crime rates for 10 kinds of violent, property and drug offenses in 34 U.S. cities. The study's authors reviewed a non-random sample based on which cities provided public police department data.
Last year's homicide rates were higher than 2019 rates for every month, but the spike in homicides "coincided" with mass protests following the death of George Floyd, a Black man who died in custody of Minneapolis police officers on May 25. Researchers saw that homicides rose by 37 percent from 2019 to 2020 in June through August, the most significant leap over the course of the year.
"We were careful not to attribute the rise in violence to the protests," Senior Fellow at The Council on Criminal Justice and NCCCJ Director Thomas Abt said to Newsweek. "We attributed it to excessive and unwarranted police violence which was the triggering factor...Had George Floyd not been murdered, there would have been no protests."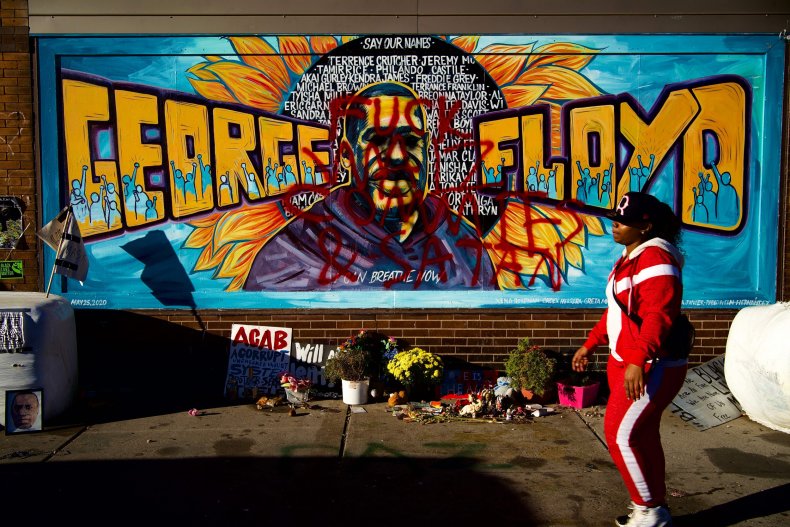 Drawing a straight line between police violence, protests and social unrest is "uncertain," according to the study.
"It's important to note that protesting did not cause this spike in homicides," Abt said.
The authors compared their findings with increases in violence following the August 2014 death of Michael Brown in Ferguson, Missouri. Homicides in large cities rose by nearly 22 percent from 2015 to 2016, and analysts attributed the increase to what is called a "Ferguson Effect."
The two-part "Ferguson Effect" provides a potential explanation for the increase in homicides last year. First is "de-policing," or law enforcement stepping back in "fear they will be unfairly scrutinized" and potentially lose their jobs. The effect's second part maintains "de-legitimizing," or that "breached trust" and lack of confidence urged communities to pull back from relying on the police. The latter makes criminal investigations and resolutions more difficult, according to the study.
The authors also mention that other factors, including increase in firearm purchases and reductions in jail populations could have contributed to increase in homicides.
Strain caused by the COVID-19 pandemic also contributed to the increase in killings, according to the study. Public health providers, mental health services and other community engagement institutions that play a role in preventing violence were pulled back, according to Abt.
"You have to engage in intensive outreach to high-risk individuals and that outreach needs to be face to face," Abt said. "That was made next to impossible by the pandemic."