Police Have Killed Over 1,000 People So Far This Year
Police have killed more than 1,000 people so far in 2020, according to the Mapping Police Violence project.
The research group's database reveals that officers have killed 1,039 people in the U.S. as of December 8—including 21 people who were aged 18 or under.
According to Mapping Police Violence, by the end of November, there had only been 17 days in the year when police officers did not kill someone.
And in a year that saw a nationwide reckoning on race following the police killings of George Floyd and other Black people, the database reveals that 28 percent of those killed by police in 2020 were Black—despite Black people only making up 13 percent of the U.S. population.
Floyd, who was unarmed, died after a white Minneapolis police officer kneeled on his neck for more than eight minutes while he gasped for air on May 25. That day, a total of seven police killings took place in the U.S.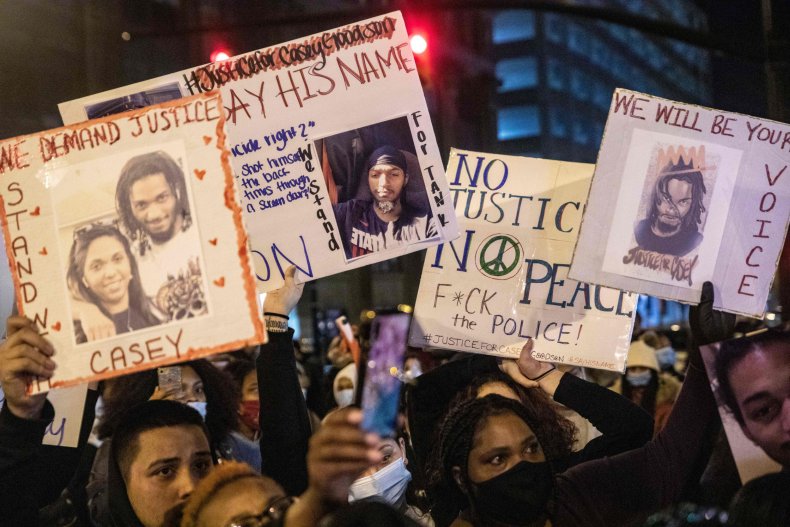 The vast majority of the victims were men, according to the database.
Forty women were killed by police this year, including Breonna Taylor, and two victims were listed as transgender.
Taylor's name became a rallying cry after the unarmed Black emergency medical technician was shot multiple times on March 13 by Louisville officers serving a narcotics warrant on her home.
But despite the months of protests denouncing police brutality and calls to "defund the police," Mapping Police Violence's data shows that police in 2020 have continued to kill people at similar rates to previous years.
The project's police accountability tool shows the Phoenix Police Department is responsible for the most police killings this year. Twelve people had been killed by the department's officers by the end of November 2020.
The Las Vegas Metropolitan Police Department's officers killed 11 people in 2020, followed by the Houston Police Department (HPD) with 10—five of them Black.
Mapping Police Violence's data shows that Black people are the most likely to be killed by police.
Black people are three times more likely to be killed by police than white people and 1.3 times more likely to be unarmed compared to white people, according to data on police killings between 2013 and 2019.
The statistics also show that there is little accountability for police killings. According to Mapping Police Violence, 98.3 percent of police killings between 2013 and 2020 resulted in no criminal charges for the officers involved.
"This year the nation and the world woke up to the level and frequency of racially driven violence that Black people endure at the hands of police in our country. That's the legacy of George Floyd, Breonna Taylor and so many victims of police brutality," civil rights attorney Ben Crump, who has represented the families of numerous victims of police killings, told Newsweek.
"Our hope is that this awakening leads to not only a transformation in how police relate to communities of color but progress toward ending racial injustice in all forms, from toxic environmental conditions to discrimination by banks, airlines and employers."
This article has been updated with a statement from Ben Crump.