The stepdaughter of Russian Foreign Minister Sergei Lavrov has had her assets frozen, as the U.K.'s sanctions list grows amid the invasion of Ukraine and ongoing conflict.
Polina Kovaleva, the 26-year-old daughter of the politician's mistress, was added to the list to those associated with Russian officials to face financial repercussions in a bid to pressure President Vladimir Putin's cronies amid the still-raging war.
It was also announced on Thursday that Kovaleva, who owns a multi-million-dollar property in Kensington, west London, was sanctioned alongside a number of other individuals and the Wagner Group, known as Putin's private army.
As NATO leaders gathered in Brussels to discuss the Ukraine war on Thursday, U.K. Prime Minister Boris Johnson spoke about the growing sanctions list.
He said, per British newspaper The Telegraph: "We've got to tighten the economic vice around Putin, sanctioning more people today, as we are, sanctioning the Wagner Group, looking at what we can do to stop Putin using his gold reserves, and also doing more to help the Ukrainians defend themselves."
The sanction new measures will prevent Kovaleva from traveling to and from the U.K., where she bought her home for around $5.8 million in cash when she was aged 21.
Who is Polina Kovaleva?
Kovaleva is, perhaps, the most glamorous addition to the growing sanctions list. She has called the U.K her home for several years, having attended a private boarding school in Bristol before earning a degree in economics with politics at Loughborough University, per The Mirror.
Continuing her studies, she added to her qualifications with a master's degree in economics and strategy for business at the prestigious Imperial College London.
Her post-graduate career started on a high-profile note, as she took up employment at Russian energy giant Gazprom, working with mergers and acquisitions. She later worked at mining company Glencore.
Maria Pevchikh, head of investigations at jailed Russian opposition leader Alexei Navalny's Anti-Corruption Foundation, called for Kovaleva's arrest two weeks ago, as she described her now-private Instagram feed as a "non-stop holiday."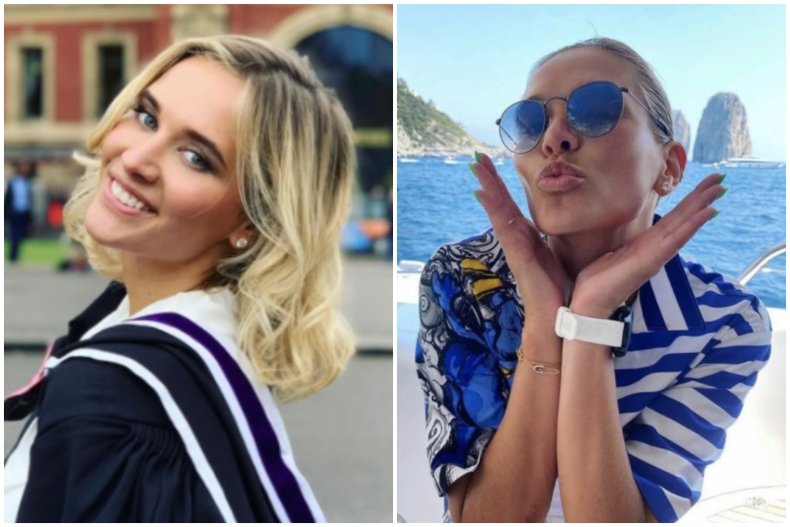 In a Twitter thread posted on March 10, Pevchikh shared details of Kovaleva's life, writing of her father: "Lavrov has had the 'official' wife for the past 50 years. No one has heard of her or seen them together in public in ages, though. As opposed to this lady, Svetlana Polyakova. She is the actual wife, they have been together since the early 2000s."
Pevchikh wrote that Polyakova, who is Kovaleva's mother, "is loaded. She bought an apartment in Moscow worth $6-8m […] Not bad for an unemployed lady."
"Svetlana also accompanies Lavrov on every official foreign affairs trip. Sometimes she even takes her 78 y.o. mother and her niece. The whole family are listed as members of the diplomatic mission. We found out that Polyakova has used the MFA [Ministry of Foreign Affairs] plane more than 60 times."
Questioning how Kovaleva was able to afford such big purchases as her London property, Pevchikh added: "Polina's biological dad isn't super rich. She doesn't have an oligarch husband. But at the age of 21, she bought this apartment in London."
"She paid cash. No mortgage," Pevchikh went on. "Can anyone explain how this is possible? Her only source of money is her unemployed mother who happens to be Lavrov's informal wife. This is the textbook example of unexplained wealth. The property can be legally seized right now."
"Polina and her mom must get sanctioned," Pevchikh said. "Polina has to pack her Louis Vuitton suitcases, say goodbye to her British life and leave the U.K. Should she not be able to explain where she got the [millions for her property] from, her property must be arrested under the Unexplained Wealth Order procedure."
Also among those who were added to the sanctions list were billionaire oil tycoon Eugene Shvidler and Herman Gref, the chief executive of Russian bank Sberbank.
Per The Guardian, U.K. Foreign Secretary, Liz Truss, said all were "complicit in the murder of innocent civilians" and should "pay the price."
"Putin should be under no illusions—we are united with our allies and will keep tightening the screw on the Russian economy to help ensure he fails in Ukraine," she said. "There will be no let-up."
Follow our live blog for updates on the Russia-Ukraine conflict.