Polio Detected in U.S. Sewage Days After U.K. Tests
The poliovirus has been detected in wastewater and sewage in New York, state health officials told New Yorkers on Friday.
Just a few weeks after the first U.S. polio case was detected in over a decade, the New York State Department of Health (NYSDOH) and the New York City Department of Health and Mental Hygiene (NYCDOHMH) told city residents that polio was found in wastewater samples in New York City, meaning that there is likely a good amount of polio being circulated.
"For every one case of paralytic polio identified, hundreds more may be undetected," State Health Commissioner Dr. Mary T. Bassett said in a press release.
The findings come after the U.K. Health Security Agency (UKHSA) identified polio in sewage samples taken in London, the first alert of polio being raised in June. Canada also announced on Thursday that it intends to test wastewater for polioviruses.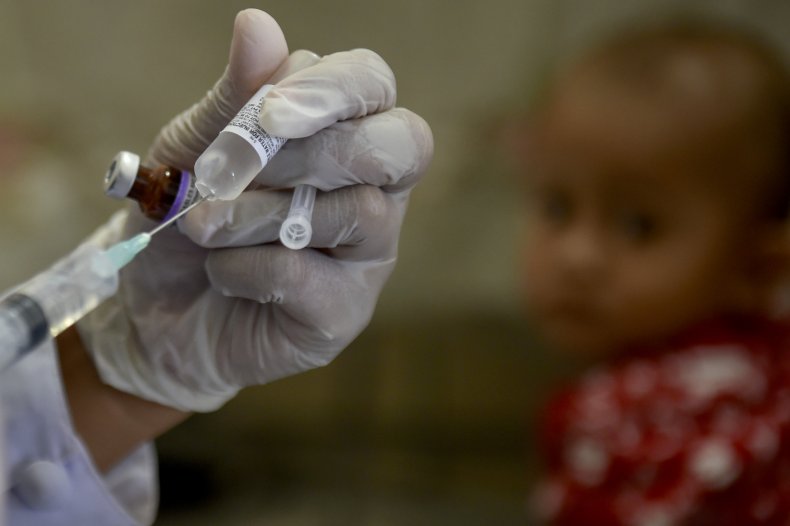 Bassett told New Yorkers on Friday: "The detection of poliovirus in wastewater samples in New York City is alarming, but not surprising. Already, the State Health Department – working with local and federal partners – is responding urgently, continuing case investigation and aggressively assessing spread."
City Health Commissioner Dr. Ashwin Vasan added: "With polio circulating in our communities there is simply nothing more essential than vaccinating our children to protect them from this virus, and if you're an unvaccinated or incompletely vaccinated adult, please choose now to get the vaccine. Polio is entirely preventable and its reappearance should be a call to action for all of us."
While the polio vaccine is a part of the Centers for Disease Control and Prevention's (CDC) childhood immunization schedule, the rate of vaccination in some counties has decreased compared to the statewide rates. Rockland County in New York, where the first case in over a decade was found on July 21, currently has a polio vaccination rate of just 60.5 percent among 2-year-olds, compared to the statewide average of 79 percent, according to the state health department.
The CDC told Newsweek that its Polio and Picornavirus Laboratory confirmed the presence of poliovirus in wastewater samples collected in Rockland and Orange counties in New York so far. At this time, no additional cases of polio have been identified.
Polio tends to spread in communities when people don't wash their hands properly after using the toilet and then further touches food or water. The state health department added that "Respiratory and oral-to-oral transmission through saliva may also occur."
Polio symptoms include fatigue, fever, headache, stiffness, muscle pain and vomiting. It can take up to 30 days for symptoms to show, according to the state health department. It can also lead to permanent paralysis of the arms and legs, and even death in some cases.
Dr. José R. Romero, director of CDC's National Center for Immunization and Respiratory Diseases, told Newsweek: "This is sobering; we know polio spreads silently, and it's likely that there are many people infected with polio and shedding the virus in these communities. This is also an urgent and living reminder of the importance of vaccination.
"We live in a global society, and despite our high national vaccination coverage, it only takes only one traveler with polio to bring the disease into the U.S. People who are unvaccinated are at risk, and it's critically important that they get vaccinated against polio immediately to protect themselves, their families, and their communities against this devastating disease."
While New York is urging unvaccinated residents to get vaccinated, the U.K. is offering children age 1 to 9 a booster dose of the polio vaccine, British health authorities said on Wednesday.
And as Canada sees the slow reemergence of polio in the U.S. and the U.K., the Public Health Agency of Canada said on Thursday that it is carefully monitoring polio activity and will begin testing wastewater "as soon as possible."
Update 8/12/22, 1:10 p.m. ET: This story was updated with a statement from the CDC.