Former President Donald Trump left the White House more than a week ago, but his presence is still strongly felt among politicians in Washington, D.C.
When President Joe Biden was elected to replace Trump last November, he entered office as a lifelong politician with a history of working across the aisle with his Republican colleagues. Now that Biden is leading his party from the Oval Office, political experts told Newsweek his path to pursue new legislation through Congress is made difficult by a slim Democratic majority and a splintered GOP that hasn't yet figured out what it wants the post-Trump era to look like.
Trump left the White House on January 20 as the only U.S. president in history to be impeached twice by the House of Representatives. He was acquitted of two articles of impeachment in the Senate last February but faces a new Senate trial next month for "incitement of violence," the article of impeachment that a majority in the House voted in favor of following the riot at the U.S. Capitol Building on January 6.
Trump's departure from the nation's capital hours before Biden was sworn in as president on January 20 paired with technology executives' decisions to suspend some of his social media accounts has meant Americans are hearing from Trump far less than they did prior to January 6. Despite his low approval ratings among Democrats and independents, political experts say he is still a popular figure among many Republican voters, and recent polling from YouGov and The Economist suggests that nearly three in four Republicans do not believe Biden's win last fall was legitimate.
Antoine Yoshinaka, an associate professor at University at Buffalo's Department of Political Science, said it's too early to tell whether Trump's impact on the GOP will last through the 2022 midterm elections, but the former president still holds power over many within his party in the meantime.
"Donald Trump still has a lot of appeal on the Republican side. And I think Donald Trump is pretty much the source of the divide," Yoshinaka told Newsweek. "We've seen some blowback against that trend within the Republican Party, but at the end of the day, the Trump name is still very popular."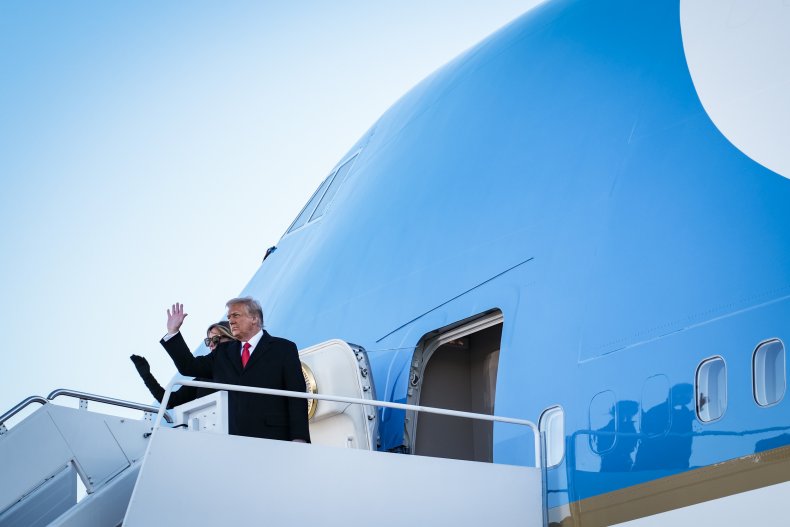 The split within the GOP serves as the most recent example of populism in American politics, according to political strategist Whit Ayres, whose Virginia-based firm North Star Opinion Research has advised Republican politicians such as Florida Sen. Marco Rubio, Oklahoma Sen. Jim Inhofe, South Carolina Sen. Lindsey Graham and Florida Gov. Ron DeSantis. Though populism has a storied history in the U.S. with past leaders including William Jennings Bryan at the turn of the 20th century and George Wallace in the 1970s, Ayres described its latest iteration as "very, very intense."
"The GOP is seriously split between a governing wing and a populist wing," Ayres told Newsweek. "The governing wing populated the party for years and still dominates today among elected officials. The populist wing was present before Donald Trump came along, but Trump expanded it and made it a dominating force in the Republican primaries."
Ayres too believes it's too soon to tell how long Trump's impact will last. Whether Biden governs more from the left or from the center will play a role, as will Trump's public profile, Ayres said. In the meantime, overtures from Republicans like House Minority Leader Kevin McCarthy, who visited Trump in Florida on Thursday, and Kentucky Sen. Rand Paul, who forced a vote on the constitutionality of an impeachment trial in the Senate earlier this week, signal that some Republicans believe they can still benefit from Trump's popularity.
"The populist faction isn't going away, even if Donald Trump does," Ayres said.
A Republican individual or group rising to offer an alternate path to Trumpism could also provide the party with a new path forward, Ayres said. According to E.J. Fagan, an assistant professor at the University of Illinois at Chicago's Department of Political Science who studies political parties, new models for success within a political party are "reinvented constantly," but it would only take one to push the GOP in a new direction. The most recent example of a working model among Democrats can be seen through the success of Rep. Alexandria Ocasio-Cortez of New York, Fagan said.
"The problem with the Republican Party is every new model has been crazier than the last," Fagan said. "The model used to be Paul Ryan, seven years ago. It was a libertarian version of economic conservatism that broke from the Bush family's conservatism of previous times."
Trump and his supporters replaced that model with one that encouraged politicians to "be shocking, be racist and embrace conspiracy theories and go as far right as possible and don't let anybody outflank you," Fagan said. "Republican voters don't have to accept that model, but as long as they do, that's the model that every one of the ambitious politicians are going to pick. The [North Carolina Rep.] Madison Cawthorns of the world are going to decide that, if they want to be president one day, they have to start doing this from day one."
Fagan and Yoshinaka both pointed to Rep. Liz Cheney of Wyoming as an example of a Republican to watch with the future of the party in limbo. Cheney, who was critical of Trump following the riot on January 6, voted along with nine other House Republicans to impeach Trump earlier this month. It's a decision that has made her a lightning rod of sorts within the party as the debate over the party's future continues.
Illinois Rep. Adam Kinzinger's call to use the 25th Amendment to remove Trump from office after the events on January 6 make him an interesting politician to watch as well, according to Fagan, while Utah Sen. Mitt Romney's long-term criticism of Trump makes him another individual who could help shape the party's next era, Yoshinaka said.
Ayres told Newsweek that the upcoming retirements of GOP senators Pat Toomey of Pennsylvania, Richard Burr of North Carolina and Rob Portman of Ohio could also shake up the party as newcomers begin campaigning to replace them. Along with former Tennessee Sen. Lamar Alexander's recent retirement, "all four of those gentlemen were core parts of the governing wing of the GOP in the Senate," Ayres said. "It's going to make it far more difficult to govern without people like that as Republican representation in the Senate."
But Fagan suggested their retirement announcements could provide voting flexibility without the pressure of re-election hanging over their heads, especially when it comes to Trump's upcoming impeachment trial.
"There are a lot of Republicans who are old and likely aren't running again, people like Chuck Grassley, people like Jim Inhofe," Fagan said. "Many of them have a grudge against Donald Trump. They were all almost killed together in a room together, at the same time. The question is, are they more afraid of their own voters, their own base, their own people who are approaching them at the airport—are they too afraid of them to do it."
In the meantime, the fractured GOP isn't likely to be an asset to the Democrats trying to move their legislative agenda forward.
"It's more likely to make it difficult rather than easier for Biden to get his agenda through," Ayres told Newsweek. "When Republicans feel secure in their electoral future, they are freer to cooperate with a new Democratic president who's reaching out for bipartisan support. If they feel insecure in their electoral future, they are less likely to feel free to join Biden in any sort of bipartisan coalition."
But the slim majorities Democrats have in the House and Senate mean Democrats would have a tough time moving legislation forward even if Republicans were unified, Yoshinaka said. After Georgia Democrats Raphael Warnock and Jon Ossoff defeated the state's Republican incumbents in their Senate runoff elections earlier this month, Democrats secured a 50-50 split in the chamber, with Vice President Kamala Harris able to break ties.
"While it is true that the Democrats seem to be more unified, at the end of the day the fact remains that in the Senate you need unanimity among Democrats," Yoshinaka said. "If you're not going to get any Republicans to vote for you, you need every single Democratic vote."
Yoshinaka pointed to the last time Democrats had control of Congress and the White House in 2009. Even with a less precarious majority in the Senate, former President Barack Obama's administration had difficulty getting big legislative items like the Affordable Care Act through Congress.
"At the end of the day, whether or not the Republicans are divided, I think it's going to be very difficult for Democrats and Biden to get meaningful buy-in" from their Republican colleagues, Yoshinaka said.
While Fagan said it is important for Democrats to focus as much on measurable pieces of legislation as on symbolic steps forward, there are at least a few items of shared interest among the party's progressive and centrist branches, such as COVID-19 relief funding and infrastructure investments that also address climate change concerns. A recent call by West Virginia Sen. Joe Manchin for significant infrastructure investment "is the type of bill that could unite the Democratic coalition" for the support it could potentially see from Ocasio-Cortez, Fagan said—and some Republicans may support it, as well.
"There are many goals that aren't compatible between those groups of people, but I think that goal is entirely compatible—and I think even Republicans would have a difficult time voting against it," Fagan added.
By Friday, Trump had been out of office fewer than 10 days, leaving many variables that could impact the future of the GOP and the Democrats' legislative agenda in play. Despite his physical departure from Washington, D.C., new Republicans in Congress who campaigned as ardent supporters of Trump—including Cawthorn and Marjorie Taylor Greene, the Georgia congresswoman who filed articles of impeachment against Biden the day after his inauguration—remained in his stead.
"Donald Trump didn't come out of nowhere. He was successful because he satisfied the preferences of the rank-and-file Republican primary voter," Fagan said. "That then created a wave of the Marjorie Taylor Greenes of the world who see their path to success inside the party as something very different from what somebody from 2012 saw, what somebody from 2006 saw as their path to success inside the party. As long as that's the case, until somebody proves there's another path to success, any ambitious Republican is going to be, essentially, as close to Trump as humanly possible."